By: Stacy Thornton
Honors College student Lily Perkins spent part of her summer in the indigenous community of Copal AA La Esperanza, Guatemala. Over the course of the 10-day trip led by Dr. Greg McClure, professor in the Department of Curriculum and Instruction, Perkins, along with several other Honors College students, learned about building a renewable community from the ground up. Perkins is a sophomore majoring in sustainable development.
Copal AA is a multilingual and multiethnic indigenous community of Mam, Q'anjob'al, Q'eqchi', and Quiche Maya. The community was founded by 86 refugee families in 1996, the final year of an internal armed conflict in Guatemala. In the Spring 2022 semester, Perkins took HON 2515: Education and Sustainability in Indigenous Guatemala with Dr. McClure where she learned about Guatemalan history, the internal armed conflict and genocide, as well as indigenous resistance movements. Motivated by the persecution they faced in the 1980s, the people of Copal AA take great pride in working to preserve their natural resources and Mayan culture.
Perkins describes the objective of the community as "unique because, from their founding, they adopted a sustainable, progressive vision…by banning slash and burn agriculture, chemical pesticides, and fertilizers." In addition to working towards agricultural sustainability, Copal AA has established their own private middle school, Instituto Básico Nuevo Amanecer (IBNA/New Dawn Middle School), with the mission to "create strong leaders who can face contemporary problems while remaining rooted in their own traditions."
Perkins shared that one of the most valuable lessons she learned from her experience in Copal AA was the power of relying upon community, stating "This community showed me the importance of strong community ties… [Copal AA] would not be successful without the care that everyone there had for each other. [I had never] been to a mostly self-sufficient community, so it was interesting to see that it was possible to rely on the people around you for everything you need instead of the government."
Perkins went on to write an essay, "Honors Students Learn about Sustainability, Education, & Indigenous Rights in Guatemala" detailing her day-to-day experiences with the Copal AA community. In her life and work beyond Honors at App State, Perkins plans to model the sustainable mission of Copal AA through civic engagement.
The Honors College requires an international education experience. We encourage students to study abroad, ideally for at least a semester, but our students may meet this requirement in various ways, including through short-term faculty-led trips abroad, and through Honors College course work. Students can seek out financial support for the international education requirement through the Honors College here. Perkins strongly urges other Honors students to focus on finding a study abroad that fits their unique interests. She further notes that the Honors College allows students to have the freedom to shape their own education. With this study abroad experience, she shared, "We were allowed to determine the trajectory of the trip. We were able to have conversations with anyone in the community and we had a lot of free time to explore what we were interested in… The more interested you are in the topic, the more engaged you will be, so you'll get more out of it."
Top photo features Honors College student Lily Perkins, pictured second from the right, participating in a Copal AA forum during the community's Environmental Festival. Photo submitted.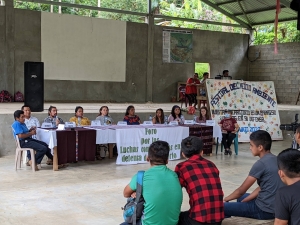 Tags: