Congratulations to our Honors student athletes! They manage hectic lives, heavy responsibility, maintain high GPAs, and take additional Honors requirements. Here is the list of current Honors students with their athletic positions and majors:
Megan Campany, athletic manager, exercise science major
Amber Daniel, women's track and field and cross country, exercise science major
Emily Fedders, women's track and field and cross country, quantitative geoscience major
Kelly Flanders, women's soccer and business major
Kayla Hall, women's track and field and cross country, communication, public relations major
Lainey Hunnicutt, women's track & field and cross country, exercise science major
Abbigail Khan, women's track and field and cross country, cellular molecular biology major
Allison Staley, athletic manager, general mathematics major
Samantha Steyl, women's soccer, education studies
Ethan Triplett, athletic trainer, athletic training major
Emily Yontz, cheerleader, mathematics, secondary education major

Dean Vahlbusch joined the Provost and Deans of other colleges at the Appalachian State men's basketball game on February 15, 2018 to honor all students who made Appalachian Athletics' Academic Honor Roll. For Fall 2017, 297 student-athletes made the academic honor roll. During halftime of the South Alabama Jaguars game, Dean Vahlbusch (shown second to left in photo above) shook hands with all 297! This achievement requires a minimum GPA of 3.25 while being enrolled in at least 12 hours of coursework. Honors students are required maintain high GPAs with increasing benchmarks by year as follows:
Freshmen must maintain a 3.0 overall GPA
Sophomores must maintain a 3.2 overall GPA
Juniors must maintain a 3.3 overall GPA
Seniors must have a 3.45 overall GPA and a 3.45 honors GPA to graduate with Honors
To maintain Honors status while also being involved in a Division I sport is an achievement worth celebrating. We recognize your achievements, commitment and hard work.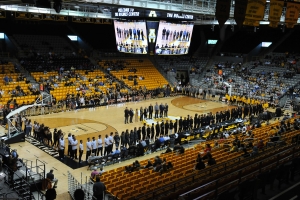 Tags: