Ms. Cara Hagan, assistant professor of dance studies at Appalachian State University, is currently teaching a junior level Honors seminar that explores a long-distance collaborative philosophy and practice called Artistic Surrogacy. This HON 3515 seminar titled My Place, or Yours? is affiliated with an exhibition with the same name, set to open July 5 and running through November 2019 at the Turchin Center for the Visual Arts. As Hagan described,
"The My Place or Yours Exhibition features artists working together on collaborative projects over long distances. The artists come from the local region (two ASU faculty members are participating artists), across the country, and across the world. Most of these artists have never, and will never, meet in person."
There are seven Honors students in the course, and as Hagan describes, they "all are creative people but none self-identify as "artists.'" Yet, they are all collaboratively creating art with students at the partner institutions, Gonzaga University in Spokane, Washington, and Yongin University in Yongin, South Korea. Student partners are meeting electronically over Zoom and sending physical pieces (text, objects, inspiration) back and forth. Artists in different physical locations are working together in a co-creative process making art that will be included in the Turchin Center's My Place, or Yours? exhibition.

The photos above feature some of the physical pieces Honors students at Appalachian have sent to their partners at Gonzaga University. Photos submitted.
This process of long distance collaboration between "artists" brings up questions of access in the arts, which students in Hagan's Honors seminar are critically analyzing. Hagan said,
"In class, students have a playlist—various articles and films—each exploring different ways of collaborating in order to raise awareness and inspire creative approaches to producing work." As she further explained, students are exploring art as
"cultural capital, and what it means when art is considered valuable. They are discussing theoretical concepts of institutional bias, discrimination, and financial and geographical barriers that prevent individuals from participating in the professional arts landscape. They're also 'flexing their creativity muscles' through weekly artistic projects in class in a multitude of disciplines."
For her short film "Sound and Sole," Hagan recently won the Best Southern States documentary at the Southern States Indie Fan Film Fest held in Biloxi, Mississippi. In this documentary about local clogger and buck dancer Arthur Grimes, Hagan has further explored this theme of art as subversive. As she stated,
"The opportunity to work on this project with Arthur felt very much like artistic surrogacy to me. Through the documentary, Arthur's story and his performance can travel to places his body will not necessarily travel. So far, the film has been accepted to travel to eight cities across seven states. Arthur's work has now been seen in places Arthur has never been and the people in those places have the opportunity to learn about a culture they may not have known anything about before seeing the film."
For more about Hagan's award and this documentary, click here to read the full story by Meghan McCandless in ApalachianToday.
Be sure to check out the collaborative and subversive work created by Honors students in Hagan's seminar at the Turchin Center's My Place, or Yours? exhibition when it opens in July.
Top photo features students in Cara Hagan's Honors seminar, My Place, or Yours?, doing an in-class art project. Photo submitted.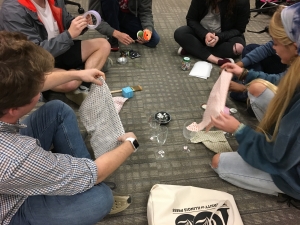 Tags: