The Honors College study abroad requirement is designed to expand Honors students' views and knowledge of the world. Last summer, a group of Honors students ventured to Vienna, Austria, for 3 weeks that created a lifetime of memories. Twelve Honors students and three professors spent twenty-one exciting days exploring museums, experiencing concerts, and performances, and traveling to cities near Vienna. I have never traveled to Europe before, nor do I speak German, so I was not sure what to expect. Luckily, we were led by three extraordinary professors: Dr. Alexandra Sterling-Hellenbrand, a German and Global Studies professor; Dr. Victor Mansure, a Music History and World Music professor; and Dr. Jim Toub, an Art History professor. The insight and guidance of these three experts greatly benefitted our experience.
In Vienna, our daily schedule was filled with museums, course readings and discussions, and tours of the city. We read an anthology of texts gathered by our professors, in addition to the revered book, Fin-de-siècle Vienna, by historian Carl Emil Schorske. We visited many historical landmarks in Vienna, like the St. Stephen's Cathedral, which first opened in 1160. Here, we received a guided tour of the catacombs and also learned about the life and death of St. Stephen and the construction of the cathedral.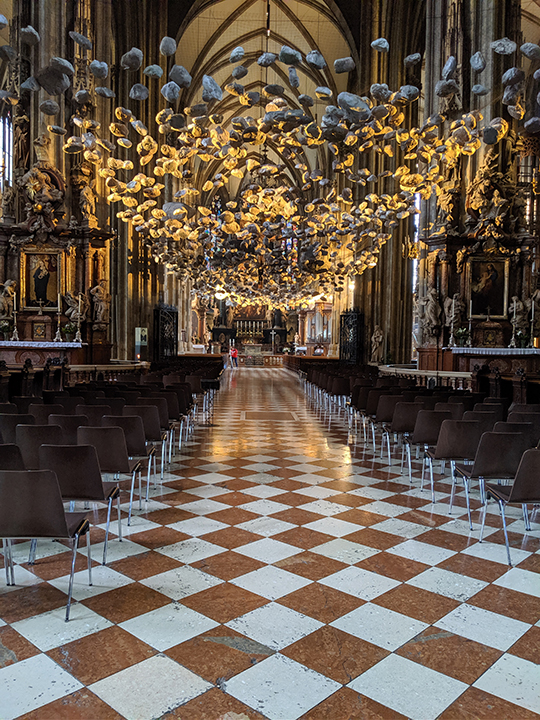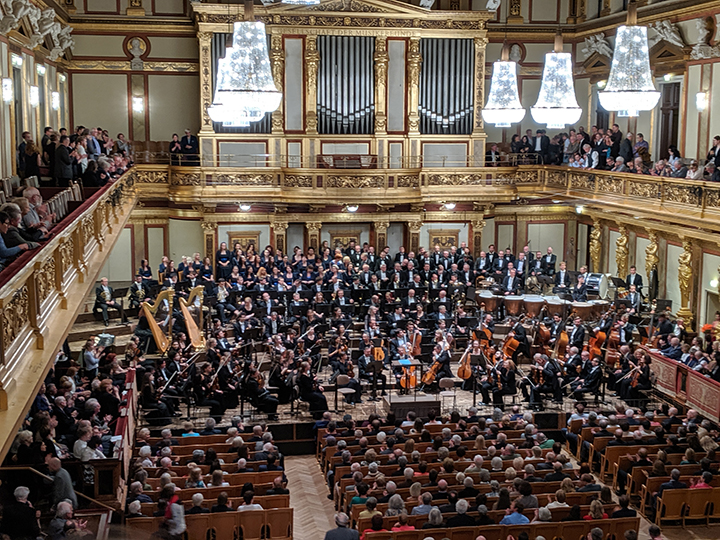 We listened to several concerts, and some of us even saw Yo-Yo Ma perform for free. The renowned cellist explores the world, learning about different cultures and their music. My favorite concert was a massive orchestra performing Gustav Mahler's Second Symphony commonly known as the Resurrection Symphony in the renowned Wiener Musikverein concert hall. I have never seen or heard so many musicians play at one time, and create such an overwhelming and beautiful sound. I still enjoy listening to this concert today on Spotify and remembering my experience.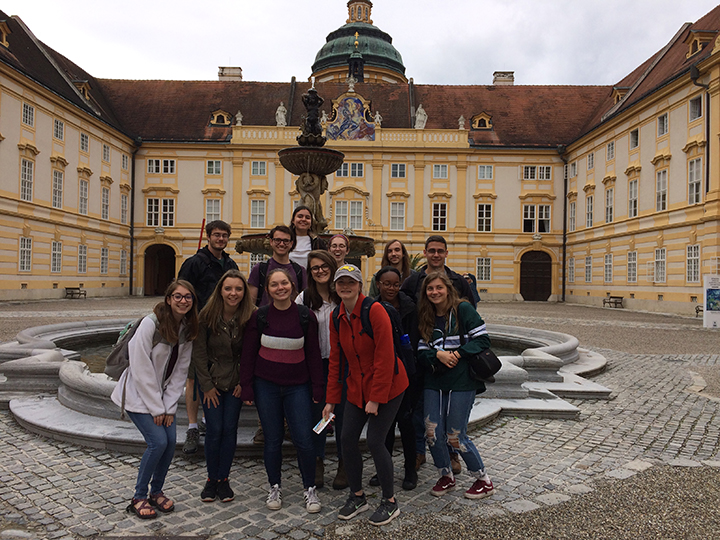 The photo above shows students inside the Monastery in Melk, Austria. Photo by Dr. Hellenbrand
We also visited other cities in Austria. We went on day trips to Melk, Eisenstadt, and Mauthausen. Melk, known for its apricots and its location along the Danube river, is surrounded by apricot orchards; the local shops were full of apricot pies, liquor, jam, and much more. The Danube supplies the city with tourists, who arrive in large river-cruise boats, and flood the town. Melk is also home to an impressive monastery that we toured with an extremely knowledgeable guide. The Honors College's Seamus Aparicio recalled the monastery in Melk this way:
"The monastery in Melk was one of the most beautiful I've ever seen. It's cultural, historical, and architectural beauty made it the perfect destination for our honors trip. As a STEM major, I don't really expose myself to a lot of cultural experiences; I was very hesitant about taking this trip due to the fact that I knew nothing about art or culture, especially in Austria. However, I am so glad that I had the opportunity to take this course. I got to learn things that I had no idea about, and it gave me the ability to look at different disciplines other than my own... While it may be cliché, I would say that this experience has changed how I look at the world."
The photo above shows students outside the grand Esterházy Palace in Eisenstadt, Vienna. Photo Submitted.
While in the city of Eisenstadt, which is the capital city of Burgenland, an Austrian state, we toured the Esterházy Palace, first constructed in the 13th century and home to the Esterházy family since 1622. We also learned about the renowned composer Haydn and viewed the apartment where he lived during his commission with the Esterházy family. As the Honors College's Stephany Garcia said,
"Joseph Haydn…was in an ideal position to create music mostly because he worked for the Esterhazy royalty. After his voice started changing while he was singing in St. Stephens church, he learned from the process of being alone to find his music and style which helped him bring a better version of himself to the Esterhazy's."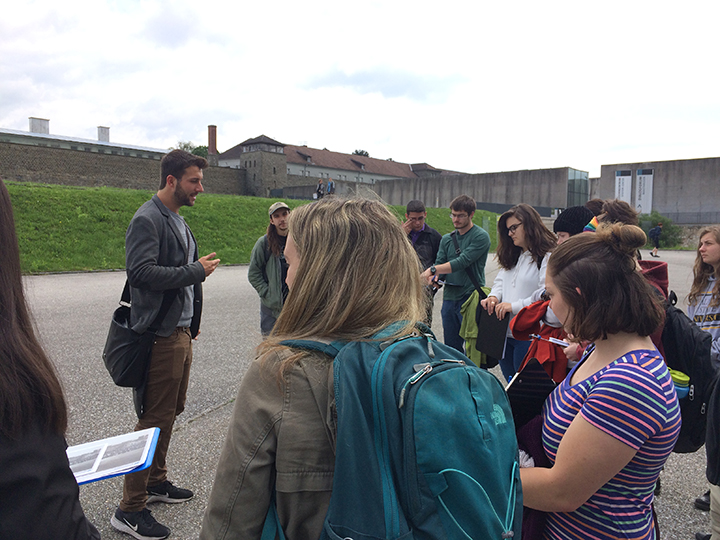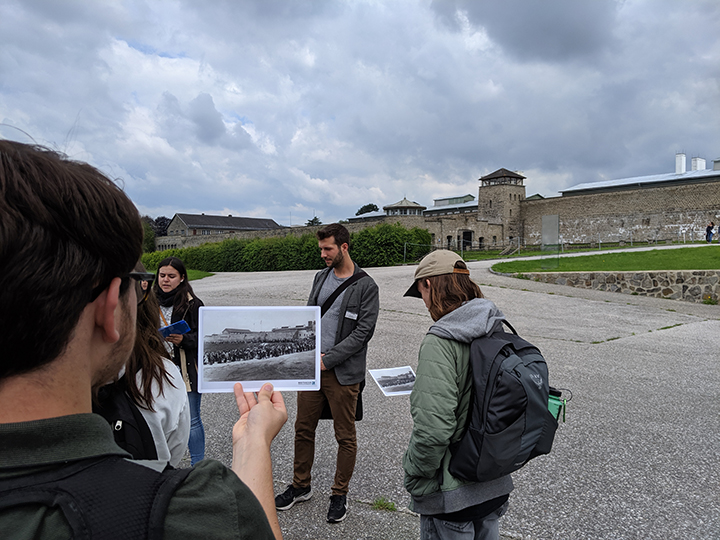 The photos above show students listening to their guide at Mauthausen Concentration Camp. Photo Submitted
For many of us, the most powerful experience was our tour of the Mauthausen Concentration Camp. The only concentration camp in Austria is where thousands were forced to work in a quarry under harsh conditions until they were killed and replaced. Mauthausen operated from August 1938 until it was liberated in May 1945 by the United States Army. We were given a guided tour of the camp and were able to ask any question of our guide. Many of us were shocked to learn that nearly 320,000 were killed by the Nazis in this camp alone. The Honors College's Elaine Mansure reflected about her visit to the former concentration camp,
"I found our visit to Mauthausen to be one of the most influential experiences not only of this trip but also my life. It was gut-wrenching and almost inconceivable and gave stories to lives that are often presented as only statistics."
I am so grateful that I journeyed to Vienna with other Honors College students and three extraordinary Honors professors. Along the way, I learned so much about the art, music, and culture of Vienna and about traveling light and exploring cities where I do not speak the native language. I also had the chance to build lasting relationships with my fellow students and our professors. I hope all students seize the opportunity to go abroad.
Top photo was taken outside the Monastery of Melk, Austria. Students are waiting for their train to take them back to Vienna. Photo Submitted.
Story by: Brad Rentz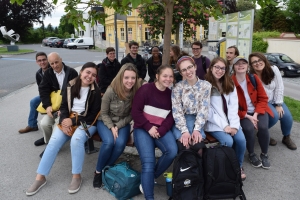 Tags: