This upcoming Fall semester, Honors College alumna Jessica Stevens (May '17) will join UNC School of Medicine class of 2021! Congratulations, Jessica on this acceptance and the scholarship funding you have received.
Like most Honors students, Jessica's interests are diverse and varied. She loves to run, hike and has a second-degree black belt. For her career in medicine, Jessica is taking her time exploring all options for a specialty, but contemplating preventative/lifestyle medicine.
At Appalachian, Jessica was a College Scholars Scholarship recipient, Outstanding Biology Senior, and graduated with university as well as departmental honors. She majored in cellular/molecular biology and minored in both chemistry and medical humanities. Her research with Dr. Howard Neufeld, Professor of Biology, examined whether Fraser fir trees were changing their anatomy in accordance with higher temperatures and drought-like conditions to determine the safety of the species as climate change occurs. Her culminating Honors thesis was entitled, "Using Vulnerability Curves to Determine Whether Tissue Water Relations Differ among Fraser Fir Christmas Trees Growing at Different Elevations."
This summer Jessica is traveling across the United States before making the move to Chapel Hill. To Jessica and all of our Honors alumni, enjoy this time of growth and exploration, and keep us posted!
Photo contributed by Jessica Stevens shows her holding her completed Honors thesis.
Story by Garrett Alexandrea McDowell, Ph.D.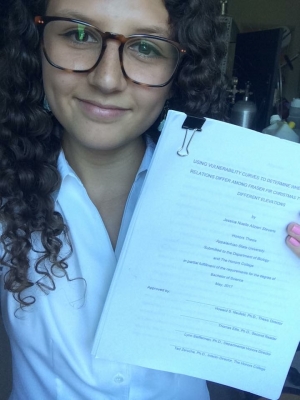 Tags: