Honors rising junior Matthew Streets has spent this summer interning at the Polish History Museum in Warsaw, Poland. As Matthew explained,
"The Polish History Museum was founded in 2006 but still does not have a physical location. In May of 2018, the specifics for construction were finalized and the museum aims to open its permanent exhibition in 2021. Despite this lack of a physical space, the museum has held numerous exhibitions and has formed partnerships with other museums and historical associations."
Matthew is a history major and is also pursuing minors in both Spanish and Africana Studies. He shared that he has always enjoyed European history.
"Although I do not intend on making Polish history the focus of my studies, I have enjoyed experiencing Polish culture and learning about this unique and interesting country. Throughout my time in Warsaw, I have learned a lot about Poland and its history. I have visited over a dozen museums with topics ranging from dollhouses to the Warsaw Uprising. I chose to do this internship so that I could gain valuable experience in a professional and history-focused workplace. My time in Warsaw has certainly been a history centered experience. I have completed small research projects, worked with teenage Polish and American students, and even attended a conference on the Polish influence in Chicago. These opportunities have allowed me to meet different people and make useful connections," he said.
Matthew began this internship on June 4. Though it ended on July 24.. Matthew described living in Warsaw this summer as an incredible experience. He has been living in a homestay.
"Thankfully, I have stayed with a wonderful family fluent in the English language. Without their support (especially in terms of translating), I would have had a harder time assimilating to the culture and urban setting. Polish is an extremely difficult language to learn. However, many Polish people do speak English (at least to an extent). I have had no problem asking people for directions, ordering food, making purchases, etc. The language barrier has forced me to be more proactive and direct, which will serve me well in the future," he said.
In the photo below, Matthew (right) is with his brother Clark in front of Brandenburg Gate in Berlin, Germany. Photo submitted.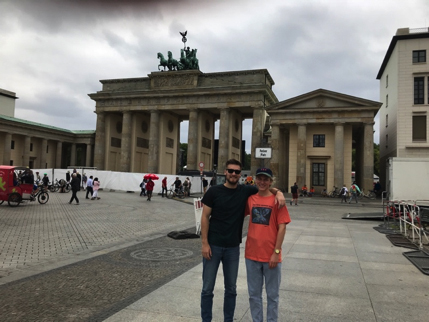 Matthew has enjoyed exploring the city and its museums and monuments. His internship came with a free access pass to many museums throughout Europe and he has taken full advantage of that benefit. In this way he studied the different approaches to portraying Polish history in order to apply them at the Polish History Museum when it opens. He scouted out ideas for website and exhibition designs, digitization projects, and methods to attract and maintain audiences.
Photo below features Matthew (far left) visiting the Emigration Museum in Gdynia, Poland, with students from Warsaw. Photo submitted.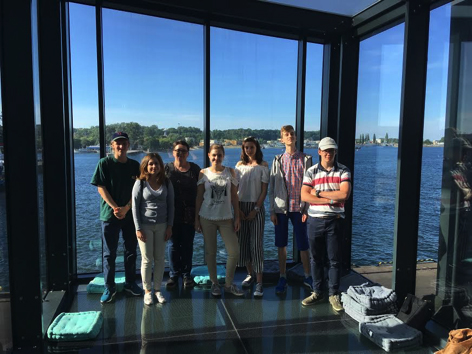 Matthew has been in Warsaw long enough to get comfortable in the city—walking the streets, visiting museums and monuments, and eating the many different foods. He got into a routine with work, museum visits, and city life such that he no longer felt like a tourist. He rode the metro daily and memorized the routes.
"On the metro, I am often reminded of the diversity of cities. I consider myself to be a people watcher so the metro is always fun and interesting. The realization that I was only a small factor in a constant system of movement and life was frightening, but I quickly accepted my role," he shared.
Photo below shows Vistula River in Warsaw, Poland. Photo submitted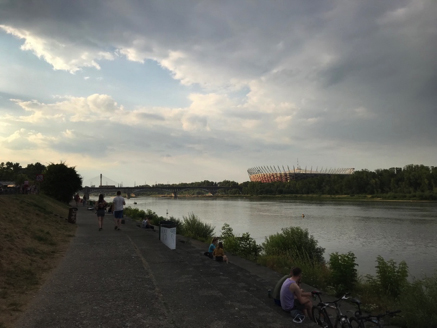 He also had plenty of free time on the weekends to travel around Poland and its neighboring countries. He visited Kraków, Poland; Berlin, Germany; and Prague, Czech Republic. Of those experiences, he reflected,
"Although Warsaw is a beautiful city with a rich history, it is not reflective of the stereotypical 'European' city. During the Warsaw Uprising in 1944, the city was almost entirely destroyed. Most of the city is relatively new and many buildings are replicas. Kraków, on the other hand, features authentic architecture. I was able to walk around the city and be taken back in time. After having lived in Warsaw for multiple weeks, my visit to Kraków was a fresh and interesting experience. Both Berlin and Prague were beautiful and very different from Warsaw. Visiting these cities, each with its own unique history and culture, prompted much thought and reflection. I traveled independently and I feel that these experiences have molded me into a stronger person."
The photo below features Prague from the lookout at Prague Castle. Photo submitted.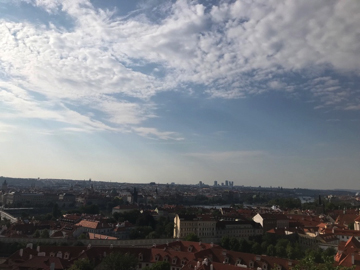 With perseverance and hard work, Matthew build on his connection with Ms. Wanda Urbanska, who works for the Polish History Museum, in order to secure this amazing opportunity. He read and wrote reflections on books about Polish history while emailing to arrange the internship.
Matthew recommends studying abroad to everyone because it forces you outside of your comfort zone. As he explained it,
"Putting myself in an unfamiliar environment was difficult and nerve racking, but I am glad that I did it. Living and working far from home, away from friends and family, and for me, away from the only language that I know well is an intimidating concept. With a positive mindset and true intentions, the experience can be life changing."
Top photo pictures Matthew visiting Wawel Royal Castle in Kraków, Poland. Photo submitted.
Story by: Garrett Alexandrea McDowell, Ph.D.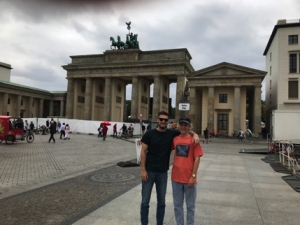 Tags: