Honors College sophomore and Chancellor's Scholar Owen Brady attended the North Carolina Music Educators Association (NCMEA) Conference held November 6-9, 2021 at the Benton Convention Center in Winston-Salem, North Carolina. Brady is a music education major who described his first-time attendance at the NCMEA conference as "a fabulous experience!" Funding for Brady to attend the NCMEA conference was gratefully provided by the Honors College Research and Scholarship Fund.
Photo above features (left to right): Owen Brady, world-famous euphonium soloist Demondrae Thurman, and fellow Appalachian classmates Myles Gunter and Jayda Copeland after a concert with the Triangle Youth Brass Band ensemble. Photo submitted.
Brady shared further details of his conference activities, and stated,
"I attended seminars on social and emotional learning, instrument fundamentals, marching band techniques, programming choral music, and much more. I interacted and networked with some of the finest educators from the region, and lined up some fantastic opportunities for classroom observations and teaching experience. I also performed a concert with the Appalachian Wind Ensemble, as well as attended concerts from the Triangle Wind Ensemble, the North Carolina Band Director's Jazz Ensemble, and the Western Carolina University Wind Ensemble. To wrap-up my experience at the conference, I attended a keynote presentation from Dr. Tim Lautzenheiser, a giant in the world of music education. The presentation was informative, funny, and inspiring, and excited me for the future challenges that lie ahead as a music educator. I will definitely be returning to the NCMEA conference in the future!"


Top photo shows Owen Brady attending the North Carolina Music Educators
Conference at Benton Convention Center. Photo submitted.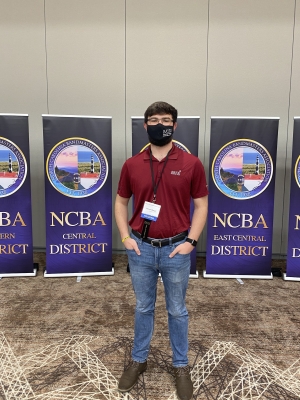 Tags: