Honors Senior Samantha (Sam) Steyl from Charlotte, North Carolina, has been awarded the first George Williams Garrett Memorial Scholarship. This scholarship is to support her scientific research on the role of antioxidant use in energy production in the liver. Sam is a pre-med intended chemistry major with minors in biology and medical humanities. She has also been the starting goalkeeper for Appalachian State's varsity women's soccer team.
Sam is working with Dr. Brooke Christian, Assistant Professor in the Department of Chemistry, as her thesis mentor. This scholarship will provide lab supplies to support her thesis project entitled, Overexpression of mitochondrial superoxide dismutase leads to defects in oxidative phosphorylation in mouse liver. She plans to complete and defend her thesis this semester in order to graduate in May.
Mrs. Sheila Garrett established the George Williams Garrett Memorial Scholarship in 2017 in honor of her late husband George Williams Garrett. Mr. Garrett, an Air Force veteran who served in Vietnam, was a mathematician and systems analyst. Mrs. Garrett is a medical technologist whose career spanned 45 years. The Garrett family is devoted to scientific research, especially research focused on medical applications.
The George Williams Garrett Memorial Scholarship provides $1000 support to students in the Honors College at Appalachian pursuing careers in scientific research with preference given to students who are planning to work in medicine or medical research. Honors College students in good standing and performing research in fields related to the biomedical field are eligible to apply. This scholarship supports research and related travel expenses outside of coursework.
Sam presented research (top photo) at the national Experimental Biology conference in April 2017 in Chicago, Illinois. The title of that poster, was Overexpression of manganese superoxide dismutase in mouse liver leads to defects in oxidative phosphorylation. She also presented twice at the Southeastern Regional Meeting of the American Chemical Society (SERMACS), in 2016 in Columbia, South Carolina, and again in 2017 in Charlotte, North Carolina. In the words of her mentor, Dr. Christian, "She has great confidence and communication skills, and she represented AppState impressively." In addition, she participated in Appalachian's Student Research Symposium.
For her Honors international education requirement, Sam spent a month working in a government run hospital in Cambodia over the summer of 2017. In that shadowing experience, Sam learned how medical care in Cambodia differs from that of the United States. Click here for the full story on Sam's trip to Cambodia. Reflecting on all of Sam's accomplishments, Dr. Christian shared, "She managed to accomplish all of this with a smile." Congratulations, Sam, on this much deserved award. We look forward to announcing and attending your public thesis defense soon.
Story by Garrett Alexandrea McDowell, Ph.D.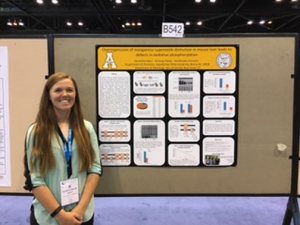 Tags: