Honors College student Nicholas Gilliam '17 reflects on his Appalachian Experience
By Linda Coutant
Posted Feb. 23, 2018 at 11:54 a.m.
BOONE, N.C. — Nicholas Gilliam '17, originally from Apex, graduated magna cum laude from Appalachian State University's Department of Accounting in the Walker College of Business. He was also an Honors College student and was active in the Student Government Association.
Now a graduate student in the University of Notre Dame's Master of Science in accountancy program, Gilliam looks back on what prepared him for his first destination after college.
"As a whole, Appalachian sets its students up for success at the caliber they desire, without letting them get lost in the shuffle. Faculty, staff, administrators and the community as a whole treat you as an equal and value what you have to offer," said Gilliam.
Check out this full story from Appalachian Today by Linda Coutant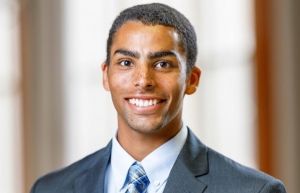 Tags: