Leah Barnes, a first-year elementary education major at Appalachian, holds a chicken at the Livestock station. "I've always loved being in nature and I think it's really cool being able to make new friendships and meet new people while being in this really beautiful place," she said. Photo by Chase Reynolds
By Alex Jansen
Posted Sep. 26, 2018 at 11:33 a.m.
BOONE, N.C. — When choosing Appalachian State University, students new to the university's Honors College likely didn't imagine that, before classes began, they would be bonding over how best to hold chickens.
On Aug. 16, these new students joined faculty, staff and other students in Appalachian's Goodnight Family Department of Sustainable Development and the Honors College for "Honors College Day at the Farm," which took place at Appalachian's Sustainable Development Teaching and Research Farm. And for some, the day's activities included learning proper hen-holding technique.
For full story in AppalachianToday, click here.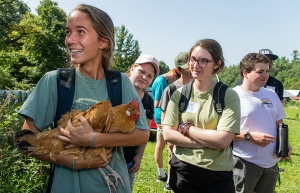 Tags: