Honors senior Chancellor's Scholar and sustainable development major Sydney Blume traveled to Banff, Canada, for ten days of avalanche training and snowboarding adventures over Spring Break (March 9-19, 2017). The trip was with Appalachian's Outdoor Programs, and was led by Rick Campbell, Associate Director, and Chris Bartram, a Graduate Assistant. Most of the participants, including Sydney, were Outdoor Programs employees. All were skiers or snowboarders seeking advanced training and adventure.
The group spent one day touring the Banff Center for the Arts and Creativity and learning advanced skills like curling. They then spent two days skiing and snowboarding front-country at the Sunshine Village and Lake Louise resorts. The group's avalanche training included one classroom session and a full day of learning hands-on skills for avalanche rescue. Following that, they launched into the backcountry for four days of trekking on the Wapta Glacier. During that time, they stayed in huts maintained by the Alpine Club of Canada.
The photo below by Sydney shows one of those huts, the Peyto hut, with one room of bunks and a kitchen with no heat or electricity. The group spent the first two nights of backcountry traveling in this hut melting snow for water!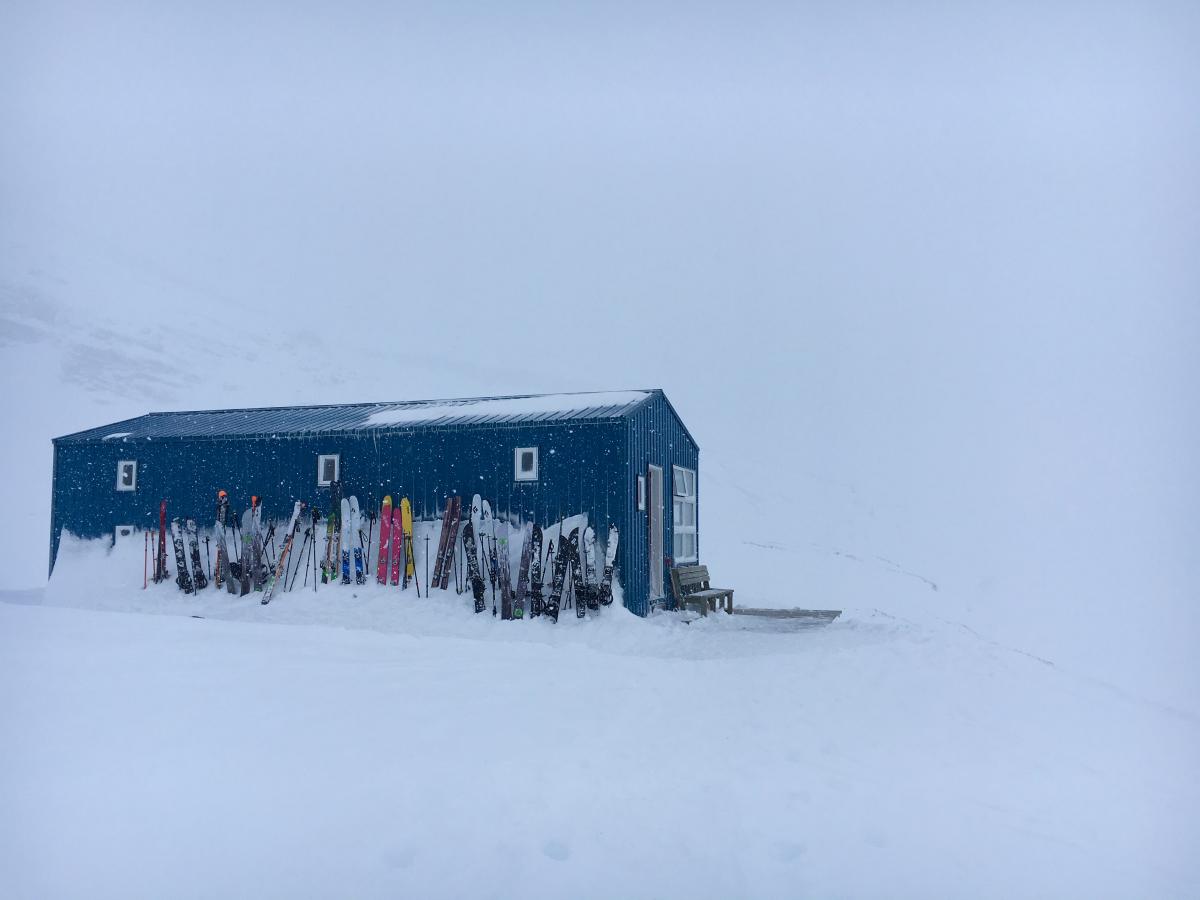 Sydney went on the trip to learn backcountry snowboarding. She shared, "I learned how to use a split board to skin up mountains and then snowboard down." The group honed their avalanche skills throughout the trip, making judgments about avalanche risks each day. It was a most challenging experiential learning class; the group came off the glacier a day early because the high avalanche risk due to the heavy loading of snow.
Story by Garrett Alexandrea McDowell, Ph.D.
Photo by Greydon Jones show the group outside the Bow hut, one of the other huts maintained by the Alpine Club of Canada.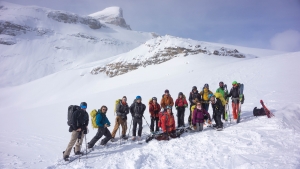 Tags: