Honors students Sarah Brown and Amelia Rhodes have each turned one of their individual pieces from RC 2001.410: Introduction to Writing Across the Curriculum taught by Dr. Peaches Hash in the Spring 2020 semester into a publication. Both have been published by Aisthesis, the University of Minnesota Duluth's annual interdisciplinary honors journal, a peer-reviewed publication for undergraduates. Brown's story "Alderozital Study Notes" and Rhodes' story "Are You Beautiful (Enough?) An Internal Monologue with Your Average High School Teenage Girl" appear in the most recent 2021 edition.
Sarah Brown is currently an Honors junior majoring in exercise science with minors in both psychology and chemistry; for her Honors thesis Brown is working with Dr. Scott Collier, professor in the Department of Health and Exercise Science, as her director. Amelia Rhodes is an Honors junior and 2019 Chancellor's Scholar majoring in healthcare management with a minor in psychology. Dr. Peaches Hash, lecturer in the Department of English, regularly teaches Honors sections of RC 2001 Introduction to Writing Across the Curriculum as well as RC 1000: Expository Writing with an arts-based pedagogy. In her sections of these General Education departmental Honors courses, students compose with various materials, and the writing involves self-exploration and constructed knowledge.
Brown explained that what separates Honors education is the student-centered approach that drives students to be more active learners. She stated,
"From my experience, all honors faculty take a much more student-centered approach that allows for better education as well as stronger connections. To put it simply, the classes are more fun/significant and the faculty truly care. One word of advice I will give to Honors students is that to get the full worth of honors courses, you have to be willing to put in the effort and become a more active learner in class. Honors sections of General Education classes are meant to be more challenging, but they are also more rewarding, aiding in growth both inside and out of the classroom."
As the second level writing and composition requirement, all RC 2001 courses build on basic academic writing with formal language to invite students to explore ways of displaying knowledge that engage audiences, and to productively challenge what students have previously been taught about writing. RC 2001 is also a General Education course with common goals and outcomes including: critical thinking, analysis, working with various media, and extending skills from RC 1000: Expository Writing. Dr. Hash's RC 2001.410 section of this course is a unique Honors experience. She explains
"Students must consider how to display their knowledge in multimodal forms of art and writing, but also extend their writing past displaying information into how the information they learn constructs their knowledge and influences their experiences. In my course, I try to disrupt passive or mechanical writing routines so space is created for students to learn more not only about writing, but also about themselves as writers… This also requires a level of risk-taking that is not as present with assignments that students are accustomed to."
Brown further emphasizes that courses like this are only possible through Honors education, and reflects on the impact of this course on the whole of her education including her major coursework and Honors thesis. She stated,
"This was by far one of my favorite courses I have taken at Appalachian State, which says a lot coming from a STEM major. Dr. Peaches does an amazing job at challenging her students in ways that actually allow for growth rather than forcing an enormous workload on already overwhelmed students. My first paper in her class was horrendous because I, like so many others, have been taught that essays and papers should always follow a specific structure: introduction, body paragraphs, and conclusion. This class took a completely different approach, allowing students to look at the material from a completely different perspective. By focusing on in-class discussion and adding creative elements, a unique format only allowed by Honors flexibility, Dr. Peaches is truly able to keep her students inspired and engaged. My final paper felt like proof of the power of a creative approach. Going forward, I am excited to incorporate a more creative mindset into all aspects of my education, from exercise science classes to my honors thesis."
For both Brown and Rhodes, the work they did in this departmental Honors general education course connected to their majors, career path, and research interests. Rhodes spoke to the profound impact of this course on her broad academic development. She stated,
"My work is a clear reflection of the course material in my freshmen year RC 2001 class. Dr. Peaches always encouraged us to write our papers in a more creative format. The paper that was published, Are You Beautiful (Enough?) was a discourse in my major. My major is Healthcare Management, and most would argue that my piece does not have a lot to do with my major. Dr. Peaches, however, encouraged us to get out of our comfort zones and write something that we were passionate about within our major even if it was not directly tied to it. I decided to go more of a mental health and social media route, which are both concepts that I hope to work with in my Healthcare Management career. In Dr. Peaches' course, we learned a lot about how to reach our audience through dialogue and detail, even if it made us uncomfortable. I really liked this class because it challenged my writing skills. I was used to writing a traditional research paper, but Dr. Peaches strongly discouraged this and instead wanted us to write in a more creative outlet, whether that be writing letters, poems, songs, or other artistic forms. Through this curriculum, I was able to produce a paper that forced me to be vulnerable yet also express the message I wanted my readers to receive."
When Dr. Hash found the call for submissions to the journal Aisthesis, with its aim to publish Honors writing and openness to creative methods, she knew it would be a perfect fit for some of her students' work. She reached out to students, she said, "whose work took creative risk and was memorable." She further added,
"I teach 4-5 RC courses a semester, but some students write in such engaging ways that their work stays with me long after they complete my course. Sarah and Amelia had taken my course the previous year, and I still remember how it felt reading the rat's perspective in Sarah's paper and how lyrical and emotional Amelia's monologue was. I also knew that Sarah and Amelia have strong work ethics and high desires to succeed, so they would be willing to revise anything necessary based on what the journal required. Since this publication was released, I recently reached out to other students... Hopefully, their achievement will encourage other students to put their work out there!"
Brown had planned to submit her work to a different journal but had not done so yet when Dr. Hash reached out to her about Aisthesis. She stated, "I submitted on a whim just to say that I had. It's one thing for your professor to like your work, but for a completely unassociated journal to choose it was probably the most rewarding part. The paper had gotten accepted with no revisions required, but I hadn't touched the paper in months and wanted to make a few small adjustments."
Rhodes added, "I wanted to take advantage of an opportunity to put my work out there. It was scary doing this, just as it was frightening to submit this assignment back in spring of my freshman year. The piece I wrote is very special to me and really hits home. Social media is something that influences almost everyone's lives and I wanted to talk about the mental health effects of it without launching into a pure research paper. It was so fun writing it and I love the idea of people reading it and seeing themselves in the characters and storyline…It made me want to write more. While the paper was a blended research and creative paper and had many challenges along the way, I really enjoyed writing it. It was during Quarantine in April 2020, so I had a lot of time on my hands. It was fun playing around with different concepts. Even the research aspect, which is usually my least favorite part in the writing practice, was fun because I was writing and researching about something I was passionate about."
Both Brown and Rhodes recommend that other Honors students take courses like this one from Dr. Hash. Of her experience in this course, Rhodes shared,
"It forces you to get out of your comfort zone and write from different angles and in different mediums. It also forces you to be more vulnerable with your work and trust in what you are putting out there…After taking her class, I realized that creative writing is something that will always have a purpose, because it draws readers and writers in. It forces writers to add a personal touch they would not normally add in an academic or professional setting, and it forces readers to be open to that expression and see what they think. I do not think this class is limited to those who prefer a more creative or artistic element in their academic career. I think we all crave connection on some level, and I think people find that in this class and through writing in a creative medium."
Honors courses like this one provide many opportunities for students to develop academically, personally, and professionally. Dr. Hash explains that there is a trend in academia for writing that blends creativity with the more formal and structured academic writing. She sees more and more publishing options for Honors students resulting from multiwriting assignments like those in her courses. She explained, "creative methods of writing extend beyond summarizing and analyzing information; they call for students to put parts of themselves into their work and take risks that may feel scary at first or be vulnerable. Getting their creative work published allows readers to experience not only what they know, but who they are as writers." For Honors students, there are many rewards from publishing and from Honors coursework.
Top photo features Sarah Brown (left) and Amelia Rhodes (right) in the Honors Courtyard outside Appalachian Hall in September 2021.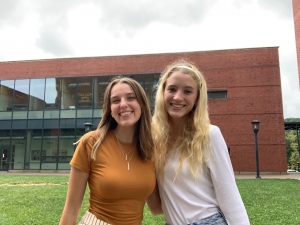 Tags: