Honors Wednesday Memo
Opportunities and Information for Honors Students
Edited by Kelly Dancy
Volume 1, Issue 2
September 20, 2017

Message from Dean Jeff Vahlbusch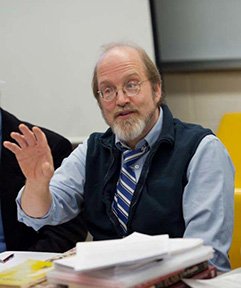 World-class Honors colleges are powered by collaboration — Honors students, Honors faculty, and Honors staff thinking and working together to create and nurture an Honors community and Honors opportunities for all, in the classroom and out of the classroom, on campus, in Boone, and beyond. The Honors College is something we create together, every day.
We in Honors are also full members of the university community, and therefore also owe that community our collaboration. As our new SGA Honors senator, Connor Hughes, reminds us in today's Wednesday Honors Memo, we in Honors have voices in these larger communities as well, and the chance to use them to make the Honors College and this extraordinary university more welcoming and just, more efficient and effective, more excellent!
Charles Dickens: "Everything that happens [...] shows beyond mistake that you can't shut out the world. That you are in it, to be of it; that you get into a false position the moment you try to sever yourself from it; that you must mingle with it, and make the best of it; and make the best of yourself into the bargain" (Letter to Wilkie Collins, 6 September 1858).


A Message from Connor Hughes, Honors College SGA Senator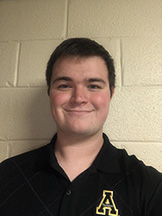 Meet Connor Hughes, your Honors College SGA representative. Connor is a political science major from Apex, North Carolina. For more information about Connor and how you can represent Honors at Appalachian, please visit https://honors.appstate.edu/news/meet-app-states-honors-sga-senator.


Upcoming Opportunities:
Homecoming Blood Drive: Today, September 20th, Appalachian State's 11th annual Homecoming Blood Drive will take place from 8 a.m. to 7 p.m. in the Holmes Convocation Center. Sign up to donate or volunteer at http://homecoming.appstate.edu/blood-drive. Walk-ins are also welcome. It is always important to donate blood when you can, but in the wake of Hurricanes Harvey and Irma the Homecoming Blood Drive is especially timely.
Positions at The Smith Gallery: The deadline to apply for the positions of Gallery Assistant or Graphic Designer at The Smith Gallery is Monday, September 25th. This is a great job opportunity! For more details visit https://honors.appstate.edu/smith-galley-hiring.
CareerFest: Appalachian State's CareerFest is next week, September 26th, and there are many opportunities this week to prepare. Check out all the details at https://honors.appstate.edu/appstate's-careerfest.
Peace Corps: Applications for departures in May, June, and July 2018 are due by October 1st. Apply by January 1st for departure in July, August, and September. To apply: https://tinyurl.com/ybg5utlv.
Obama Fellowships: Applications for the Obama Fellowships are due by October 6th. Are you passionate about civic engagement? Apply for the two-year, non-residential Obama Fellowship, which offers "hands-on training, resources, and leadership development for a diverse set of community-minded rising stars – organizers, inventors, artists, entrepreneurs, journalists, and more." Please visit https://www.obama.org/fellowship/ to learn more about this opportunity. Dr. Jeff Vahlbusch will be more than happy to assist potential applicants!
International Research Grant: November 8th is the International Research Grant application deadline. If you are engaged in a research endeavor that has an international and/or global focus, please consider applying for this grant of up to $1,500.00. For more information and to apply, please visit https://osr.appstate.edu/apply/international-research-grants.
Apply to be a SOUL: Student Orientation Undergraduate Leader (SOUL) applications are due by November 10th . The SOUL application will open on October 16th.This is a paid position! Check out https://workfororientation.appstate.edu/soul for more information.
Appalachian Global Symposium: Appalachian Global Symposium proposals are due by November 15th. Share your recent activities that contribute to the university's global mission at International Education Week! For more information and to submit a proposal, please visit https://international.appstate.edu/get-involved/appalachian-global-symposium.
Upcoming Events:
Alternative Service Experience Winter Programs
Are you interested in spending a week doing meaningful service, learning about social justice issues, engaging in thoughtful reflections, and making lasting friendships? There are currently limited spots available for 2 winter programs that take place from December 16th through the 22nd. The San Francisco program focuses on exploring the community through race, gender, and public health, while the St. John program focuses on environmental issues and the lasting effects of colonialism. If you're interested visit the ACT office in the Student Union or visit http://ase.appstate.edu.
Art and Consciousness: "The Sharing Project" and "On Tyranny: Twenty Lessons from the Twentieth Century"
From September 1st to October 27th, The Smith Gallery will host "The Sharing Project" and "On Tyranny: Twenty Lessons from the Twentieth Century." A multimedia presentation by Winston-Salem artist Joe Tauber, "The Sharing Project" combines interdisciplinary perspectives to grapple with the nature of sharing in both a familial and political context. "On Tyranny: Twenty Lessons from the Twentieth Century" is a set of broadsheet posters based on the book of the same name by Yale University professor and historian Timothy Snyder that addresses the issues of social inequity and the preservation of freedoms. For more information, visit https://honors.appstate.edu/sharing-project-and-tyranny-twenty-lessons-twentieth-century-smith-gallery.
The Humanities Council and The Honors College are sponsoring a book discussion series of Timothy Snyder's book, On Tyranny, every Wednesday from September 13th to October 4th. Learn more at https://humanitiescouncil.appstate.edu/node/27.
Women in Education Leadership Symposium
The second annual Women in Education Leadership Symposium will be held in the Reich College of Education from Friday, September 22nd through Sunday, September 24th, 2017. The cost of attendance is $75 for students with (with AppCard). To learn more visit https://wiels.appstate.edu/.
War in Europe: Information and Sign-up Session
Thinking about a study abroad next summer? Consider spending May 15th through June 5th exploring the effects of the world wars, the Cold War, and the Holocaust in Berlin, Dresden, Budapest, Krakow, and Prague! The next information session for this study abroad is September 21st at 5:30 p.m. in 206, Chapell Wilson Hall. For more information, visit https://honors.appstate.edu/war-europe-information-and-sign-session.
Blurred Boundaries: The Experience of War & Its Aftermath
Are you interested in military and social history? Join the reading and discussion group on novels, films, and photographs about the Civil War and the Vietnam War. The first installment in the six-session series, "Gettysburg & The Fog of War," will take place on Sunday, September 24th from 1:00-4:00 p.m. in room 111 of the Living Learning Academic Center. For more information, please visit https://honors.appstate.edu/blurred-boundaries-experience-war-its-aftermath.
Kedi: Fall Sustainability Film Series
On Tuesday, September 26th at 7:00 p.m. in the I.G. Greer Theater there will be a screening of "Kedi," a documentary about the cats of Istanbul, followed by a panel discussion on "Cats, Pets, Culture, and Ethics."
Leadership 101 Series: Finding Meaning
Discover the importance of deriving meaning from your college experience and everyday tasks at "Finding Meaning: Learn How to Find Meaning in College" on Wednesday, September 27th from 5:00-6:00 p.m. in Tater Hill (PSU). Learn more about this free, one hour event at https://leadership.appstate.edu/leadership-101.
Honors Service Learning Day: A Celebration of Community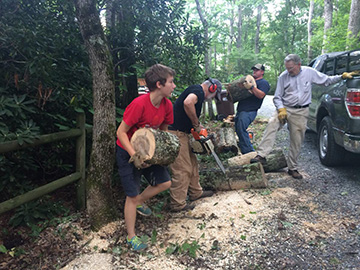 On Thursday, August 17th, sixty-six first-year honors students participated in Service-Learning Day. Students combined community service with hands-on academic learning, and purposeful engagement with their new community and home. To learn more about the goals of this day and to view photos by AHA! President Alia Dahlan, visit https://honors.appstate.edu/news/honors-service-learning-day-celebration-community.
Honors Alumni Spotlight
Honors Alum Michael Tucker ('17) has been awarded full funding to attend the Institute of Astronomy at the University of Hawaii Manoa, where he is pursuing his doctorate in astronomy. He will also be teaching introductory astronomy laboratories for undergraduates. To learn more about Michael's accomplishments, goals, and research on exoplanets, visit https://honors.appstate.edu/news/michael-tucker-heads-hawaii-study-exoplanets.
Honors Student Spotlight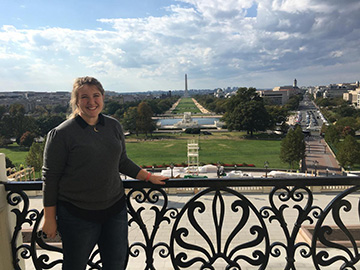 Honors senior Sarah Aldridge spent summer 2017 in the D.C. Public Schools Urban Education Leaders Internship Program. A political science major and sociology minor, Sarah's area of interest is on students who have traditionally been left behind in public schools, especially low-income and students of color. To learn more about Sarah's work in Washington, D.C. and to view additional photos, visit https://honors.appstate.edu/news/sarah-aldridge-spends-summer-fighting-equity-dc-public-schools.
Don't forget to "like" us on Facebook at Appalachian Honors: https://www.facebook.com/Appalachian-Honors-482157301971520/.
Submissions to honors@appstate.edu should be received by 5:00 p.m. on Thursdays for the following week's issue.