Honors Wednesday Memo
Opportunities and Information for Honors Students
edited by Brad Rentz
Volume 1, Issue 28
May 2, 2018
Message from Dean Jeff Vahlbusch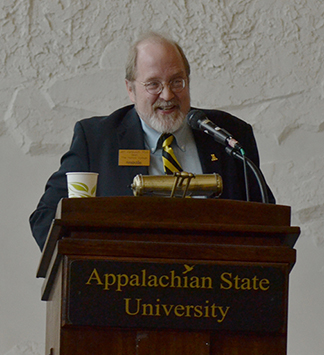 Dear Honors College students,
Cookout Tomorrow (Reading Day)
Please join us in the Honors College "Bailey" (a.k.a. Courtyard) on Reading Day, May 3rd, any time between 11 a.m.to about 1 p.m. for a simple Honors College Cookout.
Dr. Mead and Jeff will be grilling good hot dogs, hamburgers, veggie and vegan burgers. There is the rumor of brownies (keep fingers crossed).
Please bring your own beverage!
Come celebrate a good year in the Honors College with friends.
(Rain location is Appalachian Hall).
The Honors College scream will take place at Noon on Reading Day in the Bailey/Courtyard (During the cookout!) Be there to relieve some stress!
Additionally,
Fuel for Finals in the Honors College Library: Appalachian Hall is your place and your space and becoming ever more so. Announcing the arrival of the Honors College Keurig machine, donated by Friend of Honors Dr. Audrey Fessler, who teaches in the Department of English and Watauga Residential College. (Thank you, Audrey!)
Sustainability and Recycling: Each K-cup we use in the Honors College will be collected and returned to Keurig for recycling and composting through their Grounds to Grow On program:
https://www.groundstogrowon.com/keurig/home.html#faq
Secret: Between now and the end of finals this semester, all Keurig beverages available in the Honors Library are free to Honors College students (while supplies last). Please bring your own cup!
Sending all good wishes for the days to come,
Jeff
Upcoming Opportunities:
Dr. Vahlbusch will be delighted to assist with applications!
Don't Throw it Away!
This is one of ACT's largest events of the year! All donations to this annual event are sold in the Big Sale in the fall semester. The funds raised in this event are given to local nonprofit organizations. For more information and how to sign up to volunteer, please visit: https://honors.appstate.edu/dont-throw-it-away-dtia-event
Present at the North Carolina Honors Conference
The 2018 meeting will be held September 28 and 29 on the campus of High Point University. Honors students will have an opportunity to present their research, either as a formal presentation or in poster sessions. The proposal deadline is in September, and the Honors College will keep you in the loop with specific deadlines and guidelines for submission. For more information, please visit: https://honors.appstate.edu/2018-north-carolina-honors-conference
Study Abroad in Spring 2019
Before this semester ends, you should begin your application to study abroad in the spring of 2019! Applications will be accepted until September 15 for most programs. Begin yours as soon as you can! For more information, please visit: https://honors.appstate.edu/study-abroad-spring-19
Trailect Amgen Scholars Program
Every year, the Amgen Scholars Program provides 240 selected undergraduate students with the opportunity to engage in a hands-on research experience in many of Europe, USA, and Asia's premier educational institutions. To learn more, please visit: https://honors.appstate.edu/trialect-amgen-scholars-program.
Dog Sitting
If you are available from May 9 to June 11 to care for two dogs and are able to live in the owner's Valle Crucis home, please contact Sara at richsa@appstate.edu. For more information about this opportunity, please visit: https://hr.appstate.edu/our-community/appalachian-marketplace/pet-sitter-needed-urgently
Upcoming Thesis Defenses:
Jeff says: Support your fellow Honors College students and faculty by attending Honors thesis defenses! You'll marvel, learn, and grow. And each defense you attend, you'll make your own easier.
Lily Shaw: a sociology and Spanish major, will present Swinging Toward Social Change: How Lindy Hop Promotes Gender Equality on May 3 at 10 am in Appalachian Hall Room 163.
Kelly Dancy: an English and secondary education major, will present Empowering Students to Think Critically and Compassionately by Teaching Social Justice through Literature on May 3 at 9 am in the College of Education Room 232
Joseph Nuhfer: a computer science major, will present NuhSchedule: A Web Application for Automated Course Scheduling on May 3 at 11 am in Anne Belk Room 310.
Stay in the Know…
AHA! will meet tonight the Honors College Library at 5:15!
Senior's Week Celebrations
Senior's Week is halfway done, but there are still several events that seniors can attend! On Friday, May 4th, there is a Graduation Celebration at Appalachian Mountain Brewery from 6 – 8 pm. On Monday, May 7th, there will be a senior class toast with the Chancellor! For more information on these events, please visit: https://www.facebook.com/events/1032726560214375/.
Applying to Medical School?
On Reading Day the Health Professions Advising Office is hosting a variety of workshops. All workshops will take place in Rankin Science West room 156. Students are encouraged to bring their laptops as the workshops will be interactive and using the application services sites and other helpful tools. For further information about the workshops, please visit: https://honors.appstate.edu/planning-apply-medical-school-or-similar-summer
Summer Music Lessons
Summertime is a great chance to learn an instrument! The Community Music School (CMS) will offer online registration May 4-11. You can learn to play piano, string, wind and brass instruments and even improve your singing. For more information, please visit: https://honors.appstate.edu/music-lessons-cms-summer-registration
In the Honors Spotlight
Honors Students Shine in the Student Research Conference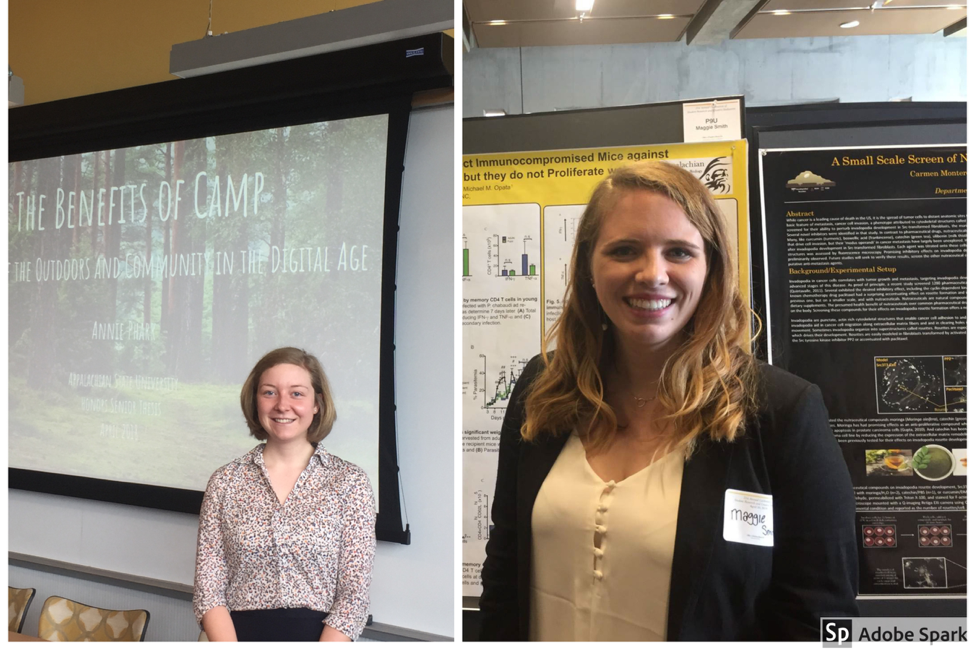 On April 19, the Office of Student Research held the 21st Annual Celebration of Student Research and Creative Endeavors. The event hosted both undergraduate and graduate Appalachian State students coming to a total of 176 abstracts. The presentations spanned across 24 different academic departments and included 89 Appalachian Faculty Mentors. Pictured above is Annie Pharr (left) and Maggie Smith (right). Annie Pharr presented The Benefits of Camp: Necessity of the Outdoors and Community in the Digital Age which was also her Honors thesis. Maggie Smith presented a top 10 poster with her study of mice and malaria. Annie and Maggie are among several Honors students who presented at this event.
.For more information and a complete list of Honors Students who presented, please visit: https://honors.appstate.edu/21st-annual-celebration-student-research-and-creative-endeavors
Story compiled by Brad Rentz
Honors Students are Hard at Work in the Last Weeks of the Semester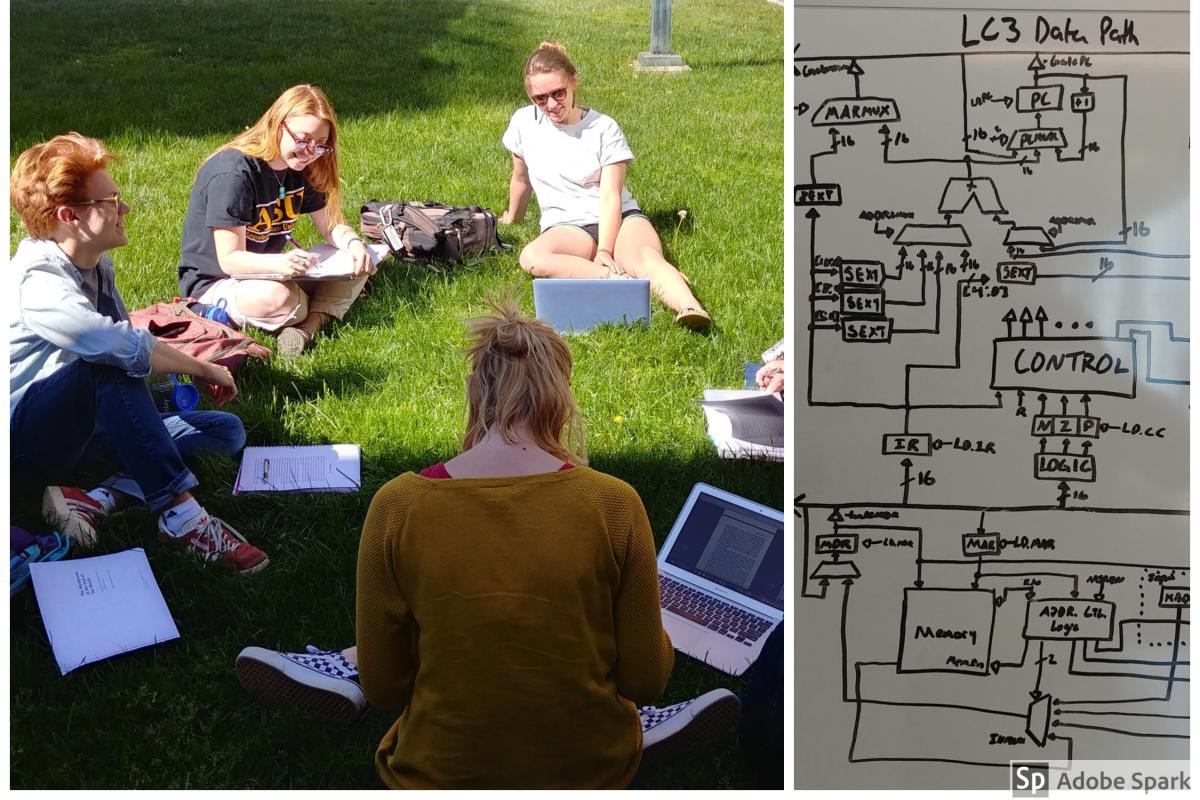 It is the final stretch for this Spring semester and 2017-18 academic year. Honors students are beginning to get into the crazy rush of studying for finals, making summer preparations, and saying our goodbyes to college friends. The Honors library has been busy with our new large whiteboards and today is the first day of the Keurig machine. In your rush to cram for the exam, stop by the honors college for some relaxation and a quiet place to continue your studying!
For more on this story, please visit: https://honors.appstate.edu/news/honors-students-hard-work-last-weeks-semester
Story written by Brad Rentz
Appalachian State Honors College on Social Media!

We're now on Snapchat!!! Add us with this Snapcode or by searching "apphonors."

Check us out on Instagram also! Find us by searching "Appalachian Honors College"

Don't forget to "like" us on Facebook at Appalachian Honors: https://www.facebook.com/Appalachian-Honors-482157301971520/.
Submissions to honors@appstate.edu should be received by 5:00 p.m. on Thursdays for the following week's issue.a