History
Appalachian State University has offered honors courses for over 50 years. In the late 1960s, several departments hired new faculty members with innovative ideas regarding student learning. Some of these new faculty members began advocating for an honors program, including Dr. Tom McGowan and Dr. Tom McLaughlin in the English department. The first departmental honors program (in English) was founded in 1970.
The initial Honors Program at Appalachian began under the leadership of Dr. O. Kenneth Webb in the General College, with the first graduates in 1972. Dr. Helen Latour (Languages/Latin) and Dr. Max Smith (Music) were instrumental in developing the General Honors curriculum in the late 1970s, with the first General Honors course offered in the early 1980s. In the late 1980s the program was relocated to Academic Affairs.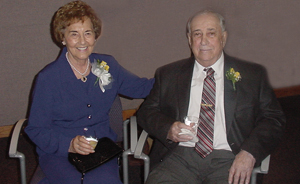 The University Honors Program was renamed the Heltzer Honors Program in 2004 to acknowledge a generous bequest from Harry and Jerri Heltzer of Lenoir, North Carolina (right). In 2008, the Heltzer Honors Program, with a revised and updated curriculum and a number of team-taught courses, was relocated within the newly formed University College, led by Dr. Dave Haney. The Heltzer Honors Program was developed into the Honors College at Appalachian State University in 2010, with the approval of the General Administration of the University of North Carolina.
In the late 1970s, the University created the Chancellor's Scholarship within the newly formed Honors Program to ensure that the most-academically competitive students in the country would be attracted to the new Honors Program. It was initially a full academic scholarship, and is currently the University's only full scholarship that is primarily academically merit based.
Additionally, in 2010, when the Heltzer Honors Program was developed into the Honors College, the Heltzer Honors Program for International Education became a scholarship program with the Honors College that supports students pursuing study abroad opportunities.
Click here to meet the Heltzers!
Deans of the Honors College:
Dr. Vicky Klima (Interim Dean, 2023-present)

Dr. Jefford Vahlbusch (Inaugural Dean, 2017-2023)
University Honors Coordinators/Directors:
Dr. Ted Zerucha (2016-2017)

Dr. Leslie Sargent Jones (2008-2016)

Dr. Lynn Moss Sanders (2004-2008)

Dr. Ozzie Ostwalt (1999-2004)

Dr. Don Saunders (1987-1999)

Dr. Tom McLaughlin (1984-1987)

Dr. Hubie Williams (1981-1984)
*Photo courtesy of Appalachian Special Collections