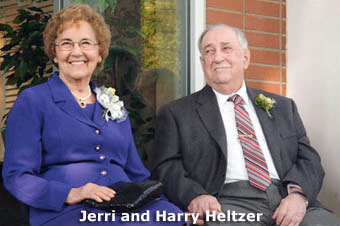 Harry Heltzer was born in Cincinnati on August 22, 1911. He graduated from the University of Minnesota with a degree in metallurgical engineering. He began as a laborer for 3M, receiving $12 a week wages. In 1937, Mr. Heltzer was assigned to a project to make the center line of highways more reflective than regular paint. Mr. Heltzer eventually developed a double coated tape with glass beads on one side, but it did not adhere to the road during the winter. Instead, his discovery was used to make road signs more reflective. Later, he invented a compound that did stick to the roads, and was awarded six patents for reflective highway products.
In 1961, Mr. Heltzer was named vice president of 3M, and became president in 1966. In 1970, he was elected to serve as the chairman and chief executive officer of 3M. Mr. Heltzer expanded 3M into 150 countries and was head of the company from 1966 to 1972 when profits increased sharply. He retired from 3M in 1975 at age 64, and moved to North Carolina with his wife Jerri in 1976.
He served as the chairman of the International Road Federation, chairman of the Highway Users Federation for Safety and Mobility, chairman of the Automotive Safety Foundation and director of the National Safety Council. He was also appointed by President Lyndon B. Johnson as a member of the National Highway Safety Advisory Committee.
Elizabeth "Jerri" Kent was born in Lenoir, North Carolina, the seventh of eleven children. She graduated from The Women's College (now the University of North Carolina at Greensboro) with a degree in Business Administration in 1952, and taught school for one year following graduation. After teaching, she worked for political agencies in Washington, D.C. for 23 years. She met and subsequently married Harry Heltzer in the 1970s.
The Heltzers became interested in working with Appalachian State University after moving from Minnesota to be near Mrs. Heltzer's family in Lenoir, North Carolina, following Mr. Heltzer's retirement as CEO and chairman of 3M in 1976. Paul Broyhill, an ASU trustee, piqued their interest in helping students who lacked the resources to attend college, and Mrs. Heltzer estimates that they have individually helped 40-50 students to attend ASU since they moved to North Carolina. The Heltzers never paid for tuition, but they helped students with student fees, clothing, school supplies and other costs associated with attending college. They want students to learn that they are self-sufficient and that they can find a way to further their education even with limited finances.