Residential
The Brad and Carole Wilson Honors and Engagement Community: Home of the Honors Residential Community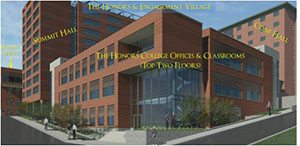 Beyond the classroom, The Honors College seeks to maintain a stimulating and supportive community for students. Living with other Honors students provides special opportunities for project collaboration, studying together, and sharing intellectual and social growth. Special speakers, discussion groups, and activities sponsored by the Appalachian Honors Association (AHA!) are hosted in The Honors College, which is housed in the academic wing (Appalachian Hall) between the two residence halls, further contributing to the sense of a learning community. Together, the three buldings form the Brad and Carole Wilson Honors and Engagement Community. The community is promoted beyond the residence halls as well, with students often taking extra field trips to places such as Dublin, Rome, New York City, or Black Mountain College to study aspects of course material first hand. Students attend regional or national conferences or study abroad for Honors credit, while others gain invaluable experiences through service-learning projects sponsored by Honors.
The Honors residential experience can be a transformative opportunity for a young scholar; sharing the intellectual excitement about their courses and the world with like-minded students of all years gives rise to friendships that last a lifetime. The opportunity for late-night discussions with classmates extends understanding to insights and knowledge that will endure as long as those friendships. It is this engaged learning and nurturing of a committed attitude to independent research and exploration that will encourage lifelong scholars and citizens who never stop searching, questioning, and growing.
Advantages of Living in Honors
Honors-only floors in Summit (for upper class students) and Cone (for first-year students) with slide-card access between the two halls and Appalachian Hall
Students from all years participate in Honors housing in the community and senior students provide mentoring for their junior colleagues
The location is central and close to the Library, Student Union, classroom buildings, the cafeteria and more
The Honors Offices and Advisors are located in Appalachian Hall, the academic wing between the two residence halls
Honors classrooms and the majority of Honors First Year Seminars are located in Appalachian Hall
Only students who have been accepted into The Honors College may live in the Honors community first-year student hall floors; an entering first-year students may request another Honors first-year student as a roommate. As of fall 2016, Honors College first-year students are required to live in the Honors residential community in Cone; the only exceptions will be if students are living in another residential learning community (e.g., Watauga Residential College, ACES).