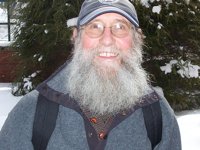 Department:
Leadership and Educational Studies
Degrees:
Ph.D., University of Wisconsin-Madison; M.A., B.S., University of North Carolina Chapel Hill
Teaching Experience:
I have been teaching at ASU since 1988 and teaching in the Honors program for the past 18 years. As a philosopher of education all of the classes that I teach reveal I think my unwavering commitment to a liberal arts education, to exploring and examining with students difficult questions concerning what it means to live a meaningful human life and to live in relationship with other human beings and other nonhuman animals with which we share our natural world. I am especially interested in how philosophy and literature open up and address these questions and issues.
Why I like to teach honors courses:
I love teaching the first year honors seminar for the opportunity it provides to engage with serious minded students in reading and conversation focused on the all-too-human questions of what we are and what we are doing and what we ought to do in our lives. I appreciate the opportunity to introduce students to the joy, inspiration, struggle, confusion and pain of joining in an ongoing conversation as each of us aspires towards some degree of expanding comprehension, clarity, and discernment about our lives and the lives of others.