Honors College senior Abby Bennett has been awarded the 2021-22 George Williams Garrett Memorial Scholarship. Abby majors in chemistry with a minor in nutrition and foods, and works with Dr. Jennifer Cecile, associate professor in the Department of Chemistry, as her research mentor and thesis director. She has received this scholarship to support her Honors thesis research in which she is studying the plant, Moringa oleifera, and working to develop it into a drug for rheumatoid arthritis. Specifically, she aims to identify the anti- inflammatory compounds present in Moringa oleifera and their respective concentrations. She also monitors how samples degrade over time in order to determine shelf life. Funding from the Garrett scholarship supports this testing.
Bennett explained that, "Moringa is originally from parts of Africa, India, and the Middle East and is surprisingly drought resistant, so it can be grown in a variety of climates! Almost all parts of the plant can be utilized as a nutritional supplement, food source, or medicine for a variety of ailments. Hypertension, ulcers, bacterial infection, and inflammation have all been previously treated by Moringa."
Bennett's long-term professional goals have evolved through her Honors College experiences and are being furthered through her thesis research made possible with this funding support. Her work extends beyond research to community engagement. As she explained,
"I want to be able to capture the sense of place associated with food culture and spread it to other people through the joy of cooking and nutrition utilizing phytochemical-rich food items in graduate school. By creating community engagement through culinary demonstrations, I want to inform communities about the importance of the food that they're consuming and how bioactive-rich foods effect their bodies. The Honors College has been so instrumental in helping me make connections between my passions and professional goals through seminars, promoting research, and community involvement."
Bennett explained the significance of her thesis research, and said,
"According to the U.S. Center for Disease Control Arthritis Related Statistics 76 million Americans are predicted to be diagnosed with Rheumatoid Arthritis and other inflammatory auto-immune diseases by 2040, about 26% of the population. Finding an accessible and affordable drug candidate would help to ease the strain of inflammatory auto-immune diseases on our healthcare system. The natural products industry in western North Carolina is growing rapidly, and we are contributing to this sector of our economy by researching the benefits of another natural product candidate."
Bennett plans to graduate in August of 2022 after completing her thesis over the summer. She is currently applying to graduate schools where she hopes to study food science and nutrition beginning in August 2022. This award is a first step towards her goals. Bennett further added,
"The Garrett Scholarship helps me to pursue my goal of identifying bioactive compounds present in local food products, which I can expand upon in graduate school."
Mrs. Sheila Garrett established the George Williams Garrett Memorial Scholarship in 2017 in honor of her late husband George Williams Garrett. Mr. Garrett, an Air Force veteran who served in Vietnam, was a mathematician and systems analyst. Mrs. Garrett is a medical technologist whose career spanned 45 years. The Garrett family is devoted to scientific research, especially research focused on medical applications.
The George Williams Garrett Memorial Scholarship provides $1000 support to students in the Honors College at Appalachian pursuing careers in scientific research with preference given to students who are planning to work in medicine or medical research. Honors College students in good standing and performing research in fields related to the biomedical field are eligible to apply. This scholarship supports research and related travel expenses outside of coursework.
The top photo features Abby Bennett in her College of Arts and Sciences Corps t-shirt. The CAS Corps is a group of student ambassadors chosen to represent the college at events for prospective and current students, parents, alumni and donors. Bennett is also a member of the Honors College Vanguard, a group of Honors students selected for their outstanding scholarship and service to The Honors College. Vanguard students contribute to The Honors College by providing services such as meeting with prospective students, introducing The Honors College at public events, and helping host program socials. The Vanguard members are invited to serve by the Dean and are valued adjunct members of the Honors College staff.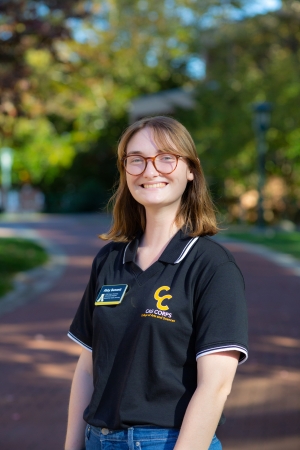 Tags: