Honors senior Cell/Molecular Biology major Aleasia Brown traveled to Costa Rico over winter break with the Wildlife Conservation and Sustainability trip hosted by DANTA. Brown's experience is an example of why going abroad is so important and intrinsic for students during this formative time of their lives. About the trip, Brown reflected,
"The trip was exciting because there was a great mix between course involvement and fun outings. Every meal was accompanied with academic discussion relevant to the course, and even the fun outings were educational too. Some of the fun outings included a dolphin tour, snorkeling, staying on an indigenous reserve, viewing crocodiles, swimming in the river, hiking to the beach. I chose this experience because of the location, and the description of the course. I knew I would be able to stay on a sustainable national park while immersing myself in a new culture. I had such a great experience, I would definitely go back. I realized a lot of personal aspects about myself and how I deal with physical demands in a foreign place. If I could give advice to current/future undergraduates, I would advocate studying abroad heavily. I believe this will help me understand what it truly means to live a completely different life than the one I lived. Living in a foreign place for two weeks, in addition to living very conservatively, where electricity was minimal, daily chores were done by hand, food was completely local, etc. allowed me to be aware of the way other places operate outside of the United States. This will help me in my future career as a dentist because I plan on traveling to less-fortunate countries to provide inaccessible care to those in need."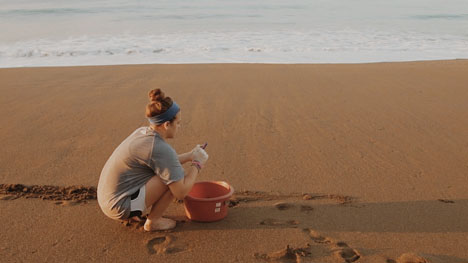 Above photo features Brown on Piro Beach in the Osa Conservation releasing Olive Ridley sea turtles from the conservation's hatchery. Photo submitted.
Opportunities can arise out of unexpected places.; that is how Brown feels about her study abroad. Aleasia happened to click on a program advertised in an email from Appalachian's Department of Biology. About finding and applying for the trip, Brown explained:
"There was no faculty contact for this trip on campus. I simply applied for the program and paid an application fee. The program, DANTA, emailed me two weeks later to inform me I was accepted. The coordinator/instructor for the trip emailed me many times of important dates, payment information, course information. The instructor set up a facebook group so the other students taking the class could all communicate this way. Overall, it was not hard to coordinate, there was just a bunch of emailing back and forth."
Aleasia wants her fellow students to know that:
"Because I read one email, my life was changed forever. Also, I would like to encourage students to step foot out of the US, they will be glad they did."
Top photo features Aleasia Brown at Zoo Avé in Alajuela, Costa Rica. At this zoo, where they rehabilitate animals that were rescued from owners that mistreated them or released them in the
wild. Photo Submitted.
Story by: Brad Rentz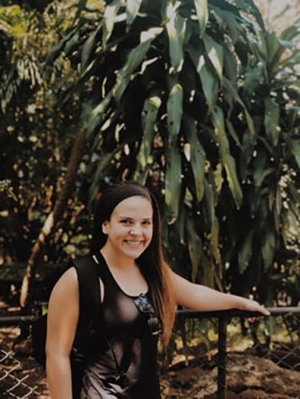 Tags: