Honors junior Allison Farrell spent this past summer at the University of Canberra in Australia. Farrell is a pre-Occupational Therapy (OT) exercise science major and psychology minor. At the University of Canberra, Farrell participated in the Australian Sporting Industry program. In it she studied the various sports in Australia, visited the Australian Institute of Sports, and attended countless sporting events. She traveled, along with 15 other students from all over the United States, to Melbourne, Canberra, Sydney, and Cairns.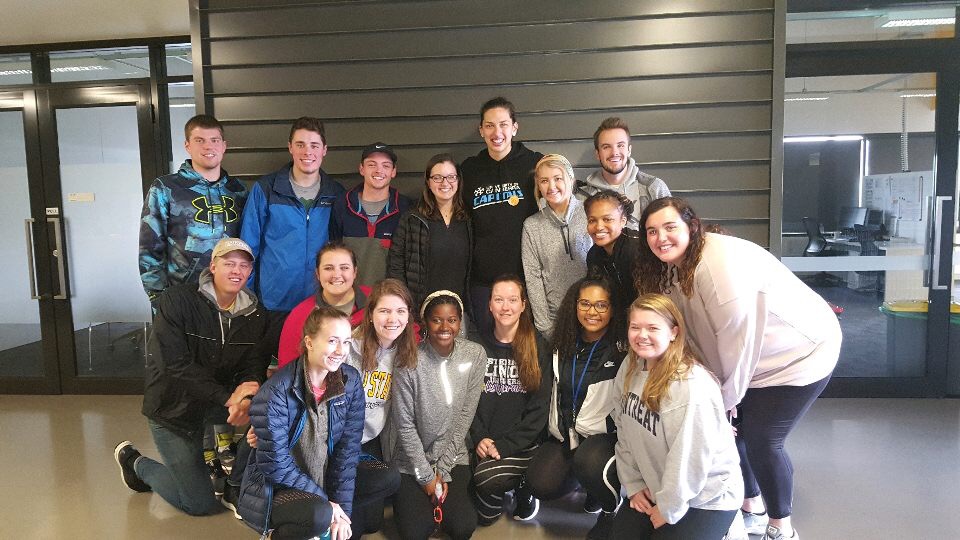 Photo above shows Allison Farrell (front row second from left) with other students on the Australian Sporting Industry program with the University of Canberra in Australia. Photo submitted.
While in Melbourne, Farrell had the opportunity to shadow OTs at the Royal Children's Hospital in Melbourne. On one day, she shadowed an OT who specialized in neurology and on another, she shadowed an OT who worked with kids with cerebral palsy. Of that experience, she shared,
"I loved the fast paced atmosphere of the hospital as well the interesting cases and it made me realize that I would love to work in a hospital in the future. In addition, traveling 10,000 miles away, by myself, helped me grow as a person and develop skills such as flexibility, creativity, and inventiveness which are traits I will definitely use as an OT."
Farrell learned about this opportunity from Appalachian's Office of International Education and Development (OIED). Information about it can be found on their website listed with summer programs. This program is sponsored by the International Studies Abroad (ISA), a study abroad program. However they work closely with Appalachian's OIED. Farrell shared,
"I've always wanted to visit Australia and when I was looking at my summer program options I jumped at the opportunity."
While in Australia, Farrell conducted a research project related to the Australia sporting Industry and created a poster presentation of her findings. Farrell's project focused on sports related concussion rates, protocols, and perception in the US and Australia. Since these countries have very different popular sports, she wanted to see if there was a link between the sports played and concussion rates. The popular sports in Australia (rugby, Australian Football League, soccer) don't use protective equipment as much as those in the U.S. She found high concussion rates in popular sports in both the U.S. and Australia, but the type of sports played as well as the amount of protective equipment worn impact concussion incidence rates. Both countries have similar protocols, prevention, treatment, and return to play policies in place.
Of this life changing international research and shadowing experience, Farrell reports,
"My most memorable experiences were seeing a show at the Sydney Opera House, holding a koala, petting a kangaroo, and going skydiving in Cairns."
Top photo features Allison Farrell in front of a trolley in Australia.
Story by: Garrett Alexandrea McDowell, Ph.D.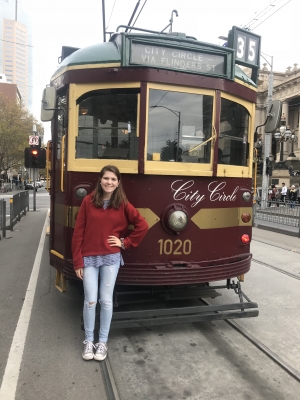 Tags: