This past June, Honors Alumnus Timothy Hefflinger was awarded a 10-month Fellowship with the American India Foundation. Hefflinger is living in the remote Himalayan region of Ladakh in the small city of Leh and working with an NGO called Snow Leopard Conservancy India Trust (SLC-IT). His main project is the revitalization of Himalayan Homestays, an eco-tourism program that enables tourists to stay in the homes of normal Ladakhi families instead of camping, which is damaging to the high-altitude meadows. The program faces competition from commercial enterprises so Hefflinger's job is strategic planning aimed at a sustaining the operation. The program's mission includes the conservation of the highly endangered snow leopard, and it routes tourist revenue into poor communities. As Hefflinger explained, "It's a pro-poor, eco-tourism program, and I'm doing my best to help it succeed in a tough business environment." Hefflinger is shown here (middle wearing fish sign) participating in a biodiversity game conducted by SLC-IT with some villagers from a place called Yangthang.
Prior to receiving this AIF Fellowship, Hefflinger completed his Master of Science Degree in Disaster Resilience Leadership Science at Tulane University where he also worked for three years as a full-time employee at Tulane University Law School Library as supervisor of their Circulation Department. While at Tulane, Hefflinger conducted research on the risks of and protective factors against intimate partner violence with indigenous women.
Hefflinger is just one of our many alumni, who with strong interdisciplinary foundations, are following their intellectual curiosities and passions towards service and engaged global citizenship.
Story by Garrett Alexandrea McDowell, Ph.D.
Photos contributed by Tim Hefflinger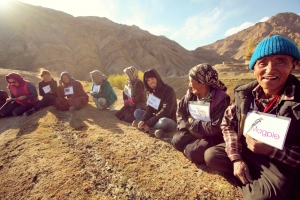 Tags: