Honors senior biology major and chemistry minor Alyssa Phillips has accepted an offer to join the Plant Biology Graduate Group, a doctoral program at the University of California Davis (UC Davis). Alyssa's mentor and director of her Honors thesis is Dr. Matt Estep, Assistant Professor, Department of Biology. Her second reader is Dr. Brooke Christian, Assistant Professor, Department of Chemistry.
Alyssa reports, "I am excited to be a part of such a strong plant sciences program. I aim to study domestication of crops with the goal of improving crop durability to biotic stresses." For her Honors thesis, Alyssa has developed a modified SteamDrop method to visualize chromosome in grasses commonly known as bluestem grasses, which are distributed globally in temperate and tropical grasslands. Her thesis title is, Cytogenetic tools to investigate the compilospecies. Alyssa is shown in the top photo doing chromosome squashes in Dr. Estep's research lab.
According to Dr. Estep, UC Davis is the top ranked plant biology program in the country! As he further shared, "Alyssa is poised to do great things." We look forward to following her on this journey of greatness. Congratulations, Alyssa!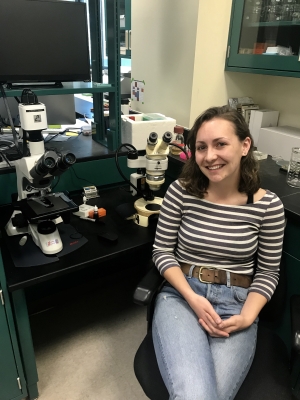 Tags: