Honors Senior biology major Alyssa Phillips joined Appalachian's May 15-June 15 faculty-led trip, "Exploring the Flora and Fauna of Australasia." Drs. Shea Tuberty (Professor) and Matt Estep (Assistant Professor) from Appalachian's Department of Biology led 18 students on this 34-day trip to Australia and New Zealand to study biodiversity.
The group traveled for 37 hours before arriving on the south island of New Zealand in the Southern Alps. They then spent a week hiking into the alpine grasslands and kayaking estuaries where they identified plants and birds. Alyssa shared of her experience in New Zealand, "The most exciting aspect of the south island was hiking to Franz-Josef glacier. The north island of New Zealand was breath taking. We spent 5 days under canopies of tree ferns. We even got to visit Mordor from Lord of the Rings. In the distance through the fog you could just barley make out Mt. Doom."
The class spent the next two weeks in Australia, visiting the Undara National Park, Daintree Rainforest, and the Great Barrier Reef. In the national park they explored the grasslands making best friends with some Wallabies, chased down at least 10 geckos, and watched microbats flying out of lava tube caves at sunset. In the rainforest, they dodged thorny wait-a-while vines and hunted for peppermint stick bugs in the Pandanus while remembering to watch out for saltwater crocodiles. Then on the Great Barrier Reef, they swam with green sea turtles, hunted for octopus, and attempted to count parrotfish species. As Alyssa reflected, "we were buried in identification books trying to name everything we saw."
Here at Appalachian, Alyssa is engaged with the community beyond her own major and research interests. She is the president of Operation Smile, an organization that raises money for cleft palate and cleft lip surgeries. This App student organization puts on an annual benefit "Singing for Smiles," which is an acapella concert of groups from all around the state held at Legends each October.
The Australasia faculty-led trip was a launching pad for Alyssa, who hopes to pursue her doctorate in evolutionary genetics. As she explained, "I've been home three weeks now and I'm already saving up to go back."
Photo by Mary Butler Fleming highlights a beautiful day Alyssa spent in the Southern Alps exploring Arthur's Pass National Park, New Zealand.
Story by Garrett Alexandrea McDowell, Ph.D.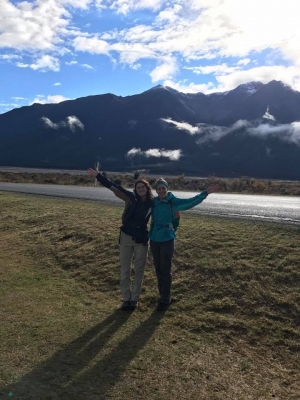 Tags: