The Honors College Commencement was held on December 15th, 2017. With that event, we celebrated the accomplishments of those who completed the requirements to earn the distinction of University Honors. The following twelve Honors graduates were bestowed their medals: Sarah Aldridge, Madison Armstrong, Abigail Barry, Stevie Bryson, Alaina Doyle, Sarah Kate Murphy, Hailey Pister, Zach Saint, Sarah Snouse, Becky Stewart, Will White, and Makayla Wylie. Dr. Jefford Vahlbusch, Dean of the Honors College, presented each student's activities while at Appalachian.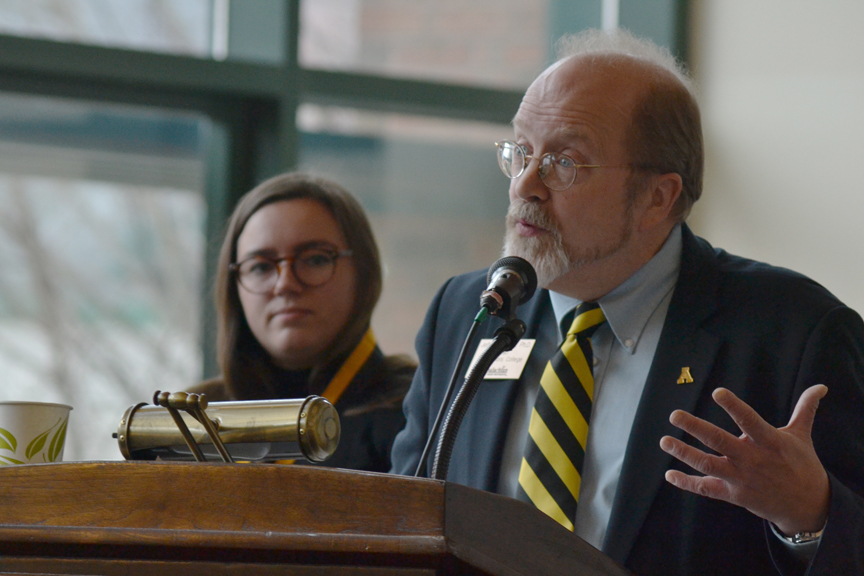 The photograph above shows Dean Vahlbusch introducing Madison Armstrong.
Below we showcase photographs from the December 2017 Commencement, and highlight the extraordinary accomplishments of each of these dedicated students.
Sarah Aldridge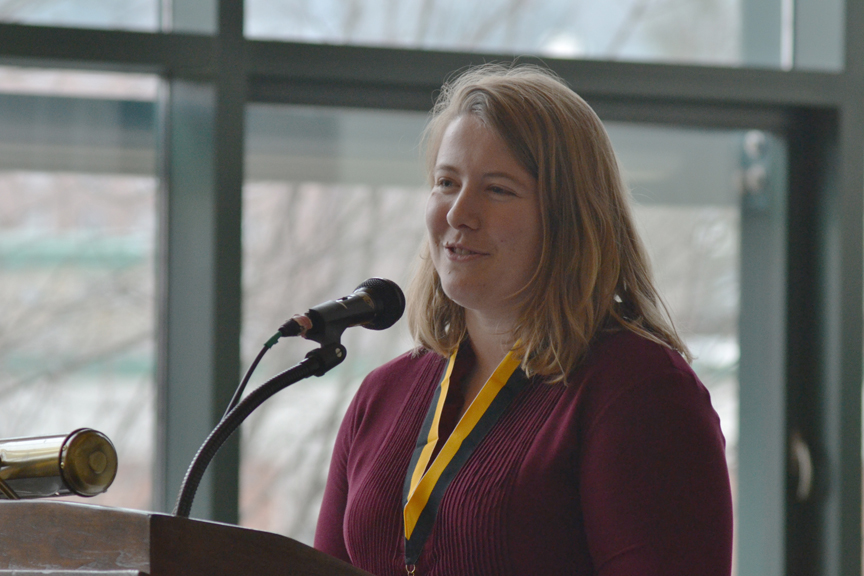 Major: Political Science,
Minor: Sociology
Certificate in Global Connections
Honors Thesis Director: Dr. Brandy Bryson, Leadership and Educational Studies
Honors Thesis Second Reader: Dr. Cary Fraser, Government and Justice Studies
Sarah completed three major Internships: (1) U.S. Senate Health, Education, Labor, and Pensions Committee as an education policy intern, (2) the Sustained Dialogue Institute in Washington, D.C. , and (3) the Urban Education Leaders Internship Program with the District of Columbia Public Schools System. She spent two summers working as a Servant Leader Intern in Charlotte Freedom Schools, teaching at a summer literacy program. She Designed and led the "City to Mountains Student Exchange," a program to provide outdoor education and leadership experience to Charlotte middle school students. She was an instructor with the Girls in Politics Initiative, facilitating workshops to introduce young girls to U.S. and international politics. She participated in faculty-led study abroad opportunities to Paris, France and Oaxaca, Mexico, as well as an international Alternative Service Experience program in El Quimal, Guatemala
Madison Armstrong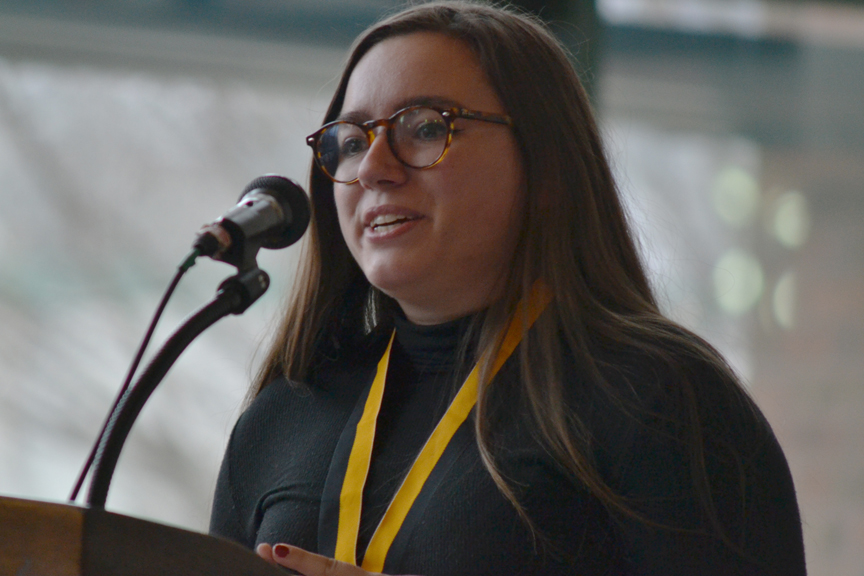 Major: Political Science, with Concentration in American Politics
Minor: Sociology
Honors Thesis Director: Dr. Ellen Lamont, Sociology
Honors Thesis Second Reader: Dr. Michael Dale, Watauga Residential College
Madison co-founded the Appalachian State University chapter of the Association for Women in Mathematics, and served as that organization's vice president. For her first time out of the country, she traveled to the Netherlands as a tourist.
Abigail Barry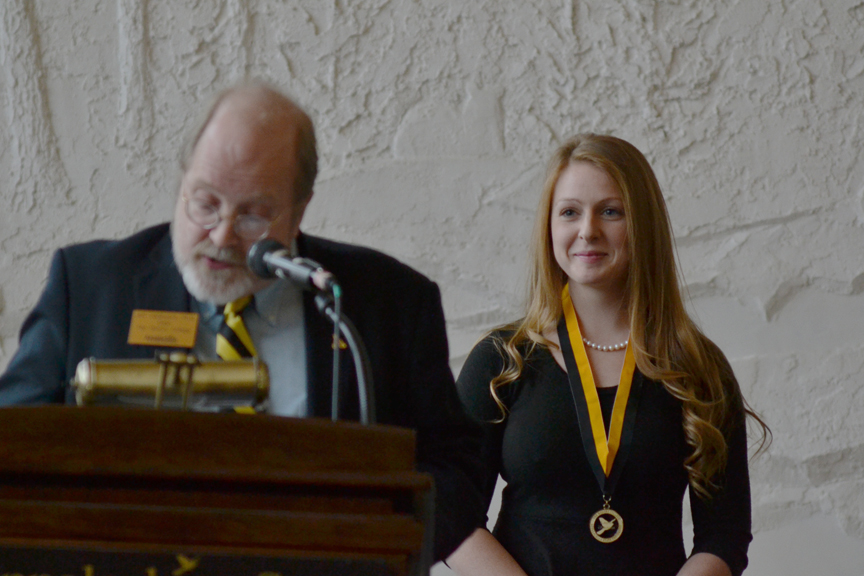 Major: Psychology
Minor in Studio Art
Certificate in Africana Studies
Honors Thesis Director: Dr. J.P. Jameson, Psychology
Honors Thesis Second Reader: Dr. Amy Dellinger Page, Sociology
Abigail was a Student Service member with the Air National Guard in Charlotte. She was an Appalachian Student Ambassador for four years, serving as Community Service Chair, New Member Educator, and Canned Food Drive Chairperson for the Hunger and Health Coalition. She attended an Alternative Service Experience (ASE) at an Organic Farm in Costa Rica
Stevie Bryson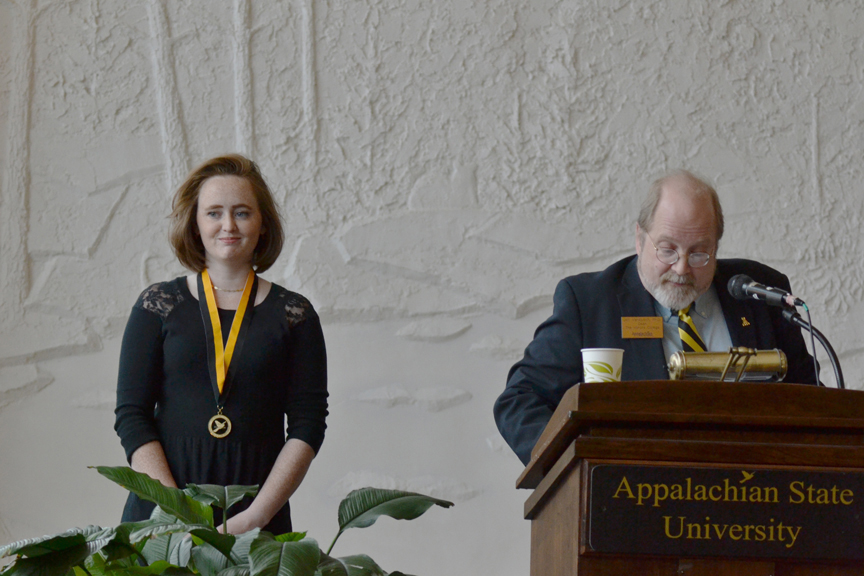 Major: English, with Concentration in Film Studies
Minor: Religious Studies
Honors Thesis Director: Dr. Michael Wilson, English
Honors Thesis Second Reader: Dr. Laura Ammon, Philosophy and Religion
Stevie was Vice President of App State's Sexuality and Gender Alliance for two and a half years. She also served as a valued member of the Honors College Vanguard.
Alaina Doyle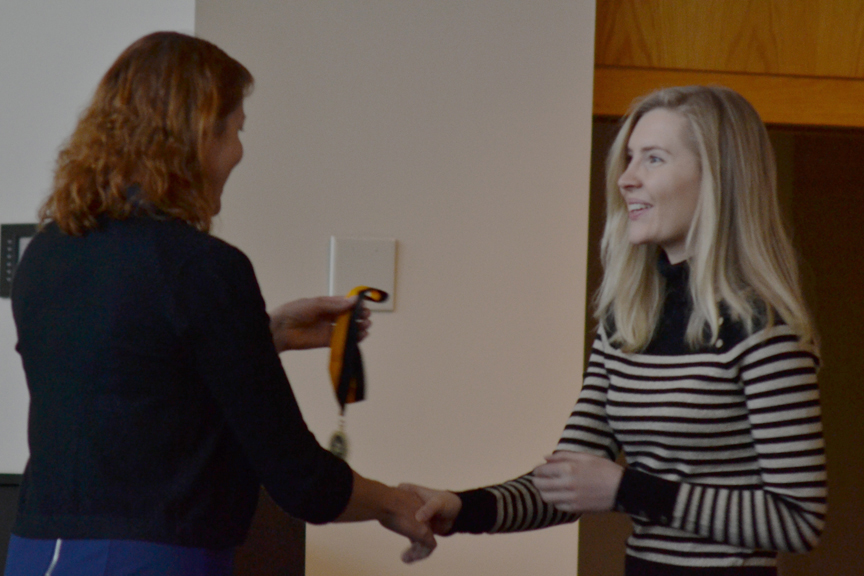 Majors: Religious Studies and Economics,
Minor: Biology
Honors Thesis Director: Randall Reed, Philosophy and Religion
Honors Thesis Second Reader: John Lehman, Department of Economics
Alaina worked in Dr. Mark Zrull's Neuroscience lab and attended the Society for Neuroscience conference her first year. She conducted research on Millennials and Religion in the South. In 2017, she presented her Economics research at the National Council on Undergraduate Research Conference. She volunteered and worked for the local Watauga County Democratic Party, and served as the Volunteer Director of that organization in 2015-2016. She is a past editor and published poet with The Peel. She proudly tutored fellow students for three years at the ASU tutoring center for seven semesters
Sarah Kate Murphy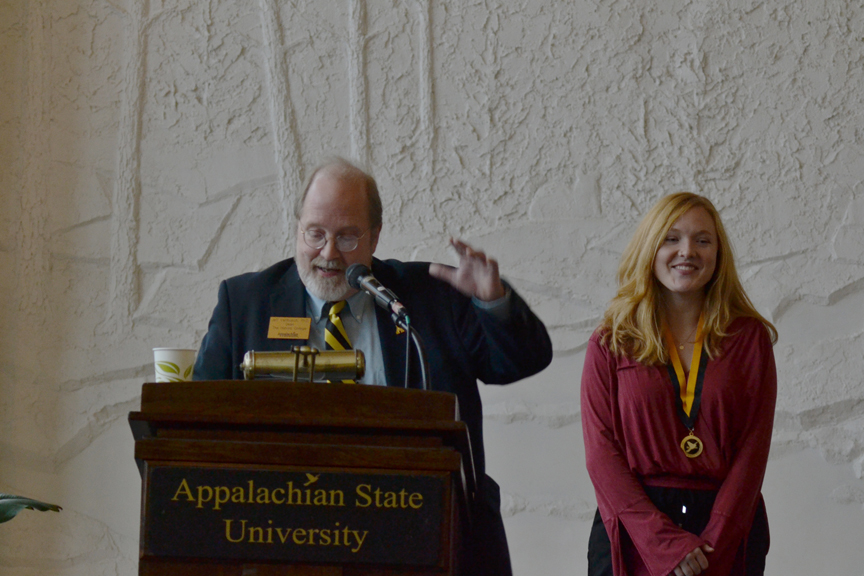 Majors: Communication, and Languages, Literatures, and Cultures, with a concentration in French and Francophone Studies.
Minor: Computer Information Systems
Honors Thesis Director: Dr. Janice Pope, Communication
Honors Thesis Second Reader: Dr. Sarah Sobieraj, Tufts University, Sociology
Sarah Kate was a volunteer leader with Young Life for two years, mentoring high school students in the local community. She was a Student Government Association (SGA) Senior Class Senator for the 2016-2017 academic year. She interned in France over three summers (once with Jeunesse Ardente, a French youth nonprofit, and twice with Tufts University's European Center). Sara Kate also studied abroad Spring 2015 in England with Dr. Hellenbrand's Arthurian Legends HONORS course
Hailey Pister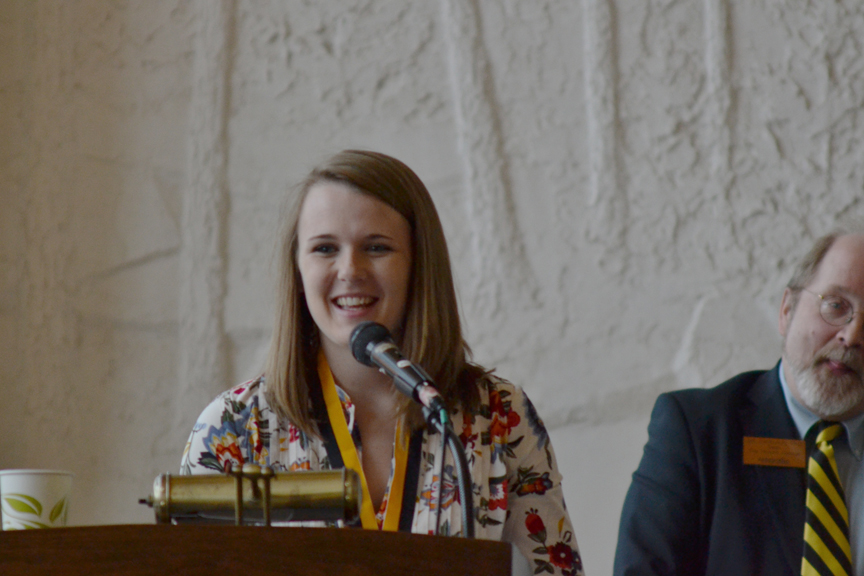 Major: Psychology
Minor: Communication Sciences and Disorders
Honors Thesis Director: Dr. Robyn Kondrad, Psychology
Honors Thesis Second Reader: Dr. Jack Kwong, Philosophy and Religion
Hailey received the Dr. Paul Fox Research Scholarship, which supports seniors who are doing research in Psychology. She co-founded the Autism Society of North Carolina Club on campus and served as that organization's president. She taught English while on an Alternative Service Experience (ASE) in Ecuador. Hailey also served on the student conduct board, the Love Your Melon crew, and the impACT team. Hailey has joined the Peace Corps and starts in January as a Health Extension Volunteer in Albania.
Zach Saint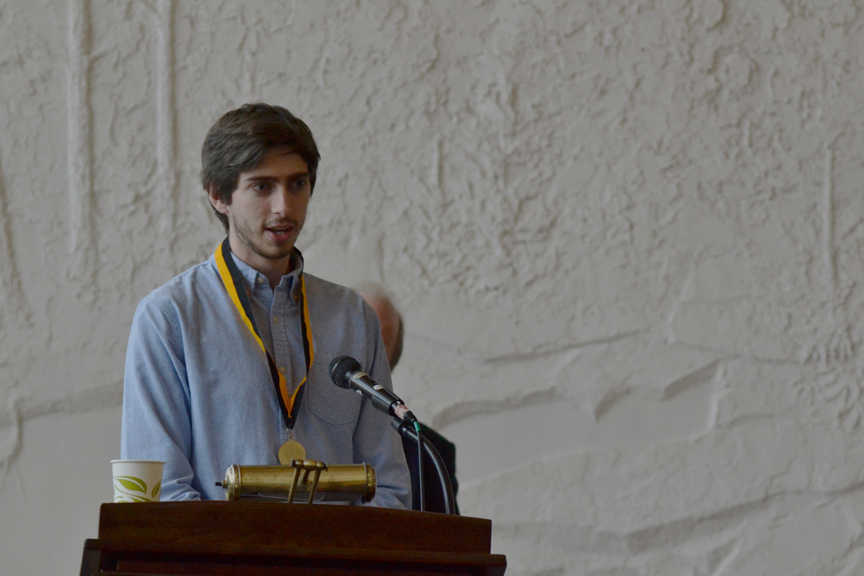 Majors: Psychology and Biology
Minor: Spanish
Honors Thesis Director: Dr. Will Canu, Psychology
Honors Thesis Second Reader: Dr. Alan Arnholt, Mathematical Sciences
During his time at Appalachian, Zach volunteered abroad in Colombia for six weeks, and also studied abroad in Costa Rica. These were some of Zach's favorite experiences during his undergraduate years.
Sarah Snouse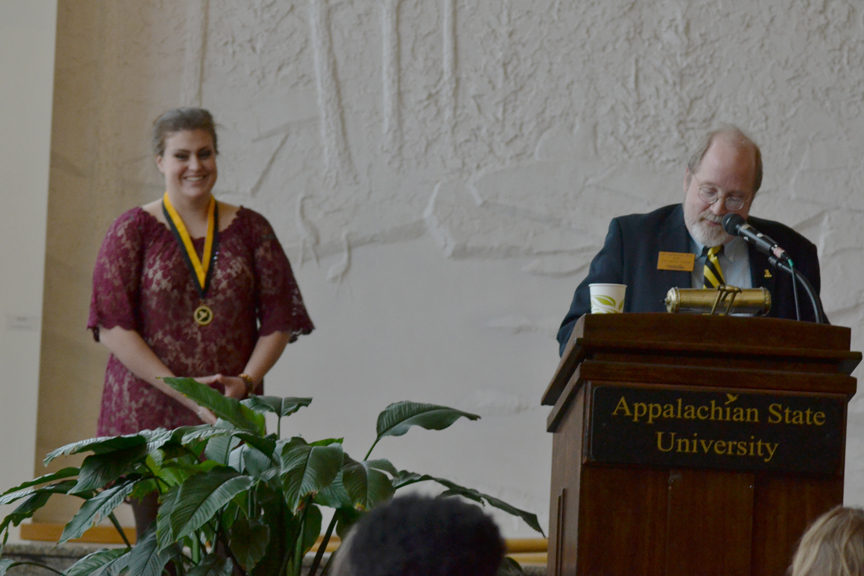 Major: Anthropology
Minors: Medical Humanities, Biology, and Chemistry
Honors Thesis Director: Dr. Eric Karchmer, Anthropology
Honors Thesis Second Reader: Dr. Nicholas Shaw, Chemistry
Sarah did three years of behavioral neuroscience research and two semesters biodiesel and drug synthesis research. She did a clinical study abroad in South Africa. She was Publicity Editor, Associate Editor, and Executive Associate Editor for IMPULSE: The Premier Undergraduate Neuroscience Journal. She attended twice each and presented at the National Committee on Undergraduate Research, and the Society for Neuroscience, and the Symposium for Young Neuroscientists and Professors of the Southeast. For four years, she was a member of the Steely Pan Steel Band (Appalachian State University Steel Drum Band).
Becky Stewart
[Becky could not attend the Commencement Ceremony]
Major: Biology
Minors: Chemistry and Psychology
Honors Thesis Director: Dr. Andrew Bellemer, Biology
Honors Thesis Second Reader: Dr. Mark Zrull, Psychology
Becky was a member of Dr. Andrew Bellemer's lab in the Department of Biology for three years while at Appalachian. She presented at multiple research conferences across the country, most recently at the Society for Neuroscience, a national conference in Washington, DC. She studied abroad in CUBA. Beginning next semester, Becky will be working as a technician at UNC Chapel Hill. She plans to go into a doctoral program in neuroscience or molecular biology in the fall.
Will White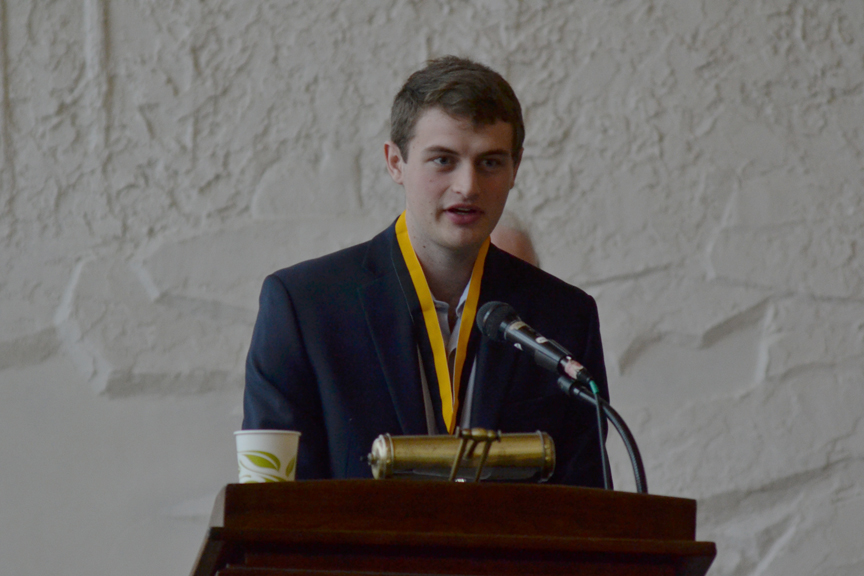 Major: Physics
Minor: Mathematical Sciences
Honors Thesis Director: Dr. Tonya Coffey, Physics and Astronomy
Honors Thesis Second Reader: Witold Kosmala, Mathematical Sciences
Will worked with App State's world-class solar vehicle team on the electrical components for that prize-winning vehicle. He helped organize group runs and meals for app State whole life club. He was Chair of data Management for the Appalachian State renewable energy initiative. He received the Connolly award for earning the highest grade in intermediate physics. He ran the 50 mile Whitewater Center ultra marathon this past October. He skied over 200 days while an undergraduate at Appalachian! Will begins the engineering physics graduate program here at Appalachian this spring.
Makayla Wylie
Major: Psychology
Minor: Social Work
Honors Thesis Director: Dr. Andrew Smith, Psychology
Honors Thesis Second Reader: Kristen Harmon, Social Work
Makayla worked as a Research Assistant for Dr. Andrew Smith in the Department of Psychology. She also worked as an intern at the ASU Counseling Center, and as a ASU Mental Health Ambassador, organizing the campus fall festival for mental health ambassadors. She was an RA for two years. Makayla led a service-learning project, a clothing drive, that donated over 40 bags of bags of clothes to the Hospitality House
We wish all our most recent graduates success in all their future endeavors. We will follow their bright futures with pride and great interest. Please keep us posted!
Photos by: Garrett Alexandrea McDowell, Ph.D.
Story by: Jefford Vahlbusch, Ph.D., and Garrett Alexandrea McDowell, Ph.D.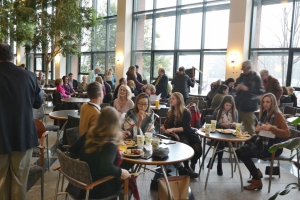 Tags: