By Kistler Hunt
Honors College alumnus and Chancellor's Scholar Corbin Ester is now a resident in his first year of the Diagnostic Radiology Program at Duke University Hospital in Durham, North Carolina. His role as a resident is to act as an expert consultant by using "medical imaging to provide diagnostics and therapeutics." Before starting medical school, Dr. Ester worked for two years at the National Institutes of Health (NIH). After working at the NIH, Dr. Ester applied and was accepted into Harvard Medical School (HMS). When applying to residency programs, Dr. Ester had a strong desire to come back to North Carolina having grown up in Wilkes County. Duke, as he explains, is a "world-renowned academic institution. Furthermore, their Radiology program had a reputation for strong research and clinical training." He explained, "I believe that Duke was the place where I needed to be next to grow, and thankfully they selected me for a spot."
Dr. Ester graduated from Appalachian in the Spring of 2015 with a Bachelor of Science in pre-professional chemistry and minors in biology and medical humanities. His Honors thesis, "Organic Frameworks for Novel Cobalt Glyoximes as Potential Hydrogen Catalysts," was directed by Dr. Dale Wheeler, professor in the Department of Chemistry and Fermentation Sciences and director of Prestigious Scholarships, which is now the Office of Nationally Competitive Scholarships. Dr. Michael Hambourger, associate professor in the Department of Chemistry and Fermentation Sciences, served as second reader, and Dr. Gregg Marland, affiliated research professor in the Department of Geological and Environmental Sciences served as third reader.
Reflecting on his time in medical school and now residency, Dr. Ester highlights the resemblances between his time in Honors and his work as a physician. He says,
"Radiology (and Medicine) is a field where you have to be able to problem solve quickly. In the Honors College, my professors treated me as a capable adult who could solve problems once I was given a foundation of knowledge…My time in the Honors College helped me develop the confidence in my ability to learn and work toward a solution that has helped me develop into an effective resident."
Dr. Ester defines the field of radiology as the "Doctor's doctor…The role of the Radiologist is to act as an expert consultant to the referring doctor by using medical imaging to provide diagnoses and therapeutics. Simply, if you as a patient have an imaging study (X-ray, CT scan, MRI, Mammography, Fluoroscopy, and many more), a biopsy, or a treatment directed by imaging, a Radiologist is the doctor with the answer and helping hand."
As a radiology resident, Dr. Ester rotates through various radiology specialties and gains exposure to each one. He performs first-pass interpretations of radiology images, which are then verified with his attending, a physician who has completed their training and now works in the field full-time. He says that throughout residency, he will gain responsibility and independence, interpret progressively more complex studies, perform interventions with the aid of imaging, and incorporate research into his clinical career.
In his first year at NIH, Dr. Ester worked in the genetics branch of the National Cancer Institute with Dr. Paul Meltzer, chief of the genetics branch, researching cell biology and the molecular genetics of bone cancer. After his first year, he went on to work with Dr. Vijay Ramchandani, senior investigator in the human psychopharmacology section of the National Institute of Alcohol Abuse and Alcoholism. He says, "My work in his lab was utilizing computer-assisted self-administration of ethanol to better elucidate factors that predicted alcohol use disorder." He says his time at the NIH taught him the difference between basic research and clinical research and "how I could integrate them into my career as a physician."
In 2017, Dr. Ester started applying to medical school. Dr. Ester was accepted into various medical schools across the country, including Harvard and the University of North Carolina (UNC) School of Medicine. Dr. Ester eventually chose Harvard, and remarked about his experience saying,
"Getting accepted to Harvard Medical School as a kid from Wilkes County was a shock," he shared.
During his last two years of high school, Dr. Ester attended the North Carolina School of Science and Mathematics (NCSSM), also in Durham, where he took classes that taught him "that the best way to grow is to be surrounded by smarter people, and HMS provided that opportunity." He was endlessly inspired by his medical school classmates and said they achieved remarkable things. His classmates, he says, "were passionate about medicine and 'something else.'" His classmates started biotech companies, worked with the US Surgeon General, created mentorship programs for students in inner-city Boston, and much more. Dr. Ester loved hearing about each student's unique stories and learning about their various passions.
As early as 10 years old, Dr. Ester knew he wanted to pursue a career in medicine. He highlights the pivotal role that his pediatrician played in his aspirations by saying, "Growing up, I really enjoyed school, and the smartest, kindest person I knew was my pediatrician." As time went on, Dr. Ester was able to shadow various physicians and says that each physician he met further inspired him, enticing him into the field of medicine even more.
When Dr. Ester was in high school, his grandfather was treated at Duke for brain cancer. He explained that this period in his life had a significant impact on his journey to medicine, saying, "When my grandfather was treated there, I told myself that I would one day be back to work there as a physician and give back for the care they provided."
During his last two years of high school, he took classes at NCSSM that opened his eyes to the field of research. Dr. Ester was drawn to a career at the intersections of research and science. He says, "While I was there, I learned I was interested in research as a career, and prioritized finding an undergraduate university that would propel me towards becoming a physician and scientist."
Dr. Ester has multiple family members who attended App State, including his mother, father, and grandfather. The process of interviewing for the Chancellor's Scholarship connected him with many faculty who could understand his passion for research and science. They committed to helping him develop his skillset during his time as an undergraduate student. He highlights the mentorship provided by the now-retired Dr. Leslie Sargent Jones, the former director of the Honors College. Dr. Ester describes his first meeting with Dr. Jones following his offer for the Chancellor's Scholarship, "Dr. Jones plainly told me that she had spent her career working in medical school admissions and knew exactly what it took for a student to be successful in applying. She assured me that if I attended App State, was committed to the process, and trusted her advice, I would undoubtedly attend the medical school of my choice. Trusting her was one of the best decisions of my life."
After arriving at App State in 2011, he immediately "sought out a research lab that would allow me to grow as a researcher and scientist." A month into his first year, he brought a list of ten faculty to Dr. Wheeler, his assigned Honors advisor. They discussed the potential faculty and together determined that they weren't good fits. At that point, Dr. Ester asked if Dr. Wheeler had an open position in his lab and he did! By graduation, Dr. Ester worked for about 20 hours a week in Dr. Wheeler's lab. His work in the lab paved the way for him to be accepted into some of the top summer research programs in the US, including an NSF-funded research program at the University of Kentucky, the Cancer Prevention Research Training Program at MD Anderson Cancer Center in Houston, Texas, and the NIH Summer Internship Program, which he accepted.
Since graduating from Appalachian, Dr. Ester married App State alumna Simona Gizdarska, who now works as a school psychologist. The two met as peer advisors in the Health Professions Advising Office and were married by Dr. Celeste Crowe, director of the Health Professions Advising Office whom he cites as another excellent mentor for him.
Dr. Ester will complete residency training in the summer of 2026. After residency, Dr. Ester wants to work in clinical medicine and research. He is currently interested in receiving further training related to breast imaging. After the completion of his training, Dr. Ester will be able to practice independently as a board-certified physician. He says, "The wonderful aspect of residency is I am exposed to all of these subspecialties for the next four years - it's been a long, exciting journey, and I'm still eager to see where it leads me!"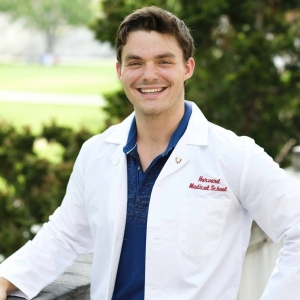 Tags: