In the Honors College Commencement ceremony held Thursday, December 12, 2019, we celebrated the accomplishments of those who completed the requirements to earn the distinction of University Honors. In the ceremony, the following Honors graduates were bestowed their medals: Ian Clapp, Hannah Davenport, Haley Davidson, Holly Gallagher, Lyubomir Gizdarski, Sope Kahn, Fahiima Mohamed, NoraSmith, and Allison Staley. Dr. Jefford Vahlbusch, Dean of the Honors College, shared details of each student's achievements while at Appalachian. In his comments, he shared,
Each of the students earning University Honors from the Honors College today has gone well beyond, pursued and achieved a special dream, worked hard and long to "do undergraduate education as well as it can be done" (Sam Schuman).

The Honors College, in a nutshell, is courses, community, co-curricular and extracurricular activities, special opportunities, a required international academic experience, great mentoring and advising, and unconditional support.

Honors College students complete a minimum of 24 academic credits--including researching, writing, and defending a culminating Honors thesis or major senior project (essentially doing graduate-level work while still an undergraduate), under the guidance of faculty members from at least 2 academic departments. Some of our students graduating today have also earned departmental Honors, that is: Honors in their majors.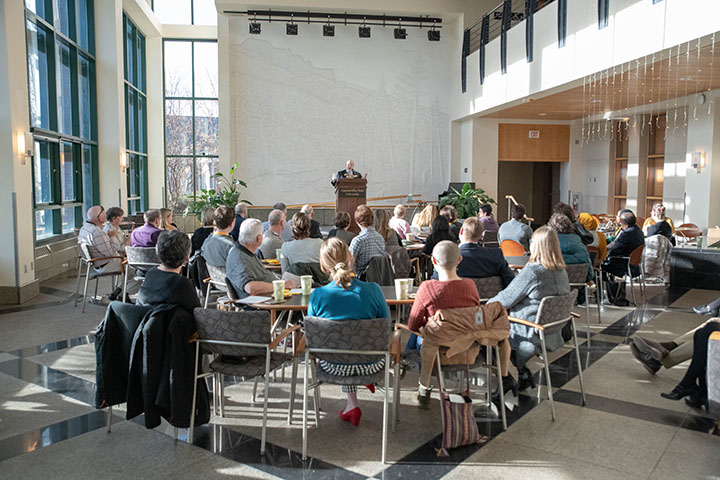 The photograph above shows Dean Vahlbusch giving opening words at the ceremony.
Each graduate had the opportunity to share their own words of reflection and gratitude. Below we showcase each of these nine Honors graduates and highlight their extraordinary accomplishments.
Ian Clapp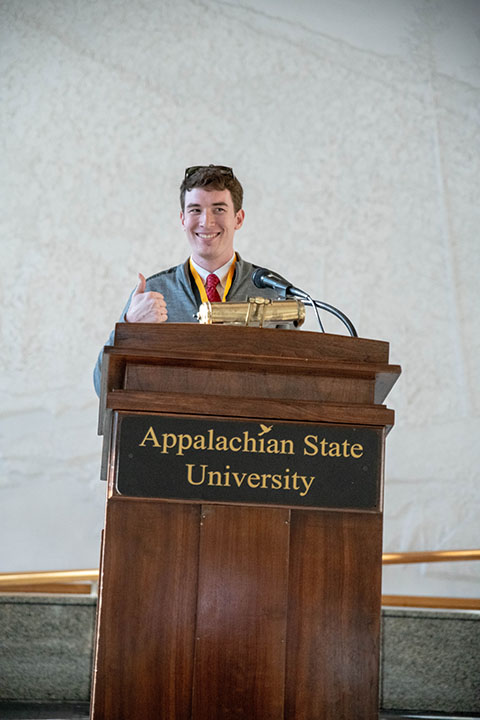 Politic
Major: Biology
Thesis title: Third Molar Extraction and Paranasal Sinus-Related Side Effects
Honors Thesis Director: Gregory Anoufriev, M.D.
Honors Thesis Second Reader: Ted Zerucha, Ph.D.
In his time in Honors at Appalachian, Clapp participated for four years in the Appalachian State University Marching Mountaineers marching band. He was a member of the Phi Mu Alpha Sinfonia music fraternity, and was involved in hosting the Appalachian State University Marching Band Festival. He was a member of the App State Fencing Club, competing at many fencing tournaments including multiple Southern Intercollegiate Fencing Association tournaments. He studied abroad at the Otto-Friedrich-Universität Bamberg (University of Bamberg) in Bamberg, Germany and attended there a graduate-level seminar on methamphetamine addiction and took two levels of German language courses (equivalent to intro and 101). While in Germany, he traveled to Berlin, Nuremberg, Würzberg, and Dresden, and visited numerous historical sites including Frederick the Great's Sanssouci palace in Potsdam and the Königstein fortress. Clapp shadowed physicians—including two pathologists and a general surgeon at the CHC Blue Ridge Hospital in Morganton. He plans to attend medical school and pursue a career in pathology.
Hannah Davenport
[Hannah could not attend the Graduation Ceremony .]
Major: Biology
Thesis title: The Role of Pamilo in Translational Repression and Nociception in Drosophila melanogaster
Honors Thesis Director: Andrew Bellemer, Ph.D.
Honors Thesis Second Reader: Brooke Christian, Ph.D.
During her time in Honors at Appalachian, Davenport gained certification as an Emergency Medical Technician or EMT. She led her a capella group in winning Acapellageddon—a pun on Armaggedon in its meaning of major end-it-all battle. She studied abroad in South Africa, an experience that included clinical shadowing physicians in seven hospitals there, including in emergency medicine; ear, nose, and throat; orthopedics; gynecology, and general surgery. Raised an extremely smart and kind dog named Bentley. Each of these experiences," Davenport shared, "have helped me vastly on my premedical journey." She says: "I plan to take a gap year and then attend medical school."
Haley Davidson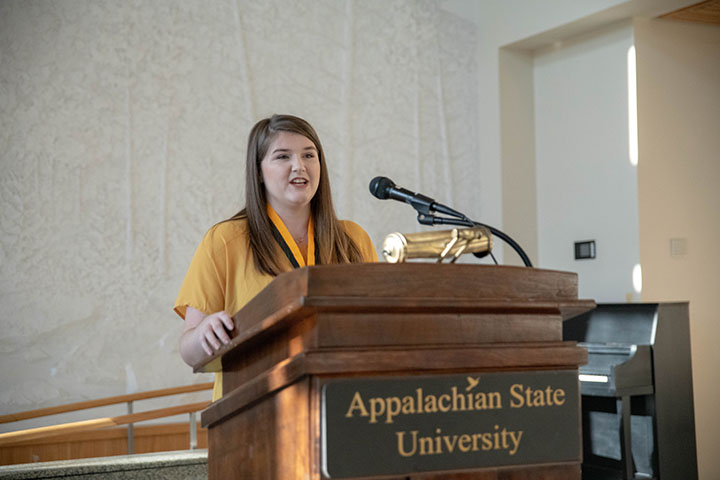 B
Major: Exercise Science
Thesis title: Health Literacy and Communication Efficiency within a Spanish-Speaking Population in Healthcare
Honors Thesis Director: Adam Hege, Ph.D.
Honors Thesis Second Reader: Maria Julian, M.A.
Davidson identified the experiences that have most "shaped her" in her time at Appalachian. She served a year as Resident Assistant in Justice Hall. Learned how to "best represent her residents and foster healthy community among them. She served as Junior Class Senator in Student Government where she learned to advocate for students, improve the university, project her voice and her views. She developed in her a passion for medicine and politics. She wrote: "I learned that I should not just treat my future patients but also advocate for them." For two summers, Davidson interned at a medical clinic near her hometown that serves low-income patients, and many Spanish speakers. There she discovered her passion for primary care for the underserved, a compelling interest in public health, and was able to develop a research project for her Honors thesis. She studied abroad in Peru last summer with the help of a prestigious Gilman Scholarship, learning about the healthcare system there, global public health, and healthcare in Spanish. Davidson has been accepted by Teach For America in New York City, and will teach for them while earning her Masters degree in Education. She is excited to develop professionally and personally through this experience, and thereafter will apply to programs to become a Physician's Assistant.
Holly Gallagher
Major: al Science
Thesis title: The Feminization of Poverty: Rural Appalachia and Beyond
Honors Thesis Director: Nancy Love, Ph.D.
Honors Thesis Second Reader: Janice Rienerth, Ph.D.
Gallagher's Honors thesis was inspired and made possible by her internship with the Women's Fund of the Blue Ridge, a local non-profit in Boone that strives to create positive change for women and their families in Northwest North Carolina through grantmaking and direct advocacy work. Gallager says that her work at the Women's Fund opened her eyes to many of the issues and inequalities facing women in the region, especially women in poverty. Her thesis work and work with the Women's Fund reinforced her passion for public advocacy and women's rights. She also received the State Employees Credit Union Public Service Scholarship. In her time in Honors at Appalachian, Gallagher studied abroad—in a program focused on leadership development—in Prague, Czech Republic, and also travelled to Berlin and Vienna—experiences that she describes as life-changing. She shared: "I am very grateful that the Honors College requires its students to study abroad! This was an incredible opportunity for self-growth and learning about different cultures." Gallaher is currently working with a coalition in Raleigh to expand Medicaid in North Carolina. After graduation, she will be seeking employment in public advocacy or campaign management.
Lyubomir Gizdarski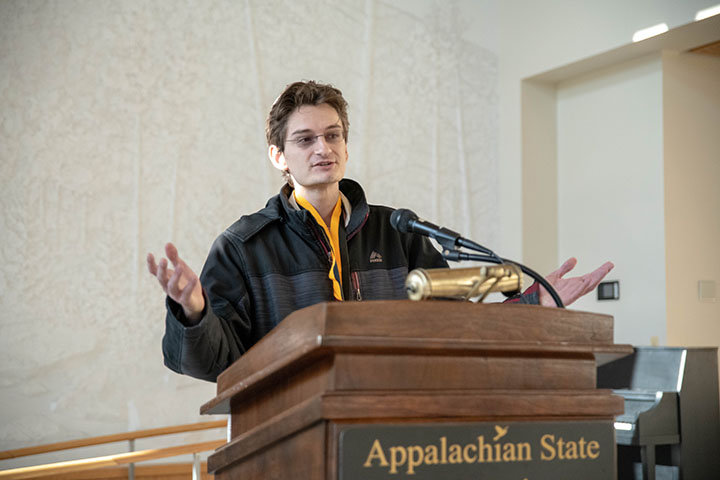 Major: Biology
Thesis title: Identification of a Phospholipase A2 Inhibitor
Honors Thesis Director: Mark Venable, Ph.D.
Honors Thesis Second Reader: Brooke Christian, Ph.D.
During his undergraduate studies in Honors at Appalachian, Gizdarski also earned his CNA certificate and undertook his CNA clinicals. He enjoyed working with elderly patients who have limited ability to take care of themselves. Next year, Gizdarski will be taking a gap year to work as a CNA, after which he will apply to the National Institutes of Health to continue doing research, and then apply to medical school.
Sope Kahn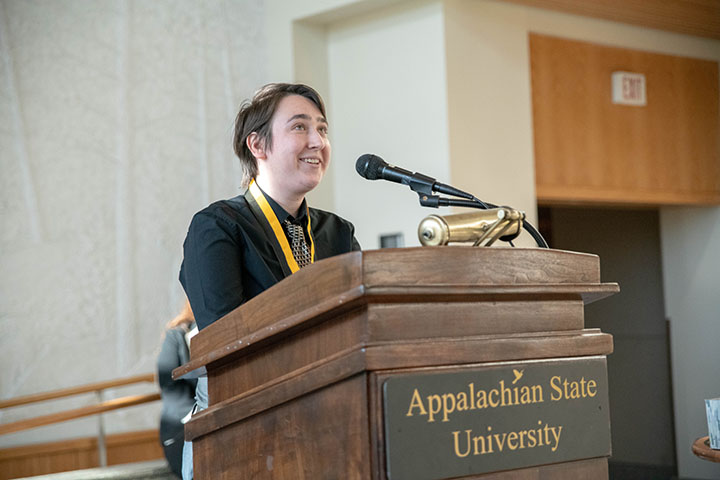 Major: Gender, Women's and Sexuality Studies & Art Education
Thesis title: Queering Clay Bodies
Honors Thesis Director: Sushmita Chatterjee, Ph.D.
Honors Thesis Second Reader: Albert Stabler, Ph.D.
As a Wilson Scholar and an Honors College student, Kahn studied abroad in Aix-en-Provence, France, focusing on painting, drawing, and French; and traveled to Paris, Morocco, Spain, South Africa, and Berlin. Kahn worked as a research assistant with Sociology professors Ellen Lamont and Teresa Roach, and was published as co-author on a scholarly article on LGBTQ students and College hook-up culture." They presented twice at the South Eastern Women's Studies Association conference, once on Material Feminisms and the power of collaboration, and once on the topic that would become their Honors thesis. Kahn also received, in connection with the conference, the prestigious Frances Holland Black scholarship from Appalachian's Gender, Women's, and Sexuality Studies program. Finally, Kahn has been an Upward Bound mentor on campus for two years, and recently won an award for "Most likely to find a way to talk about their cat in any conversation": Sope's cat is named LUCA, and is a bringer of joy. Next semester, Sope will complete student teaching and begin teaching art. Eventually, Kahn plans to earn a PhD and continue work in Art and in Gender, Women's, and Sexuality Studies and related fields.
Fahiima Mohamed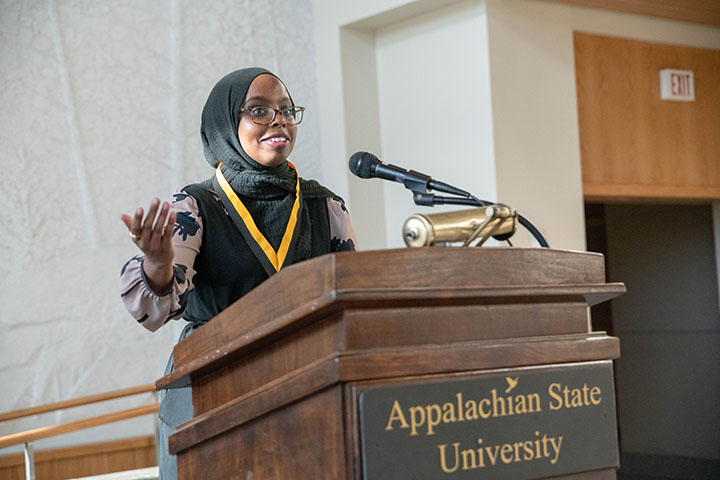 Major: Political Science
Thesis title: Change in the Strategic Significance of the Horn of Africa
Honors Thesis Director: Cary Fraser, Ph.D.
Honors Thesis Second Reader: Adam Hege, Ph.D.
Fahiima is a Wilson Scholar graduating with University Honors, from the Honors College, and with Departmental Honors in Government and Justice Studies. The faculty of that department also voted her the Outstanding Senior in the department's concentration of International and Comparative politics. She is the recipient of the Roland Frederick Moy International Scholarship, was elected a Science Policy Summer Institute Fellow at Duke University during the summer of 2017, and worked as a Communications Intern at MDC, Inc., a Durham-based nonprofit with a focus on shaping a South where all people thrive. Mohamed participated in faculty-led trips to Costa Rica and Cuba, also served as president of the Muslim Student Association, served as the Residence Hall Association representative for Summit Hall, served as a member of the Appalachian Popular Programming Society, and worked as a University tutor in Biology, political science, statistics, and public health. She also co-authored a research presentation on the Ethical and Social Implications for the Implementation of Rapid DNA Act of 2017 at Duke University, and also presented it at the prestigious International Symposium for Human Identification (ISHI) in Phoenix, Arizona. Mohamed is currently a student in the accelerated graduate program in Political Science at Appalachian (4+1). Thereafter, we'll see! She will join the workforce for a few years before returning to school for a PhD, or go straight into a second masters or a PhD program.
Nora Smith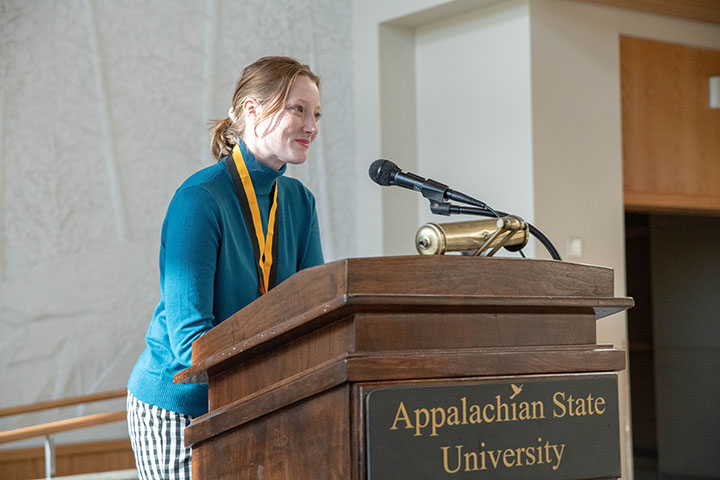 Major: Communication, Journalism
Thesis title: Who, What, When, Where, and Why? A New Story of Journalism, as told by Nonprofit News Organizations
Honors Thesis Director: Scott Welsh, Ph.D.
Honors Thesis Second Reader: Bret Zawilski, Ph.D.
Within the Honors College, Smith served as the first-year and sophomore AHA! representative (Appalachian Honors Association), helping to create community-building events for Honors students. Smith worked on the public relations desk for The Peel literature and arts review for three years, was a supervisor for AppTV's The Appalachian Weekly News for two years, and, most significantly, was designer, graphics editor, and editor-in-chief of The Appalachian student newspaper. Smith was chosen as a Dow Jones News Fund multiplatform copy-editing intern for summer 2019, one of the most prestigious journalism internships in the country. Smith was selected as one of eight interns from over 800 applicants, and was placed at the Charleston Gazette-Mail in West Virginia. They designed pages and online graphics for some of their most important stories—data about the opioid crisis in WV, homeless high school students, and the implementation of charter schools in the state. Smith won the David L. Adams Apple Award for Copy Editing, and a Pinnacle Award for General News Writing, from the College Media Association in 2019. They also led The Appalachian to Best of Show in print and online news from the North Carolina College Media Association, and herself took home 'first place page design honors' twice, in 2018 and 2019. Tomorrow, Smith has the great honor of serving as a commencement speaker, representing the College of Fine and Applied Arts (and the Honors College!) After graduation, they'll start working on the copy desk as a page designer, copy editor, and web producer for the Pittsburgh Post-Gazette.
Allison Staley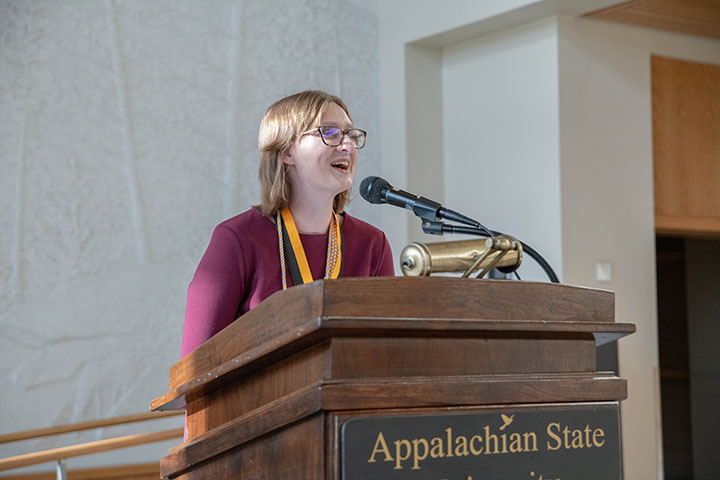 Major: Mathematics
Thesis title: Child Maltreatment in the United States: Where Are We Now?
Honors Thesis Director: Jill Thomley, Ph.D.
Honors Thesis Second Reader: Randi Reagan, ABA, CTP-E
In her time in Honors at Appalachian, Staley was a stalwart and extraordinarily valuable member of the Honors College Vanguard Ambassadors, helping represent the Honors College and recruit new students and their parents; and she was also a member of the College of Arts and Sciences CAS Corps, a group devoted to creating opportunities for professional growth for students in that college. She served as Housing Operations Coordinator for the Residence Hall Association for two years, and as the sole student representative on the selection committee for the huge P3 Housing Project now being built on campus—an especially important position. She served as the manager for the women's basketball team during her first and second years at Appalachian. She studied abroad in England with a short-term program led by Dr. Rick Klima and Dr. Holly Hirst from Mathematics, focused on the Secret Codes of World War II: code-making and code-breaking. Staley also completed no fewer than 3 internships as an undergraduate: with the Forsyth County District Attorney's Office Violent Felonies Unit, with the Dragonfly House Children's Advocacy Center, and with Terry Law, PLLC. Staley's next step is law school, but the school is to be determined!
Congratulations to all! We wish all these extraordinary graduates success in all their future endeavors. We will follow their bright futures with pride and great interest. Please keep us posted!
Top photograph features all eight graduates present at the December 12, 2019 Graduation Ceremony held in the Solarium of the Plemmons Student Union.
.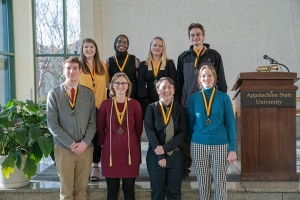 Tags: