Emily Cluen ('18) has been accepted to the graduate program in Student Affairs and Higher Education at Miami University in Oxford, Ohio, for the Fall 2019 semester. In Honors at Appalachian, Cluen majored in recreation managment and earned minors in general business and leadership studies. She worked with Dr. J. Joy James, professor in Appalachian's Department of Recreation Management as her mentor on her Honors thesis. Reflecting on her Honors experience, she shares,
"I believe the most valuable aspect of my Honors College experience was my thesis. At times, the project seemed insurmountable, much too large for a twenty-two year old college student-worker to complete. However, writing, defending, and now presenting has shown me just how much I am capable of. Additionally, being able to choose a topic that truly interested me and complete the project using a method that many of my role models use was incredible. I could not have asked for more support or freedom in the work that I did."
At Miami University of Ohio, Cluen will serve as a graduate residence hall director. She explains how this connects with her experience at Appalachian:
"During my time at Appalachian, I was heavily involved on campus. Some of these areas were as a Resident Assistant, and ASE Peer Leader, a desk shift volunteer at the LGBT center, and a student conduct board member. All of them were extremely valuable, especially in giving me responsibility for different things going on that affected other students' experiences and allowing me to build relationships with students and faculty that I would not have otherwise. My experiences as an RA were what really pushed me in the direction of Student Affairs, and there is no doubt that I will be relying heavily on those experiences as I take on the role of a Residence Hall Director."
Cluen has spent the past year working at Camp Twin Lakes, which provides camp programing for populations with serious illnesses, disabilities, and other life challenges. Cluen was a lifeguard on staff through the summer and began working as a full time program assistant in August of 2018. Cluen shared that presenting her Honors thesis research at the American Camp Associate National Meetings in Nashville, Tennesse, in February "was definitely one of the highlights of this year." For the presentation of her project titled, "Out of the Cabin, Out of the Closet: The Transformative Experiences of Camp and Identity Exploration" Cluen had an engaged audience of about fifty people. She explained,
"My presentation consisted of some identity education and explanation, an empathy-taking activity, and the sharing of my research and how camps can be more inclusive to their LGBTQ+ campers and staff. Afterwards, I had a few people ask me to share my thesis and the facilitator guide for my activity. I've also had a few people email me questions about how they can be inclusive with the specific resources they have or populations they serve. It has been amazing to see people putting that knowledge into practice, especially knowing that this will impact others' lives positively."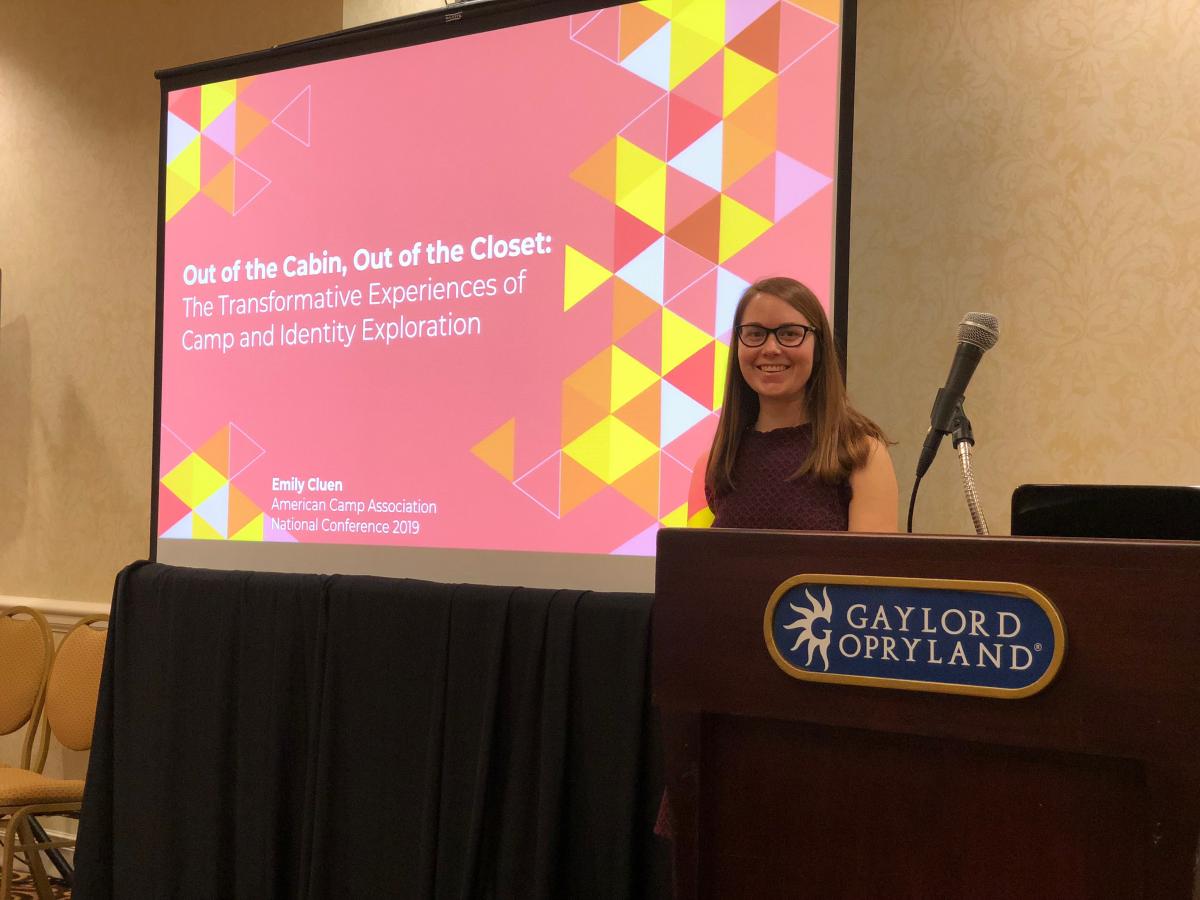 Photo above features Emily Cluen just before her presentation at the American Camp Associate National Meetings in Gaylord Opryland in Nashville, Tennesse, February 2019.
To current Honors students, Cluen offers the following sage advice,
"First, I believe everyone should be involved on campus in some aspect. There are countless opportunities for students to develop their passions, refine themselves as students and workers, and build lasting relationships with faculty and fellow students. While I may have taken campus involvement a little too far at times, I will never regret the experiences and relationships that have helped shape me into who I am today. Second, I believe honors students should build relationships with one another. I know the Honors College is creating more opportunities for connections between Honors students – this is incredible work! Looking around the room at my Honors College graduation, I wished that I had known more of the faces, stories, and passions walking across the stage at the same time as me. I would encourage current students to reach out to those who share time together in the Honors College and look for the ways that their interests, passions, and personalities intertwine."
In the midst of the Honors thesis season and rounding out another academic year, such reflection is welcome in the Honors College. Over sixty Honors College graduates will complete their theses and degrees this semester. They have each earned their lessons through this process. We are grateful to those, like Cluen, who are willing to share their stories.
The top photo is a senior portrait of Emily Cluen taken at Thunder Hill Overlook, Boone, NC in May 2018. Photo by Humble Confidence Photography.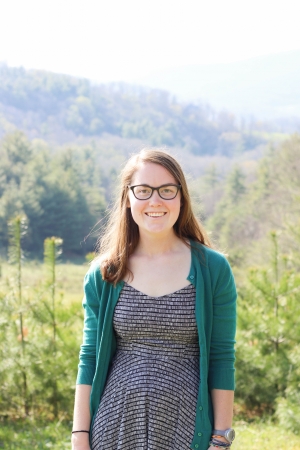 Tags: