Honors senior anthropology major and Chancellor's Scholar Evie Giaconia won the Theta Alpha Kappa (National Honor Society for Religious Studies and Theology) Albert Clark Award for best undergraduate paper. She presented at the Southeastern Commission for the Study of Religion (SECSOR) on March 2-4, 2018, at the Buckhead Marriott and Convention Center in Atlanta, Georgia. Her paper titled, "Beyond Gaia: Increasing Connectivity Between Humanity and the Other in the Worlds of Octavia Butler, Ursula K. LeGuin, and Diane Duane" will be published in the Journal of Theta Alpha Kappa!
Photos (submitted) show Evie (below) presenting her paper at the SECSOR conference in Atlanta, and (top) during the question and answer session following her presentation.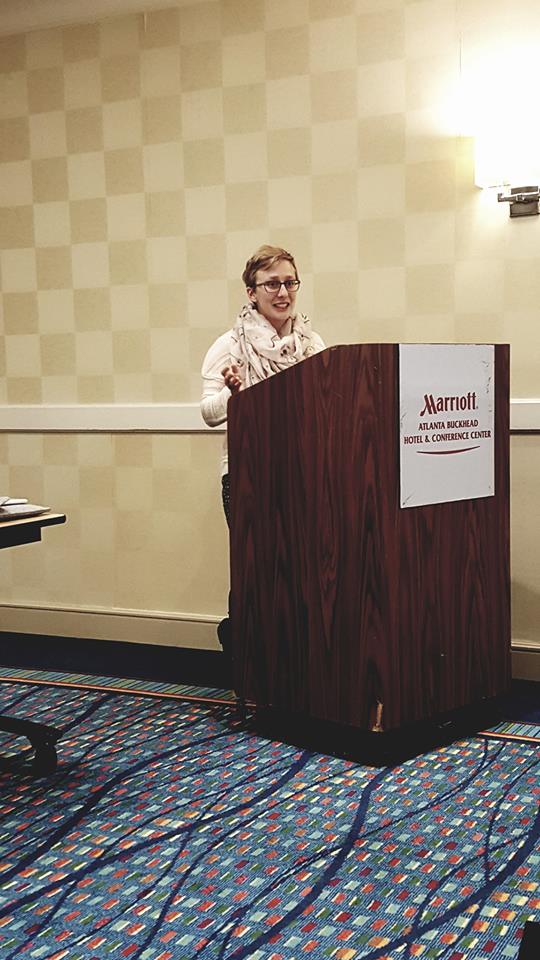 For more about Evie's paper, here is the abstract: "James Lovelock first proposed Gaia Theory in the 1960s, suggesting that the entirety of the earth, including life and its atmosphere, constitute one self-regulating entity, comparable to a living organism. The proposal was contested heavily by scientists from the moment of its inception, but Gaia Theory nevertheless permeated popular culture. Its influence is felt in New Age religious movementsand environmental ethics discourse, exemplified in the 2011 Blue River Declaration. The lasting influence of Gaia Theory on popular culture is apparent in a diverse amount of literature, but especially so in several works of science fiction. Not only does Gaia Theory itself permeate these works, but through them the theory is also expanded, the tenets of original Gaia Theory stretched beyond Lovelock'soriginal conception. SolSeed, a religious movement based on the fictional religion in Octavia Butler's work The Parable of the Sower, represents Gaia Theory with the goal of interstellar expansion of the Gaia organism. Ursula K. LeGuin's short story Vaster than Empires and More Slow presents an alien sentient planet, a Gaia far from home and completely devoid of humanity. Finally, Diane Duane's young adult series Young Wizards presents the greatest expansion of Gaia yet in portraying not just one planet that is a living system, but the entire universe as one collective organism. Taken together, these works demonstrate a spectrum on which Gaia Theory is expanded from one possibly sentient planet to an entire universe with consciousness. In this paper I will discuss this expansion and likewise show that these works constitute an increasing deconstruction of the anthropocentrism of Lovelock's original hypothesis, transitioning from a principle of human exceptionalism and stewardship to a system in which every being is actively engaged in the care of the whole."
Evie is currently in the final stages of her Honors thesis. She is working with Dr. Tim Smith, Chair of the Department of Anthropology as her thesis mentor. Evie's thesis is based on ethnographic research she conducted over the past two summers with the indigenous community of Shiripuno, situated in Amazonian Ecuador.
Story by Garrett Alexandrea McDowell, Ph.D.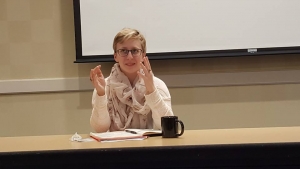 Tags: