Five Honors students have been named new Appalachian Student Ambassadors: Aman Hyrams, Emma Strange, Ethan Triplett, Cori Fergusson,and Rachel Ramakrishnan (nursing). Hyram is a junior biology major. Strange is a sophomore majoring in anthropology. Triplett is a sophomore exercise science major. Ferguson is a first-year student majoring in psychology. Ramakrishnan is also a first year student majoring in nursing. These Honor students have been selected based on their academic merit, presentation skills, and their commitment to the Appalachian Community.
If you have ever taken or seen a tour of campus, to or now that you live on campus, see fellow students leading tours of prospective students and their families, they are Appalachian Student Ambassadors. Officially, The Appalachian Student Ambassadors are a group of 50 undergraduate students (many of those Honors students), who serve Appalachian State University as official student representatives for the Office of Admissions, the Alumni Association and the Office of the Chancellor. Unofficially, they represent Appalachian State to interested high-school students who are making one of the biggest decisions of their lives.
Here's what Cori Ferguson, one of the new inductees, had to say about the Ambassador program:
"It is such an amazing program that seeks to develop it's participants both personally and professionally., and I really encourage anyone even remotely thinking about applying to apply! All you need to apply is the ability to serve for one full academic year! Also, we love to learn, so if anyone has a story about how the Honors College has shaped their life and feels comfortable sharing, I would love to talk about it on my tour! Finally, if anyone has any questions at all about Ambassadors, please encourage them to reach out to me. I genuinely would love to answer anything regarding the organization!"
Ferguson credits her experience in Honors in as an asset for her work with the Ambassadors program. She shared,
"My involvement with the Honors College has impacted my performance as an Ambassador in so many ways. I am able to talk with prospective students about considering applying to the Honors College and offer firsthand experience when answering their questions. We also discuss the first-year seminar during a stop on our campus tour, and having taken Balanced Brains, I have wonderful things to say about my seminar and how it has prepared me academically as well as connected me to various resources on campus."
Appalachian Student Ambassadors are involved in several activities around campus. To learn more and stay updated, visit their website.
Top photo features Honors senior and Appalachian Ambassador Austin Lubkeman leading a campus tour.
Story by Brad Rentz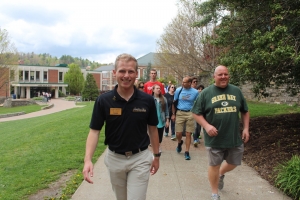 Tags: