Honors students Katie Feeny (spring 2020 graduate, B.S. psychology), Kyndal Stewart (rising senior, nursing major), Wade Creech (rising junior, exercise science major), and Maddy Babb (rising sophomore, nursing major) traveled to the Dominican Republic over Spring Break, March 7-14, 2020, for an international Alternative Service Experience (iASE). These programs are organized through Appalachian's Division of Student Affairs as opportunities for students to explore, learn, and serve alongside an international community over school breaks. International Alternative Service Experience programs that carry at least one semester hour of credit like this one can be used to fulfill the international education requirement for the Honors College. Kyndal Stewart described the connection between service and Honors:
"As an Honors student for AppState, the act of service has been instilled upon us. I think it is very important that those of us who are able find time to give back to our community, and make it a regular part of our ongoing education and throughout our lives. I think that service isn't just for the people we may be assisting, but it also teaches valuable lessons to those who are performing the service. Service has always been very important to me, and I am very grateful and humbled to have been able to continue this in my college education."
This iASE program, Water for Life: Grassroots Community Development and Cross-Cultural Connections, took place in the mountains of La Rosa in the town of El Cidral, Dominican Republic. The group included Dr. Brent James, senior lecturer in the Department of Languages, Literatures and Cultures, who served as Learning Partner for the trip, and Peer Leaders Ashley Bisby and Kylie Holloway. In La Rosa, the group worked in community-based grassroots development with Service for Peace. Wade Creech shared,
"The ASE program overall was wonderfully managed and structured thanks to Brent, Ashley, and Kyliee. It taught me incredibly valuable lessons regarding collaboration. From the leaders at Service for Peace to the incredibly generous members of the local community in La Rosa, this program was a life changing experience for me that I will take with me throughout my time at App State and beyond!"
The group assisted with the construction of water tanks to help improve access to clean and safe drinking water for members of the community. Stewart explained, "We assisted in building water tanks, while also building even stronger cultural connections with the people of La Rosa…Our program was focused on learning about their culture and gaining a better sense of cultural awareness of how others may live, and learning about our own privileges."
Service and international experiences challenge Honors students to learn and grow in ways that extend throughout their lives. Stewart further reflected,
"For me, I would say the best part was not only the connections and new friends I made with the other 13 people I traveled with, but also with the Service for Peace partners and the individuals of La Rosa. This program and experience was very impactful and I'm grateful for the people who experienced it alongside me. One other part of the program that I really enjoyed was learning something new! I can't think of another time in my life that I would learn to build a water tank, but I learned a lot more than just that. Learning something new that pushed me outside of my comfort zone had its own challenges, but our group provided a good support system."
Top photo features Honors students (left to right): Maddy Babb, Katie Feeny, Kyndal Stewart, and Wade Creech in the Dominican Republic on an iASE during Spring Break 2020. Photo submitted.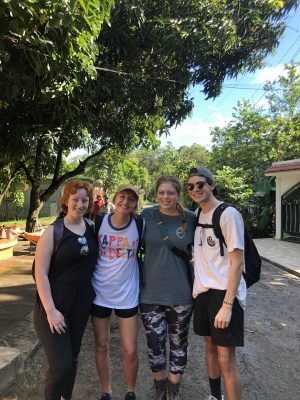 Tags: