With scholarship support from the Honors College, Honors junior Grace Ruffin traveled to Cape Town, South Africa, beginning January 25, 2020, for a semester long study-abroad experience that, unfortunately, was cut short on March 15, 2020, due to COVID-19. Even with a premature conclusion, Ruffin shared that her study abroad trip was an amazing experience of growth and learning—the intended challenge of the Honors College International Education requirement. Ruffin stated,
"The Honors College is all about challenge and growth. There is truly no other way to challenge yourself more than an extended international experience. For Honors College students, the opportunity to study abroad is also an opportunity to challenge your academic ability and to learn more about yourself and the way that you navigate new situations. The experiences that I had will translate into my academic career and my future professional career."
Ruffin, a public health major with a minor in gender, women, and sexuality studies, selected this study abroad program because she was interested in learning more about the country's history of Apartheid. The courses she took focused on multiculturalism and human rights in post-Apartheid South Africa. She also took a Xhosa language class. She described,
"The discussion-based classes that I have taken through the Honors College prepared me for the discussion-based courses and experiential learning that I did while abroad. I know that what I have learned about the history of human rights in South Africa will provide me with a different perspective going forward in my public health courses… As a public health major, these courses were a wonderful opportunity to enhance my cultural competency skills as well as my ability to apply my public health knowledge to a variety of subjects."
While in South Africa, Ruffin also was able to travel to Stellenbosch and the Eastern Cape. She had the opportunity to stay with three homestay families for extended periods of time. That allowed her to learn first-hand about the variety of cultures and people that live in South Africa. She explained where her homestays took place with "one in Langa Township (my favorite homestay), one in a village called Tshabo in the Eastern Cape, and one in a predominantly white town (the areas are extremely segregated due to Apartheid)."
Photo above is of Ruffin (right) with her host mom in Langa Township. Photo below features Ruffin (second from right) with her host family in a village called Tshabo in the Eastern Cape. Photos by Grace Ruffin.
Learning about and being able to work with people who are different from oneself, is the primary goal of the Honors College International Education experience. Of this, Ruffin shared,
"As I reflect on my experience in South Africa, I am able to understand how much more comfortable I have become when talking to people that I do not know and that may have different life experiences. This is something that has helped me in public health as well. I feel much more confident talking to and learning from those around me."
To continue to meet this goal, even in the midst of COVID-19, the Honors College is offering two Honors seminars for Spring 2020 semester which will allow current Honors students who are not able to travel abroad to meet their Honors International Education requirement. Those include: HON 2515 - 101: Education as the Practice of Freedom being taught by Dr. Greg McClure, associate professor in the Department of Curriculum and Instruction, and HON 2515 – 106: Collaborative Citizenship being taught by Dr. Garrett McDowell of the Honors College. Click here to learn more about these courses.
Photo below shows Ruffin with friends in Cape Town swimming near wild penguins. Photo by Grace Ruffin.
As for Ruffin, moving forward with this strong foundational experience, she said,
"I am eager to see how this eye-opening experience shapes and shifts my experiences at App and my interactions with my peers. I am thankful for the opportunity to have studied abroad and I am grateful for all of the support from the Honors College."
Top photo features Grace Ruffin Spring 2020 semester in Cape Town, South Africa. Photo by Grace Ruffin.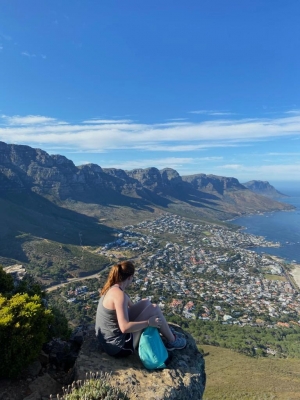 Tags: