Congratulations to Honors Alumna Hannah Malcolm (Fall '16), who has been awarded the highly selective President's Diversity Fellowship starting Fall 2017 to pursue her Ph.D. degree at Indiana University Bloomington. With this multi-year award funding from The University Graduate School Hannah will be working in the Department of History where she plans to focus on Early Modern Europe.
This will allow her to build on and further develop her Honors thesis research, which she conducted on prejudices, education, and the French Revolution under the directorship of Dr. Michael Behrent, Assciate Professor of History at Appalachian. In her future research at Indiana, Hannah is excited about expanding on this foundation and delving into a new perspective of local libraries and other local influences on educational policy.
Additionally, Hannah plans on minoring in Eighteenth-Century Studies. She awaits new graduate student orientation at Indiana but has already selected her first courses. These include a seminar on the Revolutionary age, a passion of hers. As she shared, "I'm incredibly excited!"
Since she graduated from App this past December, Hannah has been in Europe catching up on reading, revising her Honors thesis for publication, and exploring new avenues for research. Oh, and Hannah married Honors Alumnus Grayson Bodenheimer ('17) over the summer of 2016. As a sociology major and global studies minor, Grayson just completed his Honors thesis on the Finnish education system and his final coursework at App in July 2017. Click here to learn about Grayson's exciting final semester in Finland.
Hannah and Grayson have returned to the United States and are currently in transition to Indiana. In the future, both Hannah and Grayson are aiming for professorship in their individual areas. Hannah stated, however, that she is open to all viable career alternatives within her solidly grounded academic interests. Whatever their future brings, they are launching forward with solid foundation from Honors at Appalachian. Hannah (and Grayson), keep us posted!
Photo contributed by Hannah Malcolm
Story by Garrett Alexandrea McDowell, Ph.D.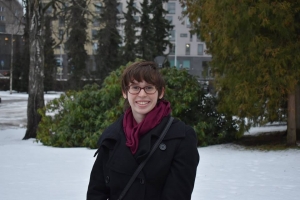 Tags: