By Kistler Hunt
Honors alumna and Chancellor's Scholar Maddie Gaillard '21 has been serving as an English Language Assistant (ELA) through the North American Language and Culture Assistants Program (NALCAP) in Valencia, Spain. Gaillard graduated from Honors at Appalachian in May of 2021 with a Bachelor's of Science in international and comparative politics and minors in Spanish and anthropology.
Gaillard was particularly drawn to NALCAP as it allowed her to further immerse herself in the Spanish language after her experiences studying Spanish at Appalachian State and studying abroad in Sevilla, Spain, in the Spring of 2020. She learned about the NALCAP through a former Honors student, with whom her Honors College advisor, Dr. Garrett McDowell, connected her.
Gaillard reflects on the Honors College, "This community of dedicated and driven individuals is one which I am incredibly thankful to have been a part of."
Gaillard became interested in international travel through her experience as a Chancellor's Scholar and the Fall 2017 group research trip to Ireland. She then decided to study abroad further her love for travel. Gaillard stated that her time in Sevilla, "Allowed [her] to feel comfortable around a language, culture, and lifestyle outside of [her] comfort zone." In her time in Valencia, she has further immersed herself in all parts of the Spanish language and culture.
Through NALCAP, Gaillard serves as an English-speaking resource for language lessons in classrooms where virtually no English is spoken. Her work primarily focuses on supporting a school in the small village of Requena, a community in Valencia. In Requena, Gaillard helps to plan and teach aspects of the English language including pronunciation and vocabulary. She highlighted the importance of having an ELA in the classroom, "English is such a dominant international language and lingua franca," or bridge language. ELAs can present a native speaker's perspective of the language, which ultimately helps students understand the language better.
Gaillard shared that her Honors thesis was a significant experience that enriches her time as an ELA. For her thesis, Intersections Among Identity Formation, Political Rhetoric & White Supremacy: Donald Trump's Immigration Policy Regime, she worked with Dr. Tim Smith, professor in the Department of Anthropology, as her director, and with Drs. Felicia Arriaga, assistant professor in the Department of Sociology, and Jon Carter, associate professor in the Department of Anthropology, as second readers. Her research project contributed to her understanding of cultural dynamics.
Currently in a town where she is one of two Americans, she shared, "[My thesis] gave me a base for understanding international communication." Her thesis research largely focused on a case study that examined how communication, politics, and immigration intersect. Her time in Valencia has proven to be an intersection of all three, and she is improving her knowledge of the language even further.
Gaillard expressed that her experience as an ELA, "Has helped me grow personally and professionally in such a positive way."
She plans to reapply for the NALCAP program and hopefully continue to teach in Spain for another academic year. After she completes her time in the program, she plans to attend law school in the fall of 2023 to study international law.
Top photo features Maddie Gaillard (right) in Valencia, Spain. Photo submitted.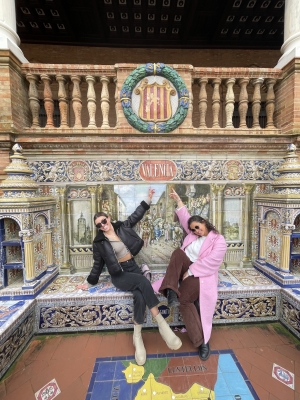 Tags: