Appalachian State University's Dr. Louis B. Gallien Jr., professor in the Reich College of Education's Department of Leadership and Educational Studies and faculty member in the Honors College, has been named Appalachian State University's project director for Universities Studying Slavery (USS)—a consortium of more than 70 higher education institutions across the nation and world. According to the University of Virginia's USS consortium website,
"The Universities Studying Slavery (USS) consortium, created and led by the University of Virginia, represents a multi-institutional collaboration focused in sharing best practices and guiding principles about truth-telling projects addressing human bondage and racism in institutional histories. Member schools are all committed to research, acknowledgment, and atonement regarding institutional ties to the slave trade, to enslavement on campus or abroad, and to enduring racism in school history and practice."
Dr. Gallien is also now serving as chair of App State's Faculty Senate. Dr. Gallien previously served as dean of the Reich College of Education. For the past few years, he has taught, mentored and advised students in the Honors College. He has been the coordinator of the College of Arts and Sciences Southern Studies minor since its inception in 2017. He has also taught in the Department of Interdisciplinary Studies and the Department of History, as well as the Africana Studies Minor.
In his career and most recently with his work in the Honors College, Dr. Gallien's focus has been on diversity and inclusion. He shared, "I was privileged to have high school courses on African American literature, history and Swahili by my senior year at prep school. It literally changed my life trajectory along with the tragic death of my best friend during that time (in the early Seventies), who was African American" In the Honors College since 2015, Dr. Gallien has developed and taught a number of interdisciplinary Honors seminars that fit his background and overlap with his interdisciplinary degrees and writings. These have included: Slavery and the Making of American Capitalism, African American Popular Culture, African American Worldviews, and Understanding Cultural Diversity via Film and Novels, among others. With his background and teaching experience in the Honors College, Dr. Gallien led App State's involvement in the USS consortium.
Dr. Gallien's seminars in the Honors College are directly aligned with his African American curricular research and teaching, highlighting part of the Honors College mission—the interdisciplinary nature of inquiry. The mission, he explained, "so clearly attracts faculty who want an intellectual center to do this work in and are made welcome and comfortable. This is an intellectual environment where faculty can share their work with other academics and students." Dr. Gallien added, "There is a special commitment to academic freedom in the Honors College. You are not merely tolerated but encouraged to build a quite courageous curriculum that does not gauge success by numbers of students but truly offers our students the best that our very fine faculty possess in content, pedagogy, and enthusiasm.
In sum, teaching in the Honors College fosters faculty innovation."
For Dr. Gallien, his Slavery and the Making of American Capitalism course has held the most significance. He explained, "I developed this course four years ago and centered it on slave narratives, films, speakers, plantation and farm tours, and stimulating texts on various forms of the slave trade and underground railroad. Since then, I have offered the course each year to a steady enrollment. This course was more salient due to the issues surrounding the 1619 project, and my family history in chattel slavery. It has been a life-long mission for me to understand how a learned family became enmeshed in the slave trade, especially one that professed a Christian worldview."
With his new roles, Dr. Gallien feels like his job is becoming "more of a calling than a career." However, he will continue to teach for the Honors College on a regular basis, offering the seminar Slavery and the Making of American Capitalism, again this upcoming Spring 2022 semester.
To read more about App State's involvement with the USS consortium, read the story App State joins Universities Studying Slavery consortium, continues its work to foster diversity and inclusion edited by Jessica Stump for AppalachianToday posted on May 20, 2021.
Top photo of Dr. Louis B. Gallien Jr., Appalachian State University's project director of the Universities Studying Slavery (USS) consortium, chair of Faculty Senate, and coordinator of the College of Arts and Sciences' Southern Studies minor. Photo by Marie Freeman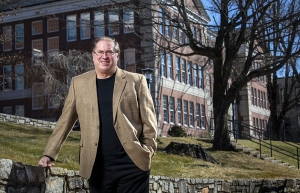 Tags: