Ten Honors College students traveled to Charlotte this past week to present at the Southern Regional Honors Council Annual Conference 2023 (SRHC), held March 30 through April 1. The SRHC promotes and advances Honors Programs and Honors Colleges in the Southern United States. The following App State Honors College students attended and presented at SRHC: Percy Aagon, James Auwn, Emma Clugsten, Sophie Columbia, Gavi Jacobson, Matthew Mair, Will O'Brien, Samantha Oleschuk, Angela Sajewicz, and Elliot Sheehan. Dr. Heather Waldroup, associate director of the Honors College, joined these students and shared,
"The Southern Regional Honors Council conference is an outstanding venue for our Honors students to present their research and connect with other Honors students from colleges and universities throughout the Southeast. The diversity and depth of our students' presentations — which included STEM fields, arts/humanities and social sciences — allowed App State's Honors College students to truly shine in this event."
The Honors College provided scholarship support for each student's registration and travel expenses—a great investment in Honors education. Included below are details about each student attendee, their presentation or poster title, and a photo from their presentation. Some students also share a quote about their experience reflecting on the benefits of participation.
Senior Percy Aagon, a double major in religious studies and psychology, made two presentations at the conference: "Internet vs Bible: Who is He?" and "Virtual Classroom Preferences and Experiences." Describing the challenging and rewarding experience of presenting research, Aagon stated,
"This was my second year attending SRHC and I was once again elated by it. Even though research is stressful and presenting in front of dozens of strangers is terrifying, it's all worth it for the passion. In every presentation, students and professors, there is a tangible passion for that research. I walked around the poster sessions not understanding 90% of the topics and loved all of them because of the intensity with which they were explained. It's a good reminder of why I started doing research in the first place: because it's exciting."
Photo by Dr. Heather Waldroup.
Junior James Auwn, a Chancellor's Scholar and double major in biology and psychology, presented: "Identifying the Role of Eukaryotic Translation Initiation Factor 3G1 in Nociception."
Auwn reflected on academic diversity of this experience:
"The opportunity to engage with scholars of similar, and completely different, disciplines allows for new perspectives and ideas to be spread throughout the Honors community. If that doesn't embody the spirit of Honors education, I don't know what does!"
Photo by Percy Aagon.
Sophomore Emma Clugsten, a communications public relations major, presented: "The impact of studying abroad in Copal AA La Esperanza."
Photo by Dr. Heather Waldroup.
Senior Sophie Columbia, a Chancellor's Scholar and computer science major presented: "Chess Move Generation using Bitboards."
Photo by Dr. Heather Waldroup.
Senior Gavi Jacobson, a sociology major and social work minor, presented: "How Parent Behaviors Around and Towards their Children Affect Early Alcohol and Marijuana Initiation."
Photo by Dr. Heather Waldroup.
Junior Matthew Mair, a Chancellor's Scholar and double major in economics and political science presented: "Understanding Sea Level Rise and Its Impacts in North Carolina." About this conference experience, Mair shared:
"My time at the Southern Regional Honors Conference was both educational and productive. I learned about a broad range of research being conducted and had a number of engaging conversations with students from other institutions. The diverse range of scholarship demonstrated at the conference was truly encouraging for the future of Honors education. I would like to thank the Honors College for the funding and opportunity to attend."
Photo by Dr. Heather Waldroup.
Senior Will O'Brien, a computer science major with a minor in geology presented: "Honey Bee Stripe Detection and Analysis with Active Learning."
Photo by Percy Aagon.
Junior Samantha Oleschuk, an art and visual culture major with a concentration in art management and double minors in French and non-profit organizations, presented: "Architectural Site and Imagined Landscape: the Foundation Lore and Perpetuated Mythology of the Round City of Baghdad." About her experience at the conference, Oleschuk stated,
"It was thrilling to see the passions of so many honors students across the region coalesce in conference rooms at the Southern Regional Honors Council's annual conference in Charlotte, NC. This was my first collegiate conference presentation; it was an honor to share the stories of the eighth-century marvel, the Round City of Baghdad, that I have studied since last fall. Inspired by keynote speaker Brenda Tindal's address and prompted by her question "what does the honors experience mean to you?," I have been reflecting quite heavily on my honors experience. Conversations with honors students and faculty across our university (in and outside the Honors classroom) have made important curves in the track of my train of thought. I am grateful for this special Honors College community that supports us as students aiming to have a real impact on the world!"
Photo by Dr. Heather Waldroup.
Sophomore Angela Sajewicz, a criminal justice major, presented: "Real or Imagined?" The School-to-Prison Pipeline and the Impacts of Zero Tolerance Policies."
Photo by Dr. Heather Waldroup.
Sophomore Elliot Sheehan, a history social studies education major and French minor presented: "Urban Renewal and the Interstate: Losing Charleston's Triangle District, 1956-77."
Photo by Dr. Heather Waldroup.
The SRHC is held annually in different cities across the Southeastern United States, hosted by a different member institution each year. The SRHC Annual Conference 2024 will take place in Jacksonville, Florida, April 3-6.
Top collage of photos submitted by Dr. Heather Waldroup and Honors College senior Percy Aagon.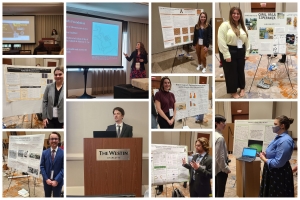 Tags: