Honors faculty member Dr Leigh Dunston, executive-in-residence in the Department of Finance, Banking and Insurance has received the 2019 Academic Freedom and Faculty Governance Award from the Appalachian State University's chapter of the American Association of University Professors (AAUP). Dr. Dunston has regularly taught Honors seminars including HON 3515: Tycoons, Titans, Founders, Financiers, & Blaggards, which he will again be teaching this upcoming Spring 2020 semester. As he has shared,
"Honors students challenge me and I enjoy trying to make the courses as enlightening as possible for students who are seeking deep knowledge and inspiration for creative and critical thinking. Integrating several concepts imbedded in the subject of the courses allows the students to enjoy in a deep way the pleasure of reaching insights that are at the heart of critical thinking and achieving a fuller more thoughtful and rewarding life. This gives me great pleasure."
To read more about Dr. Dunston and what led him to be named the 2019 Academic Freedom and Faculty Governance Award , check out this story by Dr. Laura Ammon, president of Appalachian's AAUP chapter, associate professor and departmental honors program director in the Department of Philosophy and Religion. Congratulations to Dr. Dunston on this well-deserved award. Thank you to Drs. Dunston and Ammon for sharing who you are and what you do in Honors at Appalachian.
Top photo features Dr. Leigh Dunston, executive-in-residence in Appalachian's Department of Finance, Banking and Insurance, left, the recipient of the 2019 Academic Freedom and Faculty Governance Award from the university's chapter of the American Association of University Professors (AAUP). Dr. Laura Ammon, associate professor and departmental honors program director in the Department of Philosophy and Religion and president of Appalachian's AAUP chapter, right, presented Dunston with the award. Photo by Marie Freeman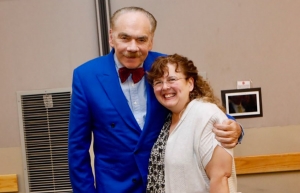 Tags: