Dr. Philip Ardoin, Honors Faculty member, professor and chair of the Department of Government and Justice Studies, has taken students to the Iowa Caucus. On January 16, 2020, Dr. Ardoin published the story, "Taking Students to the Iowa Caucus: An Experiential Approach to American Politics"
in Political Science Now. In that story he explained,
"The goal of the #App2Iowa 2020 course is to provide both students and faculty with an opportunity to directly experience the presidential campaign process and to observe the Iowa Caucus. While we have all watched presidential candidates' speeches and campaign commercials and even read their various policy proposals, observing a candidate on the stump campaigning for your vote is an unparalleled experience. The excitement and energy of a campaign event are truly magical."
To read the full story, click here.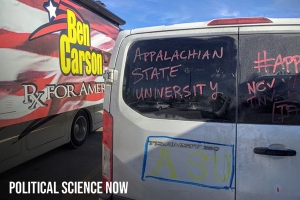 Tags: