The Appalachian State University Alumni Association named Honors alumnus Jonathan Kappler '05 as the 2019 Young Alumni Award winner. This award is given to individuals under 40 years of age for their exceptional service to the university and accomplishments in their career. The Alumni Association announced all 2019 Alumni Awards winners at a luncheon held on Appalachian's campus during the university's homecoming celebrations. The annual Alumni Awards honor graduates who are outstanding representatives of Appalachian in their work, service, and philanthropy.
Currently, Kappler is chief of staff to the deputy secretary for behavioral health and intellectual and developmental disabilities with the North Carolina Department of Health and Human Services. In Honors at Appalachian, Kappler double majored in political science and Spanish. He completed his thesis, North Carolina's changing demographics: the Latino community's political affect, under the direction of Dr. Phillip Ardoin, currently professor of political science and chair of the Department of Government and Justice Studies. Along with University Honors, Kappler also completed departmental honors in political science. After Honors at App, he went on to earn a master of public policy degree from American University's School of Public Affairs.
Click here to read the full story by Megan Bruffy in AppalachianToday.
Top photo features Honors alumnus Jonathan Kappler '05, the 2019 recipient of the Appalachian Alumni Association's Young Alumni Award. Photo by Marie Freeman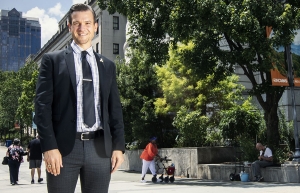 Tags: