What do the Honors College and Appalachian Roller Derby have in common? As explained by Honors sophomore Lauren Cavagnini, everything! Cavagnini is a social work major and Spanish minor. She shared,
"I got involved with roller derby in January of my freshman year at App State…After attending the winter club expo in hopes of finding something to get involved in, I stumbled across the Roller Derby Club, which is associated with Appalachian Roller Derby. On a whim, I decided to join, and I haven't looked back since… This sport has taught me that it's okay to own my space both on and off the track, and has given me so much confidence in my ability to improve and achieve."
That is what we hope for all Honors students—that they develop confidence in their many skills and talents to reach their capacity, and claim space for all their contributions!
The 501c3 Non Profit Appalachian Roller Derby is an all-female skater-run flat track roller derby league that was founded in March, 2010. Its mission aligned with that of Appalachian Honors College is one of "empowerment, and community awareness."
Reflecting on the shared missions of empowerment and community, Cavagnini stated,
"Roller derby is a tight-knit and supportive community. Everyone who joins the team is welcomed and encouraged to do their best, not unlike the Honors community. In both settings, your peers (or teammates) are sources of support and your advisors (or coaches) are sources of guidance. In becoming a part of these communities, I have found myself uplifted and encouraged to do my best, surrounded by people who are equally motivated."
That is the Honors College in a nutshell! At first glance, the Honors College could be mistaken for an exclusive group of students who do more work. Anyone who is involved with Appalachian's Honors College knows, nothing could be further from the truth. Similarly, Roller Derby is often misunderstood. Cavagnini explained,
"At first glance, roller derby seems like an aggressive and discouraging sport. On the contrary, it is full of empowering people, encourages collaboration, and places you in a setting where you can learn and grow. It has helped my mental health, my self-efficacy, and my athletic ability."
Like Roller Derby, the Honors College is a place to expand, grow, and connect. Honors students are those who don't fit in the boxes of single disciplines, majors, or career-paths. Rather, in the Honors College, students create their own boxes and paths. With the support of the Honors College and Honors curriculum, Honors students deepen their myriad interests, expand limits, and bridge borders. This happens in the Honors College through failure, persistence, and high standards. For Cavagnini, Roller Derby provides this same level of growth that comes from hard lessons, as she said,
"One of the most important lessons I have taken from roller derby is the courage to make mistakes. I think that in academic settings, there is commonly a mentality or pressure amongst students to be perfect and do everything correctly on their first try. In roller derby, that's nearly impossible to accomplish. Every new skill will take time to master, and you will mess up dozens of times in the process. As I have continued playing roller derby and learning new techniques, I have found myself less fearful of making mistakes in the process. This mentality in an athletic setting has translated into my academic setting as well. I have found myself less fearful of bad grades or not fully understanding a concept when it is taught to me, because I know that these bumps are opportunities to learn and improve the next time I try. One mistake does not tear me down; it is an opportunity to grow and become better than I was the day before."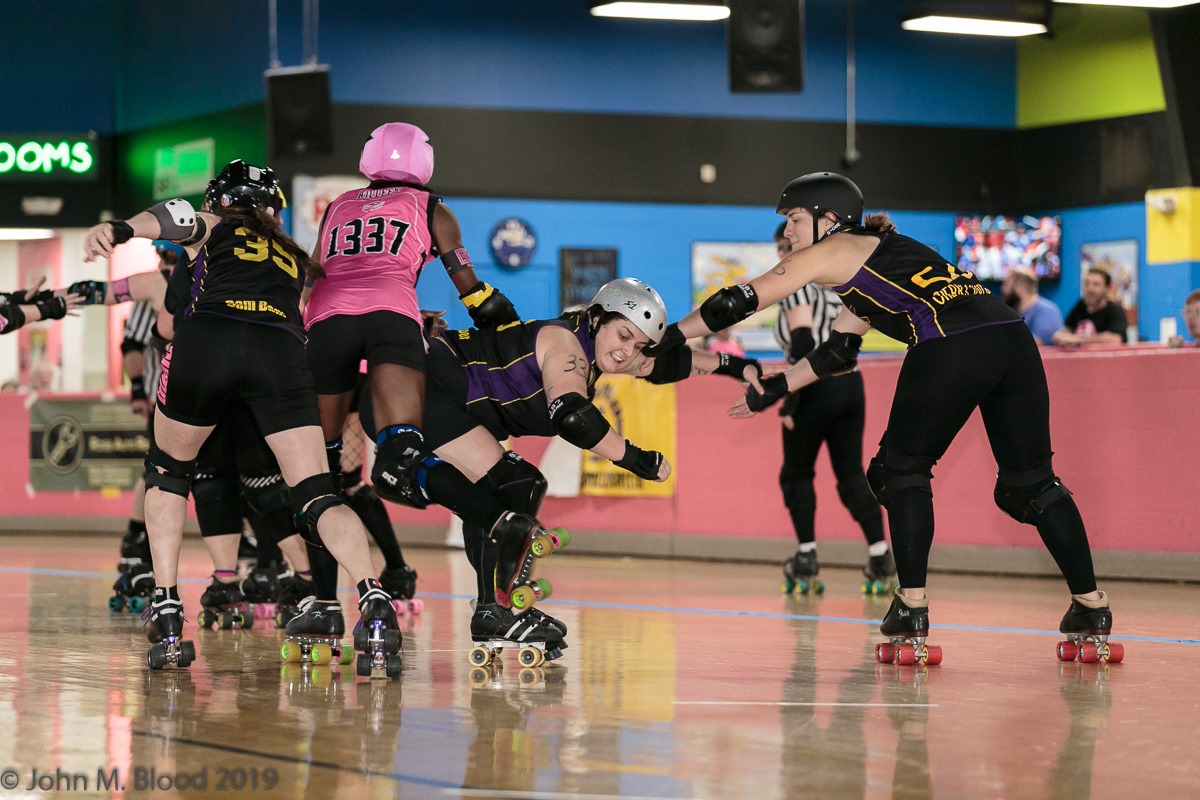 Photo above shows Appalchian Roller Derby member and Honors sophomore Cavagnini (right, #56) pushing her teammate Mac the Ripper (middle, #33) into the opposing team's jammer to prevent them from getting through to score. Photo by John M. Blood.
Appalachian Roller Derby practices twice a week at the Wilcox Skating Rink in Villas. It is a non-university team, so there is a very wide age range, with our youngest players 18 and our oldest about 55. We typically travel within a couple hours of Boone for our games (we call them bouts), and our official season lasts from about January to September. Roller derby used to be more of a rehearsed spectacle than a sport, but over time it has developed into a sanctioned sport with rules and referees. It is a team sport that depends on constant communication. Lauren shared,
"I whole-heartedly believe that it is a sport for everyone, and I encourage all to take the leap outside their comfort zone and see what this wonderful community has to offer."
Top photo features Honors sophomore Lauren Cavagnini (left, #56) with her Appalachian Roller Derby teammate Block Her (right, #13) preparing to make a wall to block the other team's jammer. Photo by John M. Blood.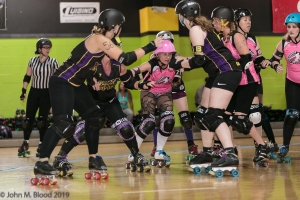 Tags: