According to The Appalachian, Honors students will be running for student body president and vice-president. Reportedly, Honors first-year student Devin Mullins, the current SGA Senate President Pro-Tempore, plans to run for student body president. Honors sophomore Karolyn Martin, current SGA honors and academics senator, will run as Mullins' vice-president. About his candidacy, Mullins stated,
"I am so excited for this opportunity to share my experience and my vision for Appalachian state alongside Karolyn in the coming election. Because of strict elections rules, we are not able to share any information about our campaign at this time. Outside of my capacity as a candidate, I will note that the Honors College has and continues to be an asset to my growth as a student leader by providing me with an education that fosters creative thinking, global engagement, and personal integrity. I would not be where I am today without these pillars of the Honors College."
Click here to read The Appalachian's full story by Moss Brennan, Editor in Chief published February 21, 2020.
The declaration of candidacy period runs from March 3 to March 6, during which time, even more Honors students could announce their candidacies. It is clear Honors students are taking on leadership roles to match their potential. We in the Honors College expect all great things and await our students' official announcements of candidacy.
Photo above from The Appalachian story by Moss Brennan features, "Sophomore Devin Mullins seated after discussions about his climate bill last February. Mullins plans to run for student body president."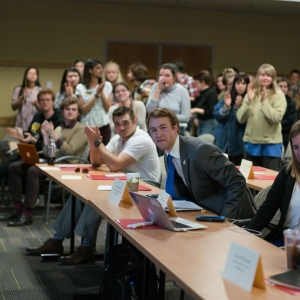 Tags: