By Lakin Stevens, Editor of the Honors Wednesday Memo
April 14, 2021
As a sophomore in the Honors College, Sammie Little recently started tutoring with University Tutoring Services (UTS). The Honors College and UTS are mutually beneficial experiences that cultivate strong learners and leaders through their academic challenges, teaching experiences, and unique approaches. Specifically, the Honors College's focus on collaboration and community aid Sammie Little in her work with University Tutoring Services. Little explains that the Honors spirit encourages students to be continual learners, engagers, and leaders in their fields.
Little attributes her preparedness to work as a tutor to the Honors College and described,
"We often tag-team these problems where we take turns explaining a concept or even explain it from a different direction to make sure the student has a firm understanding of it. Through the dialectic and collaborative approach of the Honors College, I felt that I was prepared to apply this learning style within tutoring."
Part of the Honors College mission is to foster a community of like-minded learners to prepare students for their future experiences—whether that be post-graduate, professional, or workforce. Little feels that tutoring will allow her to develop life skills such as effective communication for articulating mathematical concepts, building relationships with fellow tutors and students, and leadership through the tutoring process. Communication, relationships, and leadership are all important skills that she can apply to her education, career goals, and Honors education.
Sammie is a double major in management and supply chain management with a minor in human resource management, who is also pursuing honors in the Walker College of Business. Little seeks a career in supply chain management or in human resources, in the supply chain industry. She hopes to use future internship experience to further her career, and plans to pursue a Masters of Business Administration.
Little learned of the tutoring opportunities at UTS from her instructor in her Business Math with Calculus course. Her instructor, Lisa Maggiore, recommended Little to Genie Griffin, both are lecturers in the Department of Mathematical Sciences and Business Math Learning Lab faculty advisors. Little applied for the tutoring position in December 2020. Attending orientation in January 2021, she officially started work in the Business Math with Calculus Learning Lab.
The Learning Labs are one of the many options that University Tutoring Services offers, including small group tutoring, LEAD tutoring, peer academic coaching, and much more. These labs differ from the others in that they require no appointment and function as a drop-in tutoring service. Little has to be prepared to spontaneously support different problems and questions. With training, Little explained that she felt equipped to successfully assist other students.
As a tutor, Little has been able to create community and develop skills relevant to her career aspirations. Many of the students whom she helps are also business majors which allows her to discuss various career interests. The communication and conversation generated and practiced as a tutor allows Little to actively engage with skills that relate to her education and career goals. She describes, "My various management majors and minor demonstrate my love for working with people; UTS helps me hone these skills."
Little explains that meeting new students is one of her favorite parts of tutoring. She is able to help people, which is an important value to her that has even influenced her majors and minor. She also benefits from learning how to understand concepts and explain them in a way that helps students overcome their targeted problems or concepts. Tutoring is a learning experience for the tutor and the tutored.
Being a tutor herself, Little adds that,
"One of my biggest regrets was having not taken advantage of the tutoring services until last semester. I have been multiple times now, and the students are very helpful there. We are here to help anyone as best we can so come and take advantage of these opportunities."
Starting in summer 2021, Little will begin working as a front desk assistant with UTS. In that role, she will be helping with the administrative side of UTS–answering emails and phone calls, scheduling appointments, and welcoming and helping students navigate the various options within UTS. Be sure to reach out to her at the front desk to learn more about the opportunities for working with UTS.
As Little continues her undergraduate education, she will continue her work with UTS. In her tutoring work with UTS, Little helps contribute and strengthen the overall Honors community that seeks to develop each students' skills and experiences. With the mutually beneficial experiences as a tutor and Honors student, Sammie Little will, no doubt, be successful.
Top photo features Sammie Little. Photo submitted.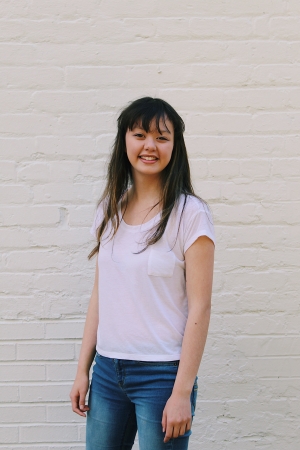 Tags: