In Appalachian's Spring 2020 Commencement in the Cloud, Olivia Gentry, of Weaverville, who earned her Bachelor of Science in public health with a minor in social work from the Beaver College of Health Sciences and graduated with university honors from Appalachian's Honors College, addressed her peers. Gentry spoke of the home she found in Appalachian's Department of Wellness and Prevention Services as a member of WE CAN (Wellness Educators for Change, Advocacy and student Needs) — a peer education group that works to positively impact the health and well-being of students at Appalachian.
Click here to watch Gentry's speech.
In it she stated,
"The task before us is enormous, but we must not flinch from it. More than tragedy, more than grief, more than fear, the committment to one another must be the legacy of this time. As you move forward, with your career, more schooling, or whatever you desire, I urge you to take those words to heart and consider the inequities COVID-19 has brought to light. Let's take a moment to reflect on the privilege that we all now have—a degree from Appalachian. We have a responsibility to use our education to help create a more socially just world. If I have learned anything from my time as a public health student, it is that everything, and I mean everything, is related to public health in some what. I truly believe that no matter where life takes you, it is possible for you to have a positive impact on the wellbeing of this world and all the people in it. As we prepare to graduate things may not look as we expected, but I know one thing is for certain. Our time at Appalachian has prepared us for this. Whether you become a teacher, or a nurse, or a business leader, or an artist, let us all remember that we can and we will make a difference in our communities. The world we see around us is often broken, and need of people that can change it. We are those people. Now is the time to embrace your unique talents, knowledge, and identities to create the change the world needs."
Olivia Gentry, of Weaverville, graduated from Appalachian with university honors through the university's Honors College and a B.S. in public health with a minor in social work through the Beaver College of Health Sciences. She served as the undergraduate student speaker during Appalachian's virtual Spring 2020 Commencement May 16. Photo submitted
The above comes from "A commencement in the cloud — App State virtually celebrates 3,600-plus graduates" by Jessica Stump. Click here to read the full story from AppalachianToday.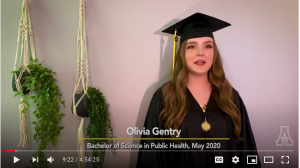 Tags: