Honors Senior and Chancellor's Scholar Ryan Hellenbrand has been awarded a Fulbright Award to Austria for October 2017 - June 2018! Ryan is a double major in Global Studies and Sustainable Development, with a minor in German. His Fulbright project is an extension of what he has been working on through his Honors requirements at Appalachian.

This Fulbright Award is a Community-Based Combined Grant that includes working with a community organization on a project, teaching English at an upper-level high school, and taking classes at the university. He will be working with the Center for Migrants in Tyrol, in Innsbruck, Austria on their project "Cultures of Memory." This project utilizes collected oral histories and artifacts from 1960s migrations to Tyrol to facilitate deeper discussions about identity, migration and integration today.

Ryan's work will expand on the 'Cultures of Memory' project to examine cultural processes as they take place in relation to environment. As he explains, "Innsbruck sits right in the middle of the Alps, which is often geographically and climatically, as well as culturally, quite different from many of the places that immigrants and refugees are coming from." He looks forward to the "practical experience in applying the methods and knowledge from my interdisciplinary studies and research through Honors at App."

Ryan completed his International Education requirement for Honors during the 2015-16 academic year in Freiburg, Germany at the Albert-Ludwigs-Universität Freiburg. In his study abroad, he combined his interest in German and sustainability into an interdisciplinary project, examining the ecologic, economic and cultural aspects of forest management in Freiburg. This became the foundation for his Honors thesis, which explores the roots of environmental consciousness and activism in German culture.

Ryan explains that, "this grant is my first step." He future plans include "work towards graduate school in regional and community planning and forestry to continue expanding my theoretical knowledge and practical experience at the intersections between humans and environments." With this Fulbright Award and nearing graduation in Honors, Ryan has a great start! We look forward to continued stories of success and progress.
Story by Garrett Alexandrea McDowell, Ph.D.
Photo by Shauna Caldwell.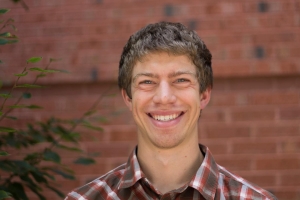 Tags: