By Kistler Hunt
For incoming first year students, Summer Orientation marks the momentous transition to college, the time for them to acclimate to campus and plan their course schedule before classes even start. The Honors College has a leader specifically dedicated to welcoming its incoming honors students, and that leader is Kathryn Long. She welcomes students in with open arms, excited to mentor them and help prepare them for their success in Honors and throughout their time in the High Country. Drawing from her own experiences as a first-year Honors College student, she is devoted to the Honors promise of "unconditional support." She helps students to get to know each other as peers and classmates and as amiable companions, creating a passionate support system to aid them in their journeys at Appalachian. Long is a rising sophomore Honors College student who is studying communication sciences and disorders.
At App State, Student Orientation Undergraduate Leaders (SOULs) guide students through Summer Orientation. This summer Long has predominantly been serving as the Honors College SOUL. As a SOUL, Long is often one of the first people incoming students meet upon their arrival to Appalachian. As she describes, SOULs are "walking books of knowledge about App State." When describing what led her to become a SOUL, she said,
"I want to share my love and story with the incoming students so that Appalachian doesn't seem like this scary institution, but rather a place that they will call home for the next four years."
This is a paid summer position and SOULs are responsible for: facilitating icebreakers and boundary breaking activities; educating new students on a variety of information including General Education, Appalachian's class registration system, the book rental system, general policies and resources, etc.; supporting students through their class schedule adjustment process; serving on Q&A Panels for parents and families; acting as a mentor and resource for new Appalachian students; and helping students and families navigate campus. Long describes that while those are important, there is a deeper purpose to her job as a SOUL – being emotionally transparent and vulnerable with students to help them feel a sense of belonging. Long described the importance of a SOUL,
"For many students, this is their first time interacting with Appalachian State outside of an acceptance letter. We share our stories about being a part of the Appalachian community in hopes that the incoming students will see a piece of themselves in each of us and ultimately call App State home."
Since becoming a SOUL, Long has reflected on her own experience acclimating to Appalachian. Long hails from Jackson, North Carolina, a rural small town in the eastern part of the state. Her graduating class consisted of just eight students, including herself. It was an adjustment going from a school with seven other people to a school with 20,000! Long found that the people she met leading up to her stepping foot on Appalachian's campus allowed her to better acclimate to campus, resolve some of her worries, and, in her words, "make App State feel like home."
Long serves alongside 25 other SOULs, and while many of their duties are the same, Long's job is slightly unique in the Honors College. Her job is to foster a positive experience for incoming Honors College students, and this means building relationships, talking with students about their interests, and connecting them with opportunities and current faculty and staff in support of their long-term professional development. This community building within the Honors College is also something she will continue after orientation – supporting, networking, and mentoring new Honors College students once they are on campus.
Long has found that her time as a SOUL has enhanced other aspects of her experience at Appalachian. Long shared that she is grateful that her time as a SOUL has allowed her to deepen her relationships with both Dean Jeff Vahlbusch and Dr. Angela Mead, Director of Advising and Student Services and Honors Academic Advisor. Long remarked, "For them to allot time out of their busy schedules to come to speak with students […] says a great deal about their character. I have always felt supported by the Honors College, but seeing them every day and hearing them ask, 'what do you need from us,' means more to me than they will ever know."
Long is heavily involved in campus activities outside of her work as a SOUL, and she has found that her time as a SOUL has enhanced these activities. Long is a Plemmons Leadership Scholar, a scholarship recognized for a student's leadership qualities and activities, a student guide for the Trailhead program, which also prepares students for life at App State, and she is the chairperson of the Spirit and Traditions Council of the Appalachian Popular Programming Society (APPS). Long remarked that her time in these positions has helped her be prepared for the leadership position of being a SOUL, and reversely, the leadership that comes with being a SOUL has enhanced her skills for her other extracurriculars.
While Long's primary job as a SOUL will end July 1, she will also work with incoming student Orientations in August 2022 and January 2023. Long hopes to continue her work as a SOUL in future summers, continuing to welcome and mentor the newest class of Appalachian students.
Top photo features (from left to right) students in Long's June 10, 2022 Summer Orientation group: Hayley Richardson, Amanda Jacobs, Jae Hollingsworth, Emma Goodson, Madi Alexander, Lila Rhodes, Long, Avery Hodgson, Ryan Honeycutt, Amanda Hammers, Ella Mayfield, Mira Sowinski. Photo submitted.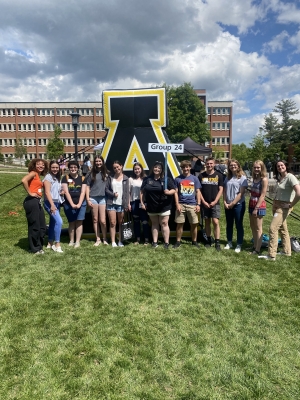 Tags: