Several Honors students have served in leadership roles in App State's Mock Trial club since its establishment in 2021. Honors College senior Gavi Jacobson serves as president of the 2022-2023 team. Jacobson, a sociology major with a minor in social work, became involved with App State's Mock Trial team as a junior and served as the chair of fundraising in the club's first year. Junior Emily Mahon, an Honors student in the Department of Government and Justice Studies (GJS) serves as secretary. Mahon, a senior political science major, has also been involved with the team for four semesters, as both a witness and in the role of lawyer. The team was first chartered by Caleb Osbourne '22, the club's first president. The 2022-23 team also includes Honors College senior Emma Estudillo, a criminal justice major with minors in Spanish and political science, who has also been involved since the club's origin.
Jacobson shared,
"I have always really enjoyed Mock Trial. My friends did it in high school so I did it. I have found a lot of love in it. It is really rewarding when you perform well, or have a good response…! It is a great way to explore law as a future career. Mock Trial has given me the opportunity to build connections with people in the field, and a sense of what kind of work I might be doing if I went into law, specifically how to read case law, motions, legal documents, etc."
Jacobson explained that as a new club, the Mock Trial team has had to develop everything themselves from the ground up. She shared that, "making connections has been hard. But now, we are working with so many people in the community. The connections I have built have been the most beneficial part of this for me, and my skills have improved. I'm much better with my public speaking now, and with my overall my communication skills and my confidence."
The App State Mock Trial team has an upcoming trial this semester on Saturday, April 29, which will be held at the Watauga County courthouse in downtown Boone. The team will be arguing a criminal murder case and all are welcome to come and support the trial. The team will be looking for jurors to participate soon. If you are interested, please reach out to Jacobson via email.
The Mock Trial club advisor is Ms. Meghan Wills, assistant general counsel at App State. The team is supported and coached by two local attorneys, Ms. Karla Rusch, director of the App State Student Legal Clinic, and Ms. Barbara Krause, deputy general counsel in App State's Office of General Counsel. Judge Rebecca Eggers-Gryder, district court judge in the 24th Judicial District served as judge for the team's latest trial during the Fall 2022 semester. Jacobson shared, "We are hoping she will be back again. She gave up her whole Saturday to be with us and then she made us monkey bread. I thought she was the most amazing woman ever!"
Jacobson is on-track to graduate this upcoming May, and following that, will be attending the University of South Carolina where she will pursue a Master's in Higher Education and Student Affairs. She explained that though she doesn't know the specific details of her career plan now, she is clear on her goal: "to work with students and help them in their time in college in whatever way possible. I'm really passionate about student success and equality in educational opportunities." She emphasized that as her experience highlights, being involved with Mock Trial as an undergraduate is beneficial to anyone, even students who don't plan to pursue law school or a career in law.
In addition to Mock Trial, Jacobson has been very involved as a Student Orientation Undergraduate Leader (SOUL) at App State. She worked as a SOUL during Summer Orientation 2021 and 2022. During this current Spring 2023 semester, Jacobson is interning for the App State Orientation program, which is housed under the Division of Student Affairs. As an intern, she is working under Sarah Garrow, executive Director of Orientation and Monica Barlow, program director of Parent and Family services; their offices have recently merged to become the Office of New Mountaineer and Family Engagement. Jacobson's experiences with Mock Trial and working as a SOUL for Orientation have been pivotal to her professional and personal development as an undergraduate at App State. From both, she has been able to develop her public speaking and network skills. About the intersections between these activities, she explained,
"I have learned how to make a lot of connections and am now able to connect with anybody. I have also developed the ability to have a lot of information thrown at me and to be able to relay it in a concise and understandable format."
Photo above features Jacobson (third from right) as a SOUL during 2022 Orientation.
Jacobson is currently working to complete her Honors thesis, Environmental Justice and the Social Construction of Disasters: Towards a Better Understanding of Hurricanes in the 21st Century, working with Dr. Brad Nash, professor in the Department of Sociology, as her director. Dr. Dana Powell, associate professor in the Department of Anthropology, serves as her second reader. When asked about the intersections between her thesis and future professional goals, Jacobson shared, "I don't know that there are any, but I am really passionate about learning about hurricane impacts! I lived through Hurricane Sandy. I am passionate about environmental sociology. I wanted to do a thesis with something that I'm really interested in and not necessarily related to my career. It is a really interesting topic." She then added, "If I had heard my sophomore year that my thesis didn't have to be related to my career goals, I would have been much less stressed about it! Environmental sociology was my favorite class I've ever had! I really loved it, why wouldn't I do something on environmental sociology for my thesis?"
Jacobson shared that she hopes that the Mock Trial team will continue at App State well beyond her graduation. She stated, "I've seen really great learning opportunities and ways to connect with people around shared passions and career goals. I think what is needed is other students who are dedicated leaders and want to see the club be successful. It requires passionate leaders, those who care about the success of those around them and also about their future career."
Jacobson credits the Mock Trial team executive board members with the success of the club. For 2022-23 that includes: vice president Landon Eckard, a senior criminal justice major; treasurer Addison Kocell, a senior sociology major; and secretary Emily Mahon. Jacobson stated, "I could not have done any of this without them. They do a lot! And I would not be able to do any of the things I do if I didn't have them."
Mahon will also be graduating in May, and she plans to attend law school in the fall. She shared that her involvement in the Mock Trial team along with the process of completing her honors thesis, are experiences that have
"reaffirmed my interest in pursuing law, specifically litigation. I have learned so much from the local attorneys, legal professionals, and ASU staff that have volunteered their time for our club."
Mahon has successfully defended and submitted her honors thesis, Appalachian Women and Opioid Use, a study of the driving forces behind opiate abuse among Appalachian women. She explained that, "Within the region, systemic injustices in domestic violence response, healthcare, income, and environment play a major role in the opiate epidemic." Mahon worked with Dr. Paul Lucas, assistant professor in the Department of GJS as her director. Dr. Nancy Love, professor in the Department of GJS served as her second reader.
Mahon hopes to practice environmental law, or toxic torts. Her career goal is to advocate for justice in rural and/or legally underrepresented communities impacted by environmental hazards. She has already been accepted to two schools and is still waiting on responses to her other applications before making her final decision.
Addison Kocell also emphasized the importance of her involvement with the Mock Trial team in preparing her for a future legal career. She stated,
"This is my first year on the Mock Trial club at App State and my first semester as the club's treasurer! I have already gained a wealth of knowledge from being on the team and it has reignited my passion in the legal field. Thanks to Mock Trial, the friends I've made, and the new connections and resources that I have, I've been able to accomplish so much! I have successfully taken the LSAT, I am now prepared to apply for law school, and I'm confident in my career choice!"
For Honors students, Jacobson shared the following advice about extracurricular involvement,
"I think it is really important to do extracurriculars because it gives you the opportunity to meet people and make connections that you wouldn't have if you were just going to class. It is a really great way to network and networking is really important in the legal field; it is really small community and everyone knows everyone. It makes you more well-rounded and exposes you to skills you wouldn't have or people you wouldn't know otherwise. I am a sociology major and now I have great connections with students and faculty in [the] Department of Government and Justice Studies that I wouldn't have had otherwise."
Jacobson encourages anyone who is interested in learning what a career in the court room looks like to get involved with the Mock Trial team. She explained, "For any student in any major, it is a great opportunity to learn, and an opportunity to connect with the legal community, local attorneys and local judges. It is a great opportunity to learn about the world around you, a really great way to advance public speaking and analytical skills, and a way to boost life skills and academic skills."
Top photo features the App State Mock Trial team in the Watauga County Courthouse during their fall 2023 mock trial. Photo submitted.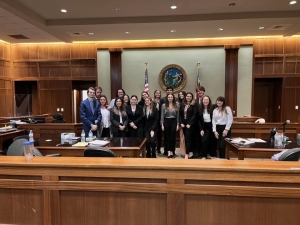 Tags: