Accompanied by Dr. Heather Waldroup, Associate Director of the Honors College, Dr. Anna Cremaldi, Associate Professor of Philosophy, and University Recreation staff member Trey Tugwell, 11 Honors College students traveled to Great Smoky Mountains National Park for a weekend in October to participate in a service-learning project.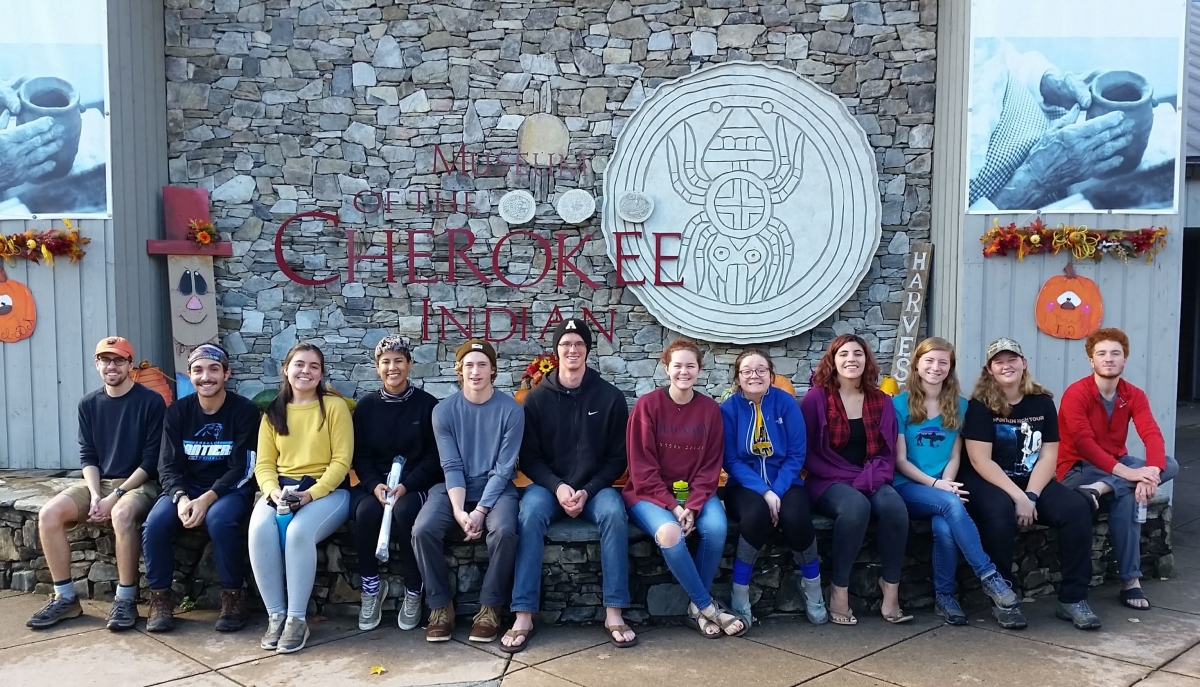 The group above visited the Museum of the Cherokee Indian. From left to right, Honors students Heywood Williams-Tracy, Elliot Adler, Stephany García Henao, Jessica Navarro, Oliver Dunkin, Jonathan Layton, Abbey Rankins, Lily Vowels, Olivia Adams, Lily Austin, Savannah Rivers, and Outdoor Recreation staff member Trey Tugwell. Photo by Dr. Waldroup.
Great Smoky Mountains National Park is the most visited national park in the United States, with over 11 million visitors per year. However, because its founding documents prohibit the charging of an entry fee (as one might encounter at other large parks, such as Yellowstone, Yosemite, or Glacier), the park has a very limited operating budget and is largely staffed and supported by volunteers. Because of this, Adam Monroe, Trails and Facilities Volunteer Coordinator for the park, was glad to partner with the Honors College to develop a trail maintenance project.
In the below photo students received training in trail maintenance and safety from Adam Monroe, Trails and Facilities Volunteer Coordinator for Great Smoky Mountains National Park. Photo by Dr. Waldroup.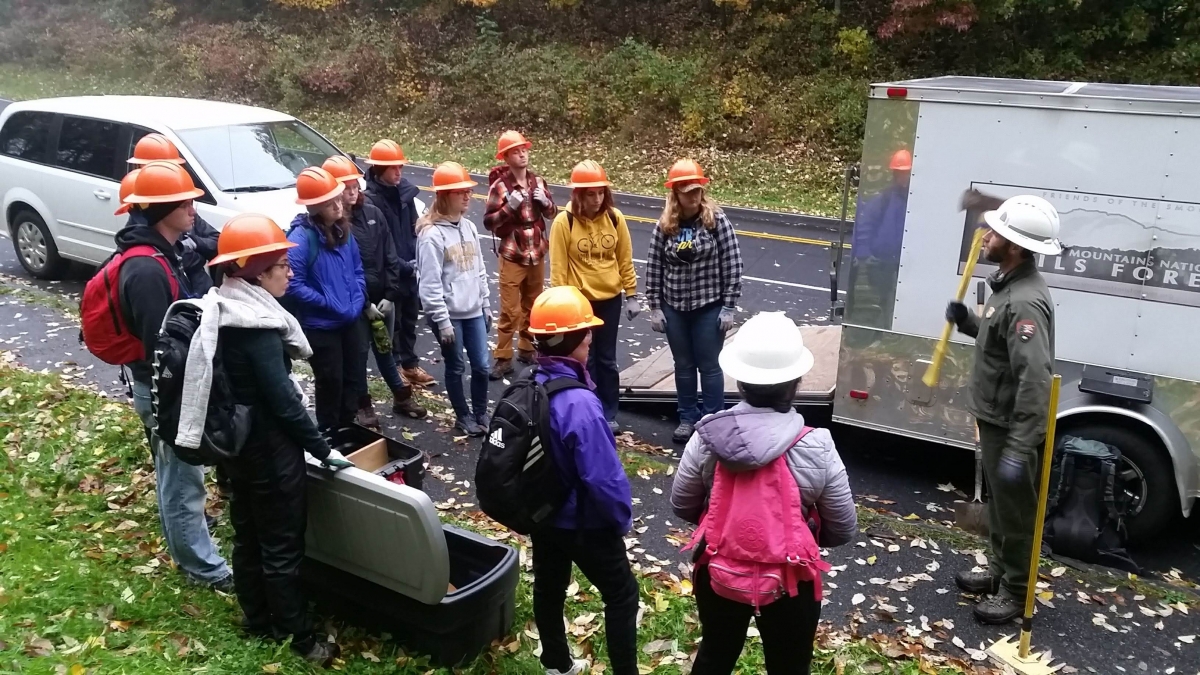 The students traveled in two very full vans to the Smokies and set up camp in a meadow at the Job Corps Center, where the park's North Carolina office is based. On Saturday, the students hiked down Thomas Divide Trail to Kanati Fork trail, where for several hours they performed very much-needed maintenance on Kanati Fork. In some areas, the trail had eroded down to a narrow ledge. Working together, the students were able to improve almost a half-mile of trail, widening it in areas where it had washed out and become overgrown. Future hikers will be grateful for their efforts, and the students learned valuable lessons in community building and public service.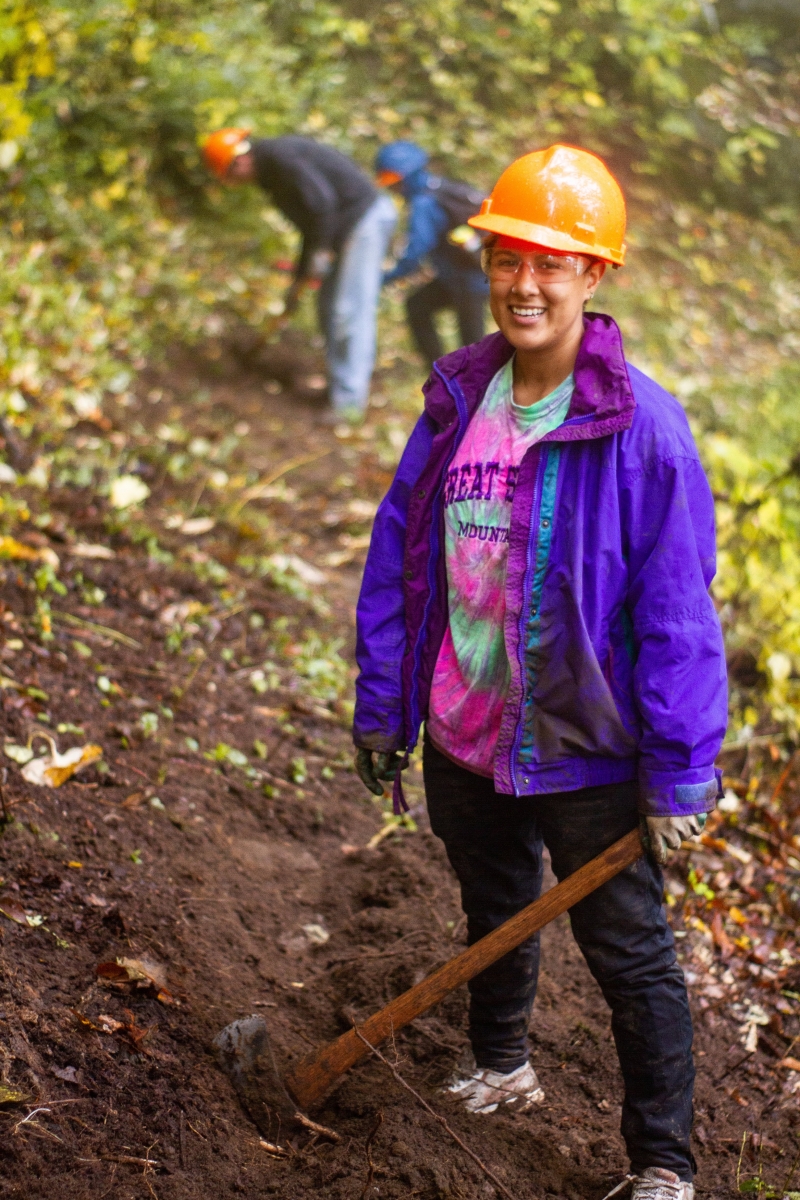 Photo above features Honors sophomore Jessica Navarro working on Kanati Fork Trail. Photo by Oliver Dunkin.
In addition to the trail maintenance project, the weekend also included visits to OconalufteeVisitors Center, the historic Mingus Mill, and the Museum of the Cherokee Indian. While camping, they learned Leave No Trace ethics, cooked communal meals, and enjoyed a campfire reflection. Perhaps most exciting of all, the elk were very active, and the students had numerous opportunities for elk viewing and hearing them bugle, which the students described as "sounding like a dinosaur."
Photo below of the Historic Mingus Mill. Photo by Oliver Dunkin.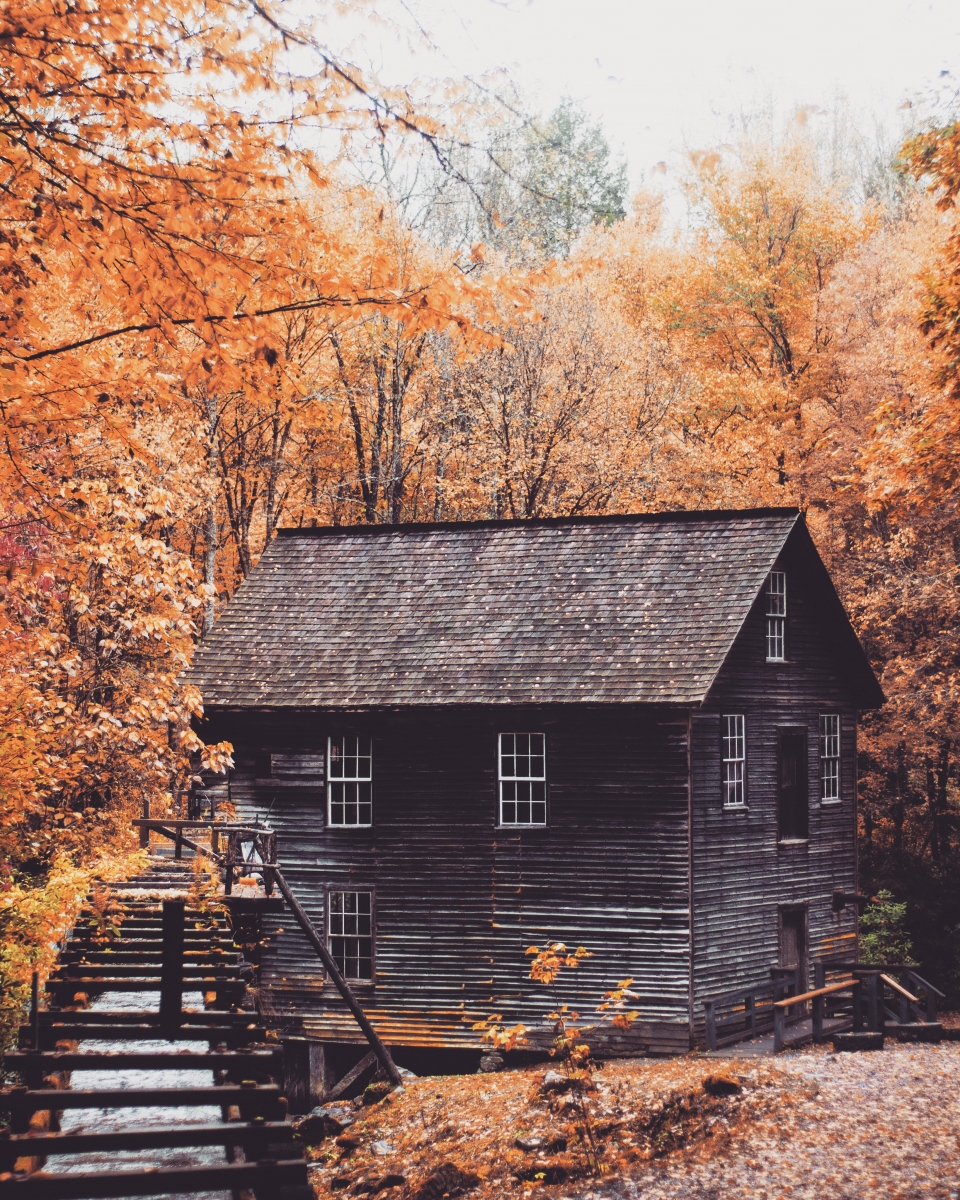 Honors junior Elliot Adler explained,
"This was a great opportunity to not only experience and appreciate the beautiful Smokies but give back for what the Honors College has done for me. Serving with other Honors students allowed me to connect with them and be amazed at how special this community really is."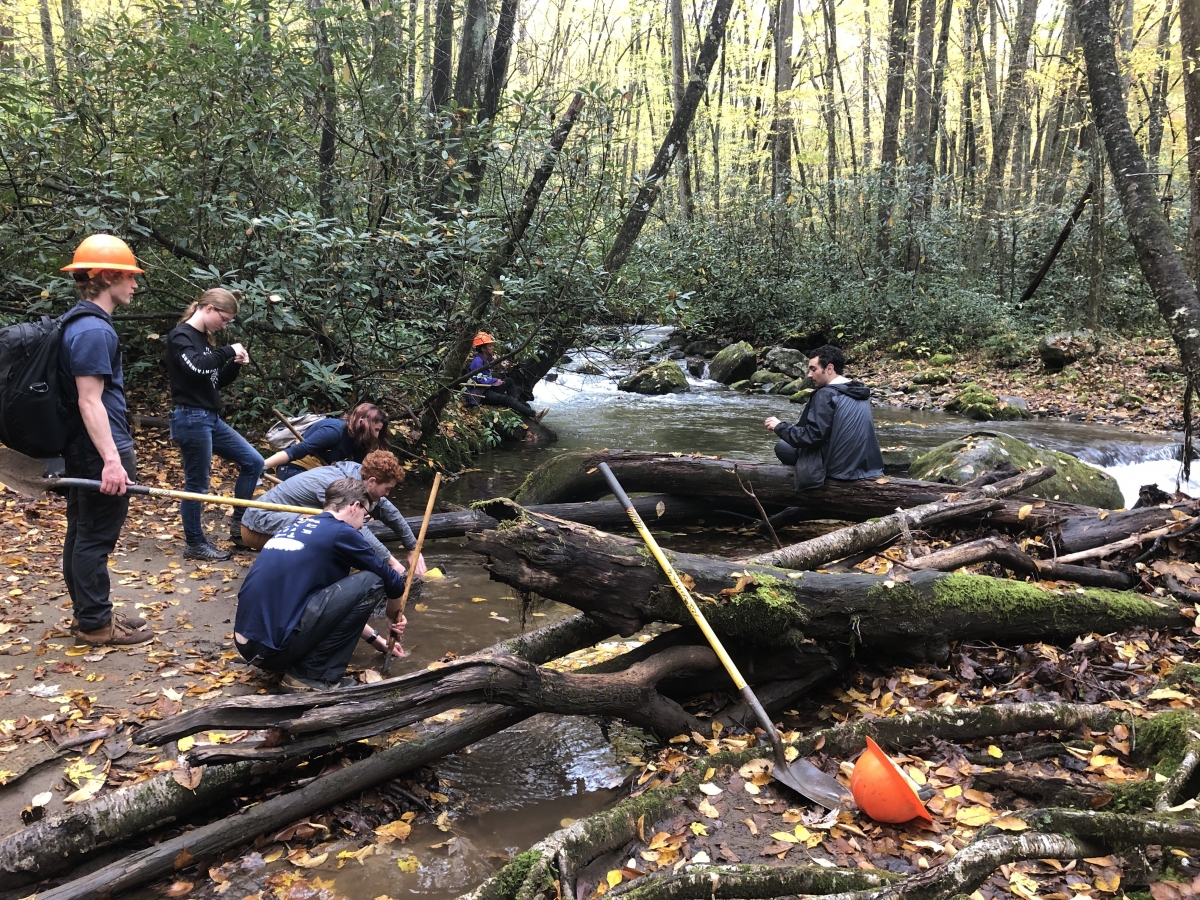 In photo above after several hours of work, the students washed off their tools (and themselves) in the Oconaluftee River. Photo by Savannah Rivers.
Honors sophomore Stephany García Henao noted,
"as a student who is constantly trying to reduce her footprint, being able to attend such a rewarding session, where I could connect with the Smokies environment and enhance its surroundings, made me realize that the only way to understand how to care for [the environment] is to integrate yourself once in awhile, which was possible through this trip."
Public service, leadership, and community building are integral aspects of an Honors education. The weekend-long trip for honors students in Great Smoky Mountains National Park will hopefully mark just the beginning of possible partnerships between Appalachian's Honors College and the National Park Service. Adam Monroe is certainly eager to have our students return to perform much-needed maintenance on the park's trails.

Top photo shows Honors junior Elliot Adler and Honors first-year Lily Austin working together to widen Kanati Fork Trail. Photo by Dr. Waldroup.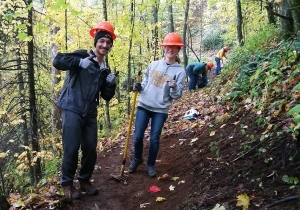 Tags: