Friday, December 7th, Honors students showcased their work from their first year seminar, HON 1515: Balanced Brains . This Creative Show was designed and constructed by 18 Honors students who took this seminar this semester. In their Creative Show, these students shared, presented, and discussed their course work with guests ranging from student, friends, faculty, staff and administrators from across the university, as well as community members.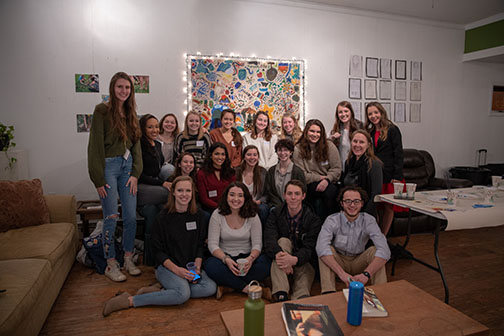 Photo above features the class and includes: (top row, left to right) Lauren Breher, Karolyn Martin, Cathy Kramer, Maddy O'Grady, Dani Hitchcock, Montanta Murphy, Laura Perrone, Mackenzie Cole, Kirsten Burton, Mary Alice Faunce, (middle row, left to right) Hannah Apostolico, Rachel Ramakrishnan, Cori Ferguson, Kyra Howard, Dr. Garrett McDowell, (front row, left to right) Sarah Royster, Kara Snow, Grant Shields, and Nate Parillo.
Above shows students discussing their work with guests during the show.
Over the course of the semester, students in this seminar have learned about and practiced visualization, drawing, photography, meditation, creative writing, and dream analysis, among other creative, visual assignments. In this show, they shared their coursework including drawings, paintings, photography, creative writing, and much more.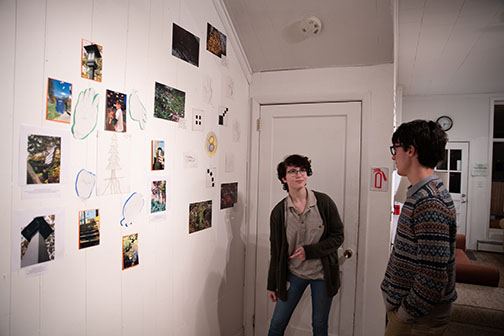 Above, Kyra Howard explains her coursework to a visitor.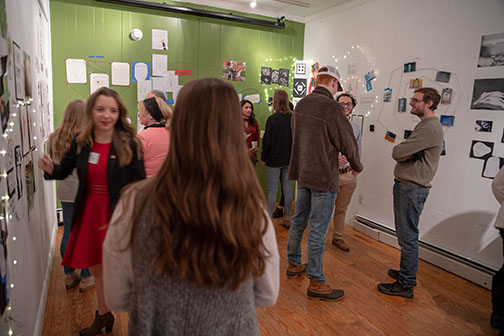 Above, Mary Alice Faunce (left) reflects on the course with Kirsten Burton, while Corey Kundert (right),3rd Place Coordinator, talks with Honors student Hunter Koch and Nate Parillo about Nate's coursework.
The above photo features Grant Shields (left) discussing the course with another Honors student, Hunter Koch
In the Balanced Brains seminar, Honors students explore and develop their visual, intuitive, right brain intelligence. They learn to integrate that with their more commonly exercised and verbal, rational, left brain intelligence in order to develop whole-mind cognition. For Honors students, the verbal, rational, left brain is typically already well honed.
Below three photographs illustrate student work from the show.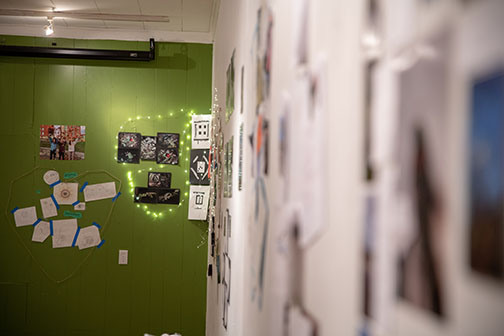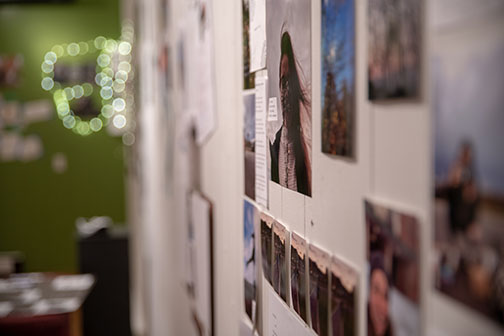 Photo below shows Dani Hitchcock making last minute tweaks to her work.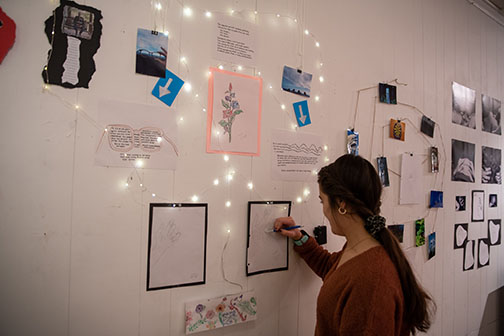 The course is built on the model presented by Williams and Newton (2007) in Visual Communication: Integrating Media, Art, and Science, and with the goal of what Williams labels "omniphasism." Through exercises, students come to better value, strengthen, and integrate their many forms of intelligence to be "all in balance." In this Creative Show, students shared what they learned about omniphasism and reflected on their growth over the course of the semester. This Balanced Brains Honors seminar is taught by Dr. Garrett McDowell, who did graduate work under Rick Williams and Dr. Julianne Newton in the Department of Communication at the University of Texas at Austin as they first developed omniphasism.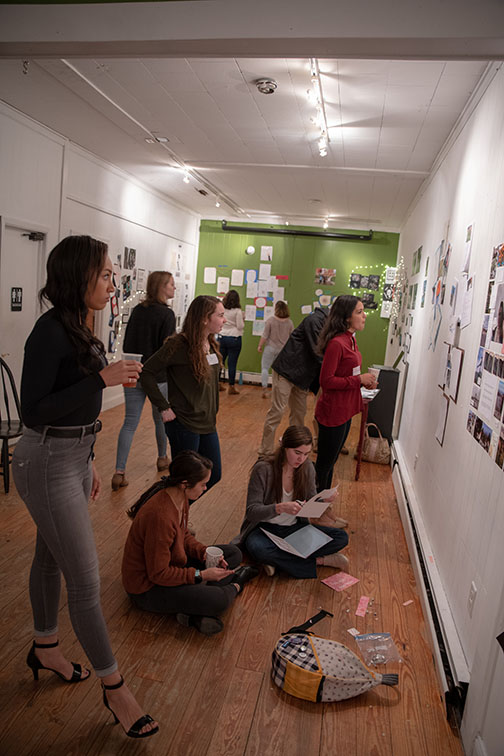 In the above photograph, students from the class (left to right) Karolyn Martin, Sarah Royster (walking in background), Hannah Apostolico, Dani Hitchcock (sitting left), Cori Ferguson (sitting right), and Rachel RAmakrishnan reflect and construct their Creative Show.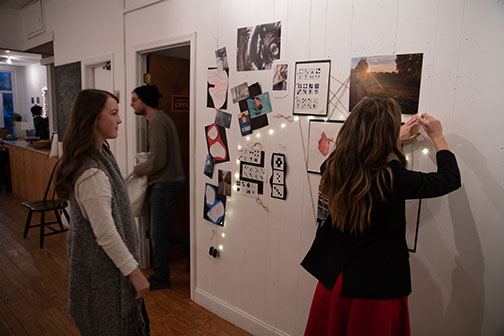 Above Kirsten Burton (left) and Mary Alice Faunce (right) collaboratively design their Creative Show.
In this semester's Creative Show, each Honors student displayed their own individual work. Additionally, the show included much collaborative work from throughout the course. Students spread across a table in the center of the room a large blank canvas and wrote the words, "paint here" encouraging guests to spend time painting during the show. Their own group painting from earlier in the semester hung on the wall behind the table. The show also included photographs of their many other engaged learning activities from throughout the semester like the making of a nature mandala, blind portrait drawings, and silent reading discussions.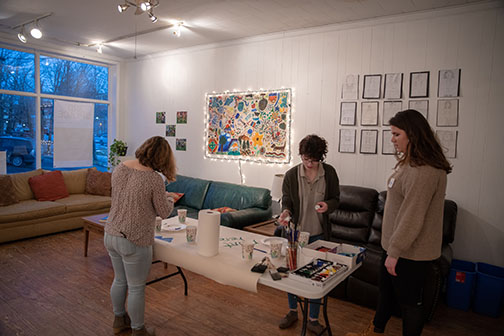 The above photograph features students from the class (left to right): Cathy Kramer, Kyra Howard, and Mackenzie Cole setting up the painting table for the show. Photo below shows guests painting during the show.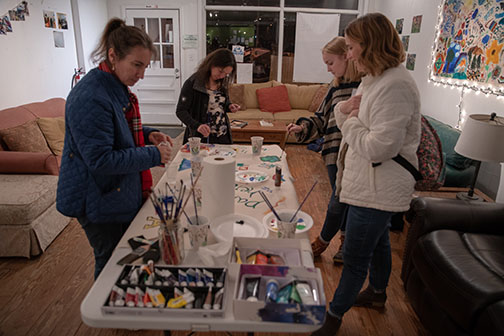 This Balanced Brains Creative Show took place at 3rd Place and coincided with the December Art Crawl in downtown Boone. 3rd Place, as their description suggests,
"is a collaboration between the Episcopal and Presbyterian (U.S.A) Churches that provides opportunities for people to experience a sense of connection, community, and belonging. We partner with a variety of faith communities, non-profits, student groups, and artists to create spaces where people can be known by their community, pursue justice, explore spirituality and express themselves creatively."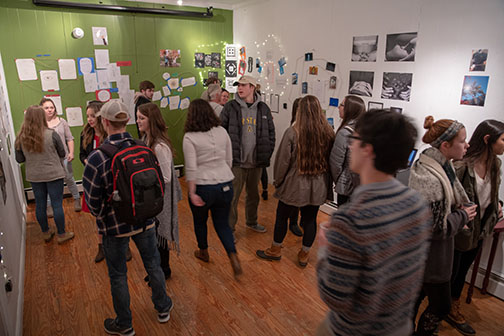 Photo above shows students and guests interacting around the work during the Creative Show at 3rd Place.
The 3rd Place website further describes,
"The term "3rd Place" was coined by sociologist Ray Oldenburg and refers to spaces within a society where people gather outside of their home- their first place- and work/school- their second place. 3rd Places are essential in the social vitality of a community. These public and neutral spaces foster genuine and authentic human connection and develop a sense of belonging in a community."
This is fitting with the Honors College mission, which through its focus on community and service, fosters the growth and development of future engaged citizens.
Story and photos by: Dr. Garrett Alexandrea McDowell, Ph.D.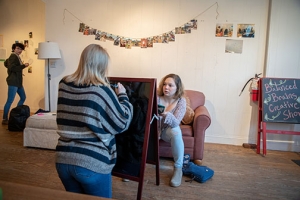 Tags: