Led by driven students, the Honors College is supporting App Builds a Home (ABAH), a partnership project between Appalachian State University and Watauga County Habitat for Humanity to build a home from the ground up. In her first Fall 2019 semester in Honors at Appalachian, Mackenzie Millett, an exercise science major from Amelia Island, Florida, began volunteering with ABAH. Click here to read the latest "On the Home Stretch," a story that includes Millett by Jan Todd in AppalachianToday.
Millett has been working to facilitate a deeper relationship between the Honors College and ABAH, and has helped to create even more opportunities for Honors students to get involved. With the support of Dean Jeff Vahlbusch, and in coordination with Misty Mayfield '02, an instructor in Appalachian's Department of Geography and Planning and the ABAH team's faculty adviser, Millet spearheaded a letter-writing campaign in the Honors College. In that campaign, Honors students wrote to their friends and family asking for their support for this worthwhile cause. The Honors College supported the effort with the purchase of one hundred stamps. Honors Junior, Chancellor's Scholar, and Appalachian State University Student Body Vice President, Michael Davis participated in the letter writing campaign. Davis said,
"Being able to involve my family in the process of raising funds was definitely an example of uniting many different groups (faculty, community, staff, students, families, and alumni) for a notable cause. As Student Body Vice President, I am trying my best to get the Student Government Association more involved with service opportunities like this in the future."
ABAH reports, "Thanks to the generosity of students, faculty, staff, and community members App Builds a Home is delighted to announce we have well exceeded our fundraising goal with a current total of $95,000! However, we are still in need of volunteers to help finish construction of the Barker family home. Volunteer dates are available every Wednesday and Saturday. Group days are also available upon request. Go to our website appbuildsahome.appstate.edu to sign up today! Together, we can change the world one home at a time." If you are an Honors student wanting to get involved in this final stretch with App Builds a Home, they still need volunteers! As for the coordinated efforts between the Honors College and ABAH, Dean Vahlbusch stated,
"I am thrilled to be able to invite our students to get involved with such a terrific project and we would love to continue this engagement with ABAH."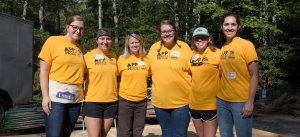 Tags: