Honors Alumna Sydney Blume ('18) currently serves as Appalachian State University's Garden Manager under the Office of University Sustainability. As an Honors student and Chancellor's Scholar at Appalachian, Blume double majored in sustainable development and Spanish. Currently Blume manages all three sustainable gardens on campus. As she shared,
"My role as garden manager is to manage the gardens by planting, harvesting, and weeding annual and perennial plants including edibles, pollinator plants, native plants, and other useful or medicinal plants. I coordinate with campus clubs, organizations, and classes that are (or aspire to be) involved in the gardens as well as coordinating volunteers, service learning groups, interns, and work study students and promote this sort of engagement on campus. I also manage community engagement through outreach, coordinating with food security organizations, and community development projects. Additionally, I work on designing and developing the garden space further and fundraising and grant writing to allow this to happen. There are many aspects of the position, and it is very dynamic which is part of the reason that I love it so much!"
The oldest garden on campus is the Sustainable Development Civic Garden Project (also known as Edible Schoolyard), which began in 2006. That garden is located on West campus in front of the Living Learning Center. It serves as a living classroom—a site for service-learning, integration with coursework and research, and the fortification of campus sustainability initiatives.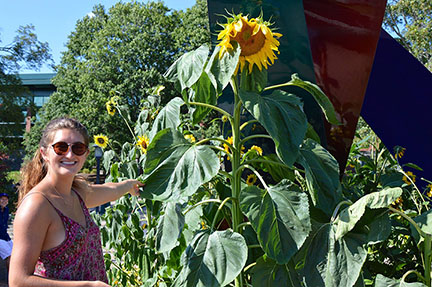 In above image, Blume stands in front of a giant sunflower in the Edible Schoolyard. Photo submitted.
The Child Development Center (CDC) garden was created when Courtney Baines, now director of Blue Ridge Women in Agriculture, was awarded a "Creating a Healthy, Just and Sustainable Student Research Grant" from Appalachian State University. This garden is located at the university's CDC on Poplar Grove Road. The CDC garden was collaboratively developed beginning in 2014 by the Sustainability and Environmental Education Club (SEEC) and CDC parents and staff. It is designed to allow children to engage in gardening and develop an integrated understanding of food, nutrition, and ecological concepts.
The newest garden on campus is the Appalachian Roots Sustainable Garden which broke ground in spring of 2017. This space located on Howard Street is built and maintained by faculty, volunteers, and student interns. It features solar energy stations and a children's play space that is integrated with the Lucy Brock Child Development Lab School located next door. The purpose of the Roots garden is to help students, community members, and children "to get back to their roots"—cultivate a deeper connection to land, food, and place through experiential learning.
Blume began in this position as Garden Manager last summer immediately after graduation. Since then, she has worked with a team of three student interns, the SD garden practicum class, and Upward Bound high school student volunteers constructing and maintaining the garden spaces. Blume further shared,
"It's also included lots of eating berries of the vine, drinking lots of mint tea (it's invasive! we must harvest!), learning about new plants or uses for plants every week, and getting really really muddy."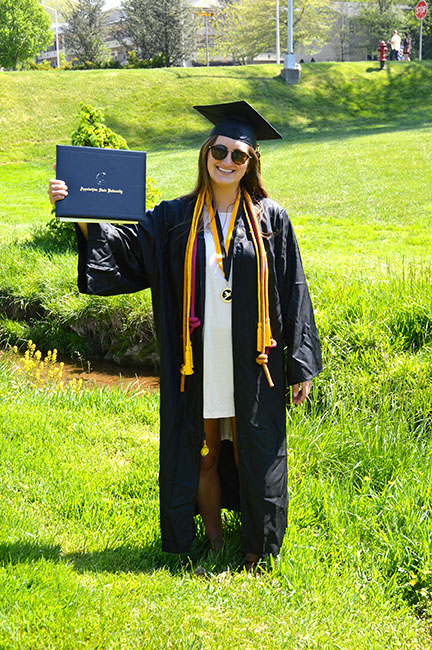 Photo above feature Blume in May of 2018 on campus after graduation. Photo submitted.
Blume explains that her experience in Honors at Appalachian has been extremely relevant to her work as the university's Garden Manager. She reflected,
"As a whole, I feel that [my major of] sustainable development prepared me to think holistically by keeping the whole system and its functions in mind. This applies to the micro-level of soil and garden plot and expands to think about food systems and the resources that we use in the garden and where the gardens can fit in to the local (and in a way, global) food security network. Some Honors seminars have specifically helped to prepare me for my current position. This past semester, I took Native American/ Indigenous Studies with Dr. Dana Powell, [assistant professor in the Department of Anthropology], which was an amazing course that provided me with a lot of context and perspective."
Blume completed her Honors thesis, Create Resistance and Utopian Subjectivities: Zapatista Autonomy as Discourse, Power, and Practice, under the mentorship of Dr. Brian Burke, assistant professor in the Department of Sustainable Development. Dr. Powell served as her second reader. Blume explained,
"My Honors thesis has been extremely influential to how I'm approaching my work now. I wrote on the creative resistance and utopian subjectivities of the Zapatistas [of Chiapas, Mexico], and this specifically inspired me to stay in Boone for another year to pursue work around food security and outreach. It has helped me to situate Boone's local food networks within a broader perspective of what this means for our negotiation within a global food network and the role that we can play in building autonomy from exploitative systems globally. My thesis also inspired me to look further into environmental subjectivities, or the ways that we relate to, perceive, and understand our environments. I think the campus gardens provide an ideal space for inspiring shifts in subjectivities (which, I believe, vitally require practice/action to be altered), and I am looking forward to developing outreach programs based around this idea."
The campus Roots garden especially is a place for education and outreach on sustainable and traditional gardening practices. It provides a service to the community by supporting food security organizations including FARM Café, the Hospitality House, FARM Full Circle, and the Watauga Public Seed Library. She works closely with the garden club to maintain the gardens throughout the year, provide garden fresh produce at the campus farmers market and to the campus food pantry, and to coordinate gardening workshops.
Blume has many projects planned and underway in which students could collaborate including: pollinator plants, native plants, medicinal plants, food security outreach, fundraising, edible landscaping. She encourages students to get involved in the garden through the Gardening Club which can be found on AppSync. Anyone interested in taking on a particular project, can email Blume directly to get involved
Blume offers the following advice to current Honors students,
"You can't know your passions until you try something or learn something, so firstly, explore and experiment and try new things. You aren't restricted to your major. There is an entire university of knowledge at your fingertips in the form of clubs, organizations, the library, professors, campus lectures, events, film showings, and university programs. I learned so much from wandering into Religion Club, campus lectures, and watching the sustainability film series. Secondly, once you've identified a few passions, really put something into a couple. For me, this was Outdoor Programs and Gardening Club. Keep exploring, but also get really deeply involved somewhere. Contribute to something, somehow. It's cool if this aligns with your professional goals, but also, this is exactly the time to develop a passion that is not directly aligned with those goals. At best, it ties in more than you'd expect, and at worst, at least it helped keep you sane and interesting. For me, this was rock climbing. The only relation to my work currently is probably that knowing how to tie lots of knots comes in handy in the garden. Beyond that, I am not using rock climbing at all, and likely won't use it professionally. But I did learn how to think about systems, how to risk manage, how to lead and teach, how to trust in myself, and how to be scared and still do things anyway, so I'd never take it back. And it was fun!"
Story by: Garrett Alexandrea McDowell, Ph.D.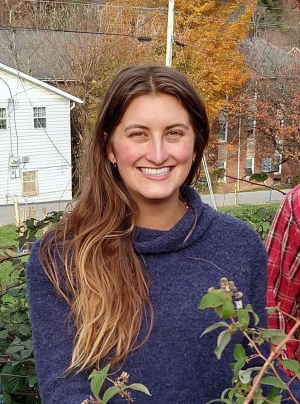 Tags: